This Month's Meeting
October 21st
(3rd Thursday)
6:30 pm
Bring a chair!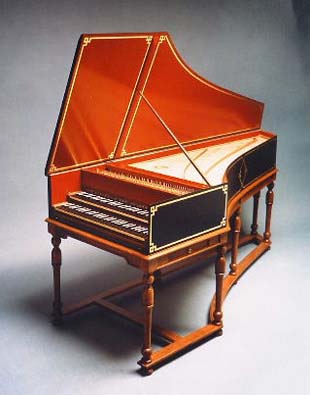 Our October 21st meeting will be held at Kevin Fryer's studio where Kevin a harpsichord maker will introduce us to his art. He became interested in harpsichords in the late 70's. In 1980 he built a Flemish Single from Zuchermann Harpsichords Inc. He studied with Kathy Roberts Perl who is a teacher and performer. She continues to be his teacher and advisor. He went into business in 1984 and soon became an agent for Zuchermann Harpsichords. In 1992, he left to pursue building from historical designs. He is also active in a number of arts organizations. From 1985 to 1995, he worked with the Philharmonia Baroque Orchestra as a stage manager, harpsichord technician and tour manager. He also worked with the Carmel Bach Festival from 1988 to 1997. He was on the Board of Directors of the San Francisco Early Music Society including being Board President from 1989 to 1992. Since 1989 his studio has been in the Bayview district. He has shared his space with a number of distinguished artists and believes that by sharing information, ideas and resources, it can advance the understanding and deepen the appreciation of the field of Early Music. Kevin has made many presentations to diverse groups so we are in for a treat in a field most of our woodworkers have not ventured into. Kevin's web site is http://www.kevinfryer.net.
BRING A CHAIR

Items for the San Mateo Woodworking show
Your items and creations are needed for display at the San Mateo Woodworking show. There will be a locked glass display cabinet for smaller items. Bring your items to the October meeting or contact Robbie Fanning to arrange their delivery. RFanning@mac.com or 650/323-1183
Meeting Location

Kevin Fryer Studio
1004 Revere Avenue, Space B-37
San Francisco


NOTE: The 3rd St. off-ramp from Highway 101 is blocked.

FROM THE NORTH-Take US 101 South to the Silver Avenue off-ramp and go 1 block to Silver Avenue. Turn right onto Silver. Follow the directions found under FOR ALL DIRECTIONS.

FROM THE SOUTH-Take US 101 North to the Silver Avenue off-ramp. Turn left and travel 1 block to Silver Avenue. Turn right onto Silver. Follow the directions found under FOR ALL DIRECTIONS.

FOR ALL DIRECTIONS-Travel on Silver to a 5-way intersection. Turn ½ right onto Palou. Travel about 4 blocks to 3rd Street and turn right. Travel 2 blocks on 3rd Street to Revere and turn left. Travel on Revere about 5 ½ blocks to 1004 Revere, Space B-37.
DO NOT BLOCK ANY OF THE DOORS.