Announcements
BAWA Apparel. Hey! Be the first one in your block to be decked out in the latest BAWA finery. Wear the finery to the meetings, to the wood shows or just show your envious woodworker friends. Jay Perrine is the source of BAWA baseball caps ($10), and BAWA work shirts ($35 or so). You can contact him at jperrine@calwater.com or 408/378-1585.
Woodcraft. Dublin & San Carlos give the club a rebate on all purchases. Give receipts to Mark Rand.
Open Shop. Volunteer to open your shop to members. Contact Bruce Bell at bell422@earthlink.net or 415/681-8353.


This Month's Meeting
Feb 15th
(3rd Thursday)
6:30 pm
Tech Talk: George Bosworth on Ripping Thin Strips Safely
Tool Talk: Need a volunteer. Call Frank Ramsay 415 495-7002 frankramsay8@aol.com
Main Presentation: Donald Fortescue, Associated Professor and Chairman, Furniture Design Program, California College of the Arts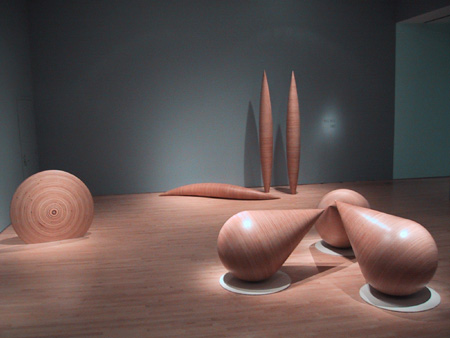 Donald Fortescue began his professional career as a research botanist and botanical illustrator after completing an undergraduate degree in science. Following a brief stint as the Big Bad Wolf at Tokyo Disneyland, he fell in love with making objects and embraced a new career. Donald studied both furniture making and sculpture in Australia and worked with artists in Australia, Japan and the United Kingdom before migrating to the U.S. He operated his own furniture design and fabrication business in Australia for 8 years while creating exhibition work for galleries and museums. In November 2001 he had a solo exhibition at the San Francisco Museum of Modern Art as one of three inaugural winners of the SFMoMA's Experimental Design Award. His work is on exhibition at the moment in San Francisco at Sculpturesite Gallery on 3rd St. and you can see more of his work at www.haresbreath.com/donaldfortescue.


Bluebird Room
William Walker Recreation Center
650 Shell Blvd., Foster City



HWY 101 -Take the East Hillsdale exit. Drive a mile plus toward the bay. Turn right at Shell Blvd. See FOR ALL DIRECTIONS below.

FROM HWY 92 FROM THE EAST BAY -From the San Mateo Bridge take the Foster City exit and head southeast. Turn right on East Hillsdale and left on Shell. See FOR ALL DIRECTIONS below.

FROM HWY 92 (SAN MATEO BRIDGE) EASTBOUND -Take the Foster City exit turn right on Hillsdale, turn left on Shell. See FOR ALL DIRECTIONS below.

FOR ALL DIRECTIONS
Once on Shell, go past the first signal. Look for the Recreation Center, a low building on your right. You will see a small parking lot adjacent to the building and a large parking lot just past the building.