Announcements
BAWA Apparel. Hey! Be the first one in your block to be decked out in the latest BAWA finery. Wear the finery to the meetings, to the wood shows or just show your envious woodworker friends. Jay Perrine is the source of BAWA baseball caps ($10), and BAWA work shirts ($35 or so). You can contact him at jperrine@calwater.com or 408/378-1585.
Or how about a nice laser-engraved name tag for BAWA meetings? Check out Mike Cooper's. He can get you one for $8. (mlcooper94555@comcast.net or 510/471-6934.)
Woodcraft. Dublin & San Carlos give the club a rebate on all purchases. Give receipts to Mark Rand.
BAWA Dinner. September 15th to be held at the Veterans Memorial Senior Center in Redwood City. It will be a catered affair. Price not determined at this point. Significant others welcome. Sign up with Robbie Fanning at rfanning@mac.com or 650/323-1183 or at the August meeting. There will be a cut-off date.
Open Shop. Volunteer to open your shop to members. Contact Bruce Bell at bell422@earthlink.net or 415/681-8353.


This Month's Meeting
August 18th
(3rd Thursday)
6:30 pm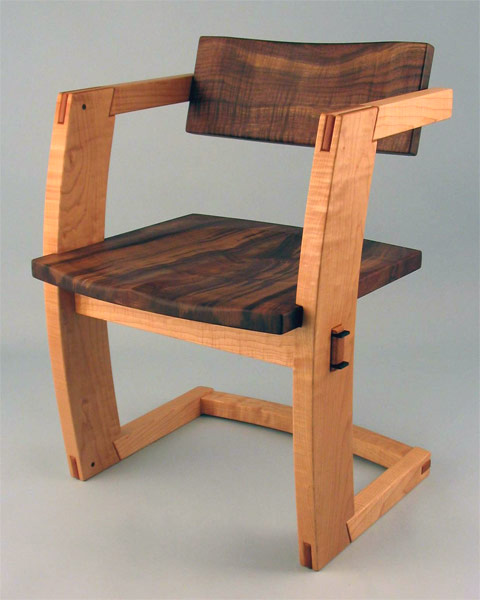 Our presenter will be Jared Rusten. Jared built a box for his wife shortly after high school and liked it so much, he decided to pursue woodworking. As he said "I am by nature an impatient and impulsive person and I don't want to waste my time". So after lasting only one semester pursuing a design degree which he felt would lead him into a drafting job, he moved to Southern California. There he found a very good woodworking program at a Junior College. He then moved on to apprentice for several furniture makers where he got a real education. Jared opened his J. Rusten Furniture Studio in San Jose about two years ago. From Arts and Crafts, he has moved to a more simplistic, clean, modern approach. With his studio, he has time to design pieces by hand which do not lend themselves to mass production. The joinery in his furniture is so tight that it has to be fitted by hand, he said. So he is able to build only a few pieces a month. He wants to offer people something that has collectible value. Jared has been focusing on building chairs but he also makes desks, tables, consoles, chest of drawers and beds. He works with Walnut, Maple, Cherry and salvaged wood as well. He has been invited into exhibits and shows and has been interviewed many times. An interviewer recently asked him to describe his furniture. The following is his response. "It's wood. It's solid. It's both modern furniture and functional art. I design and build each piece by hand using local, salvaged and sustainable hardwoods. No veneers. My goal is for you to see one of my chairs and think, "Wow, that doesn't look like the wood at Ikea," and feel compelled to touch it. Here is his web site: http://www.jrusten.com/index.php. I believe that we are in for a great presentation.

Mark Rand


Meeting Location

The Sawdust Shop
452 Oakmead Parkway
Sunnyvale, CA 94085-4708






Directions from the South on 101. Take 101 North towards San Francisco. Take the Lawrence Expressway exit. Turn LEFT onto Lawrence Expressway. Turn LEFT onto Oakmead Parkway. Follow Oakmead Parkway 0.7 miles. The Sawdust Shop is on the LEFT.
Directions from the North on 101. Take 101 South towards San Jose. Take the Lawrence Expressway exit. Turn RIGHT onto Lawrence Expressway. Take the next LEFT onto Oakmead Parkway. Follow Oakmead Parkway 0.7 miles. The Sawdust Shop is on the LEFT.
Directions from 280 - Cupertino. From 280 - Exit Lawrence Expressway East. Go approximately 3 miles on Lawrence Expressway. Turn RIGHT on E Arques Ave. Turn at 2nd LEFT onto Oakmead Parkway. The Sawdust Shop is on the RIGHT after 0.1 mile.