This Month's Meeting
November 20th
(3rd Thursday)
7 pm (yep 7, not 6:30)
Annual Jigs & Fixtures Meeting
The focus of the Jigs & Fixtures meeting is to share better ways of working with our favorite material: wood. If you bought a new tool that has a component that could be used elsewhere please bring it in and share it with us. If you made a jig or fixture that would be an ideal item to share. If you copied something you learned at a class with Arnie, if you got an idea from some other trade; if you converted a tool to a new use - these are all valid items for our meeting. These can be fixtures to hold wood or help use a tool at a strange angle or a method of using some hand tool in a better way even a jig that helps you cut a perfect mortise or tenon with a router - bring those in and share them with the group. No prizes and plenty or surprises; no awards but plenty of rewarding ideas. Ideally, at the end of the meeting you should have seen a few ideas that inspire you to go home and do something different in your shop and perhaps a few that you knew about already, but it is still fun to see other members learning about those ideas. The jury is still out on whether you are better off owning every tool or every jig and fixture!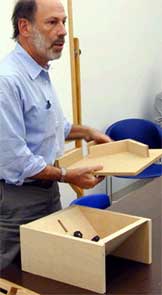 Come with something to share and some way to record the ideas you find. This process of sharing the jigs and fixtures has become an annual event.

Jay Perrine, Program Director
Meeting Location
Gull Room
650 Shell Blvd., Foster City
IN THE RECREATION BUILDING ACROSS THE STREET
FROM THE LIBRARY WHERE WE SOMETIMES MEET



From 101, take the East Hillsdale exit. Drive a mile plus toward the bay. Turn right in Shell Blvd.
From the East Bay, take the San Mateo Bridge (92 West), Take the Foster City Blvd. exit and head southeast. Turn right on East Hillsdale and left on Shell.
From 92 Eastbound, exit on Foster City Blvd., turn right on Hillsdale, turn left on Shell.

FOR ALL DIRECTIONS:
Once on Shell, go past the first signal. Look for the Recreation Center, a low building on your right. You will see a small parking lot on the right adjacent to the building and a large parking lot just past the building. .