---
President's Message
Fellow woodworkers,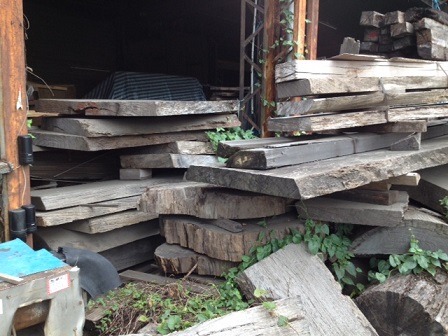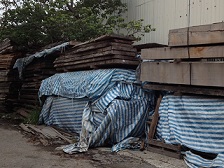 We recently had a vacation in Taiwan and one day were taken for a walk through the Shexi township of Taipei City, an area that was not even on our maps from previous trips. It is a low-lying, duck's head-shaped, piece of land that is only joined to the mainland by a narrow neck of land. It was subject to frequent flooding and so not considered suitable for development; recently a sea wall has been built so it no longer floods but still Shexi has not been developed - leaving a small community that is part of the big city of Taipei yet in a time warp of yesteryear. This is a fascinating place where you can see the big buildings of Tapei all around but be in a quiet isolated spot.
Walking around the narrow roads of old housing, small manufacturing units, and fields of vegetables and fruits, we came across an old barn where inside were a stack of large Cypress planks that had been there for many years. Taiwan was known for its Cypress trees; a book on the rebuilding a temple in Nara written in the early 80s talked about buying a Cypress forest in Taiwan for the project as at the time logging Cypress (and all trees) was already banned in Japan. Since then Taiwan also became concerned their dwindling forests; the government banned Cypress logging in 1990 and the logging of all natural forests in 1991.
These planks of well seasoned timber must be a valuable by now. A great find for those who like old timber… I just need a big enough project.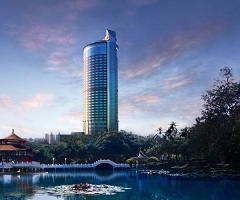 We stayed at a hotel in Tainan that was built 30 years ago, the days when light colored wood was in rather than the all-dark Rosewood look that is preferred in most new hotels today The 38 floor hotel is a tall cylinder with a lounge on the 24th floor which is mostly floating in the air.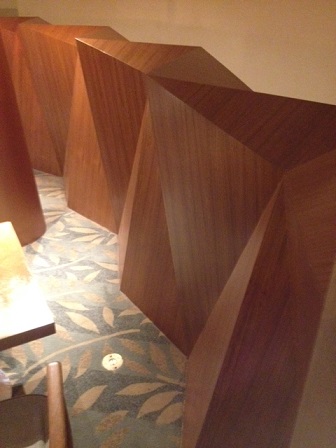 I was interested in the wall surrounding the lounge. It was made from many compound angled panels with perfect looking butt joints. I am not sure when 3D CNC machines capable of cutting these panels were first available but it would be a major job to cut them with CNC, even the 3D drawing for the project must have been a challenge. PS: The paneled wall was about 50 inches high but I was just able to look over the top where I could see the restaurant on the 10th floor below – limiting the options to explore much further.
Enjoy your woodworking.
Frank (Contact at: Frankramsay8@aol.com)
---
Bruce Powell called the meeting to order at 6:10 PM
New Members and Guests:
Daryl Diekman - Attended the Krenov School for the last two years
Scott, Member of San Carlos Wood Turners, lives five blocks from Woodcraft!
Announcements:
Harry Filer announced an upcoming toy workshop on September 29th at Jamie Buxton's shop. The group will be fabricating parts, sanding, and assembling toy 1938 Mac Trucks designed by our own Frank Taylor. There will be a final workshop on November 3rd to finish up the toy build.
Harold Patterson reminded the group that he will be moving to Connecticut the first week of October. Harold has been a BAWA member since 1981 and has been the primary driver behind the annual toy workshop. He thanked both Frank and Jamie for their help over the years with the workshop. Harold also brought a range of finishing supplies for anyone who can use them and two saw blades for silent auction. Finally, Harold announced several woodworking machines for sale:
10" x 18" lathe - $125
14" Laguna Bandsaw - $800
Delta 12.5" Planer - $125
Black & Decker Workmate - $30
Workbench top and set of drawers - $150
Bruce announced that he and Frank Ramsay will be participating in a San Francisco open studios event on the weekend of November 3rd at the Fort Mason General's Residence.
October, Patrick Edwards will talk about treasure boxes and French marquetry.
November, Larry White will talk about his woodworking career and his time working with Sam Maloof plus BAWA Annual Board Meeting
December will see Chris White talking about working with live edge slabs and our Holiday potluck and the box contest.
Mark Rand pointed out a stack of woodworking magazines he brought for anyone interested
---
Michael Wallace then introduced himself. He is a member of the Sonoma Woodworkers Association. He moved to California in the 1980's, worked at a number of large tech companies, and retired to Sonoma in 2008. He was inspired to take up woodworking watching Norm Abrams build a highboy in 30 minutes.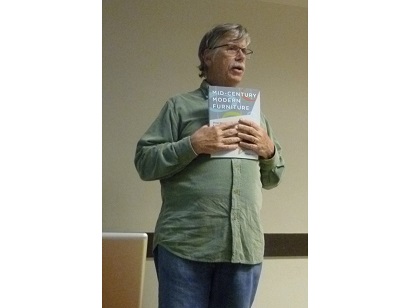 Michael then spoke about the history and evolution of mid century modern furniture. Thank you to Michael for providing his speaking notes, some of which have been directly included here - in italics. From his notes:
The term "Mid-Century Modern" covers all the "visual" arts from roughly 1945 through 1957 or perhaps later (there is no strong consensus as to the end date). During the production of most of the furniture and other objects (like buildings) of this time, there was no collective name for the things that were being produced other than "modern." It wasn't until the publication of the book, "Mid-Century Modern: Furniture of the 1950s" by Cara Greenberg (Harmony Books,1984), that the name became into being. According to one account, Greenberg created the name on the fly.
It is now recognized as the name that encompasses the works that were being designed and built globally during these years, to include even Danish Modern. There were Mid-Century Modern works done not only in the US and Scandinavia, but France, the UK, Italy, and even Japan.
Mid-century modern furniture had its origins in the German Bauhaus School. One of the iconic Bauhaus furniture pieces was the Wassily chair, created in 1925 by Marcel Breuer. It was a large departure from previous designs and fabricated of just leather and steel, no wood.
Americans got more exposure to modern design at the 1939 New York World's Fair. In 1940, the Museum of Modern Art sponsored a design contest called "Organic Design in Home Furnishings," with top honors going to Charles Eames and Eero Saarinen, instructors at Cranbrook Academy in Michigan.
After a quiet period in furniture production during WWII, furniture manufacturers Herman Miller and Knoll International emerged as industry leaders. The Eames lounge chair and ottoman, designed by Charles and Ray Eames for Herman Miller, is
recognized as a work of beauty and craft. Crafted in leather and rosewood veneer on molded plywood, the chair became an instant classic. While only a few hundred were built in 1956 when it was introduced, it has been copied and replicated around the world. Herman Miller continues to sell this chair today and is the only company authorized to use the Eames mark on the chair.
During the same period, Knoll International secured the rights to sell Bauhaus furniture in the US. They hired an all star team, including Eero Saarinen, George Nakashima, and Danish designer Jen Risom. The company helped to bring Danish Modern pieces to the American public.
All in all, the ideals of the Mid-Century Modern designers and makers were to sell mass market furniture using materials like molded plywood, foam rubber, steel, etc. The items produced followed the Bauhaus aesthetic of no adornments, simple joinery (in fact most the joints were either dowels or butt joints), use of veneers, and design that facilitates building in a factory.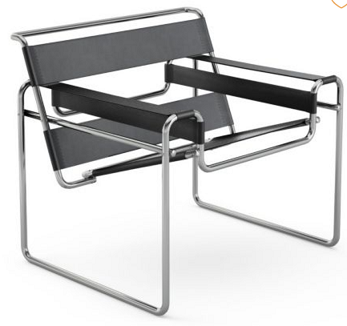 The Scandinavians brought a level of craft to Mid-Century Modern furniture that was missing from the mass-produced pieces from Herman Miller and Knoll. The recognized father of Danish Modern was Kaare Klint, who created a school for furniture at the Danish Royal Academy, and was followed by many well-known furniture makers, including Hans Wagner, Finn Juhl, and Borge Mogensen. Wegner's most famous piece, simply called "The Chair," became famous because it was used in the first ever televised presidential debate between Kennedy and Nixon in 1960.
According to Cara Greenberg, the Mid-Century Modern era ended in 1957. Herman Miller found that it could not compete against cheap knockoffs, and abandoned the home market. Knoll also concentrated on the corporate market more as well. The market was swinging away from Modern furniture and toward the many alternatives.
Several woodworkers in this later time period, including Sam Maloof, Art Carpenter, and Wharton Esherick, all developed pieces that could be considered part of the Mid-Century Modern aesthetic.
Today, Mid-Century Modern is hot again and doesn't appear to going anywhere any time soon.
---
2x4 Challenge entries were then presented.
Entries included: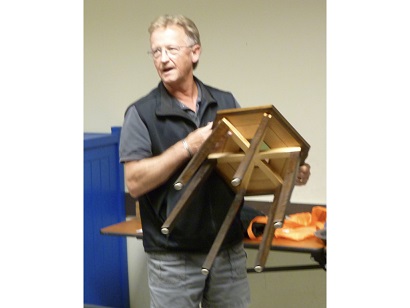 Tom Gaston's hexagonal table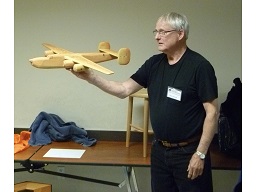 Bruce Powell's B-24 bomber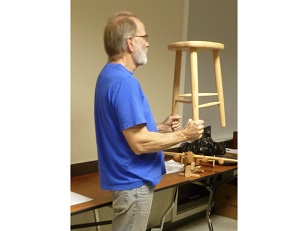 Jamie Buxton's 3 leg stool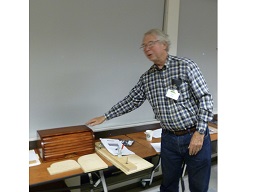 Harry Filer's bread box
---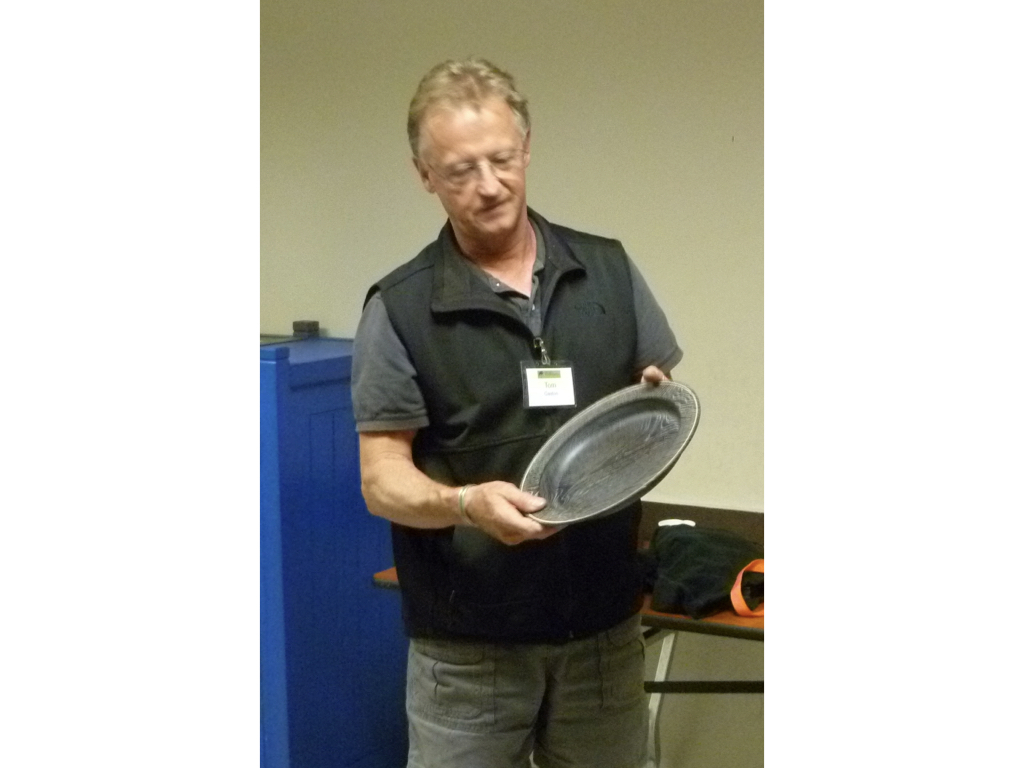 Tom Gaston also showed an oak platter he turned from wood given to him by Yeung Chan. The black color was achieved by soaking in a mixture of vinegar and iron filings. Tom presented the bowl to Yeung as a thank you.
---