---
President's Message
Fellow woodworkers,
The recent storms in Florida and the South have been bad this year and we feel sorry for the residents who have been effected by the disaster; it is impossible to comprehend the stress of losing everything to the tremendous winds and rain.
In the clearing-up stage there are 1000's of fallen trees blocking roads and streams, etc., that have to be removed before people can get back into the area to assess and start the long rebuilding process.
If history has repeated itself, some of the trees that have to be removed will be old-growth Mahogany and other protected woods. Eventually these will make their way on to the market; some finding their way to fine furniture craftsmen and boat builders where the trees will continue life in a new form.
A few years ago I was talking to a captain of a new luxurious sailing boat that was tied up in the local harbor. I was impressed with the beautiful, tall Mahogany mast on the boat. I expressed surprise that he could still get such length of old-growth Mahogany these days,' he told me it was the result of a hurricane in Florida a few years earlier– an unfortunate boon to wooden ship builders.
At our October meeting Harold Patterson told us the time for his long-anticipated retirement and move back East to Connecticut had arrived; the household furniture, etc., and his tools (in their respective Pods) were already on-route and he was about to follow.
Harold has been a member of BAWA for many years; most recently he has been leading the Toy Workshops where they make toys for distribution at Christmas time to less fortunate children in our area.
Harold is an avid collector of woodworking planes and for many years presented an annual workshop where we learned the subtle differences in the types of plane we can use in our work – and how to restore the tools.
The various projects he has shown us over the years included many accessories for fly fishing - which I am sure he will have more time for now.
We thank Harold for all of his contributions to BAWA and wish him and his wife lots of happiness in their new life back East.
Enjoy your woodworking.
Frank (Contact at: Frankramsay8@aol.com)
---
The meeting was called to order by President Frank Ramsay at 6:10 PM.
New Members and Guests:
Guests identified themselves as furniture makers C.J. Alodyne, Paul Murphy, and Don Arnfeld.
Announcements:
Calender:
December, along with our Christmas potluck, Chris Weiss will talk about using live edge slabs followed by the box contest.
November: Larry White will talk about his career as a woodworker including his time with Sam Maloof.
The Annual Meeting will occur before the regular November meeting at which time election of officers will take place. (details to be posted shortly)
Harry Filer announced the next Toy Workshop which will take place on Saturday, November 3rd at Jamie Buxton's shop. We will be assembling toy Mack trucks designed by Frank Taylor.
Silent Auction: Jamie Buxton is offering 2 vacuum pumps for veneering along with a pressure controller. Jon Kaplan is offering a Rockler drawer slide template. All proceeds to benefit the club.
John Blackmore announced that dues are payable in December…$48/year.
Bruce Powell announced that Open Studios are taking place in San Francisco at Fort Mason during the next few weeks. Scott Wynn, Frank Ramsay, and Bruce Powell will be exhibiting their work.
Harold Patterson brought in some items to give away and say goodbye as he is moving to the East Coast.
---
Patrick Edwards,furniture maker and antique restorer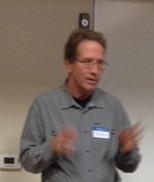 Patrick Edwards introduced himself.
He has done woodworking for over 50 years, although he started out his career in physics research. He is mostly self-taught and enjoys reproducing furniture designed and built before 1850. He does veneering and marquetry only over solid wood and uses no plywood in any of his pieces. He is committed to using only hand tools wherever possible. He has been honored by the American Society of Period Furniture Makers. He particularly enjoys making copies of Empire period furniture, which offers the challenge of applying veneer to round columns. He shows how to do this on his Yutube channel using modified hide glue, a version of which he developed himself and sells commercially. He also uses 192-gram strength hide glue and fish glue. He does not use any aliphatic glues.
He enjoys building marquetry covered jewel cabinets with secret compartments. He only uses sawn veneer, 1.5 mm thick. He does not use sliced veneer because the wood must be soaked in water before slicing.
He then went on to show some of the projects he has built, often copied from antiques that have been given to him to repair.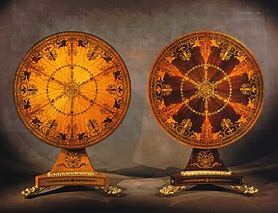 He first showed a 1-meter diameter tilting table top with 600 pieces of marquetry inlaid. The base of the table is connected to the top by a post with a steel reinforcing rod up the middle. He then showed a clock with olive wood and green bone marquetry. Next, he showed a 4-foot-long box made of oak assembled with blind dovetails and covered with marquetry on all sides.
When Patrick Lejeune joined Patrick, it caused Pat to "up his game". Patrick would not allow good enough to be the enemy of the perfect. He then showed a copy of an Anthony Quervellee table that he made on commission from a customer in Bel Air. This was followed by a copy of a table in the Victoria and Albert Museum, a big table with a Greek key marquetry design, another big table with antique carved ends
He was commissioned to make a bathroom towel cabinet based on the design of some Art deco elevator doors. The cabinet has Ebony, brass and Purpleheart marquetry. An engraver was flown in from Cartier to engrave the brass.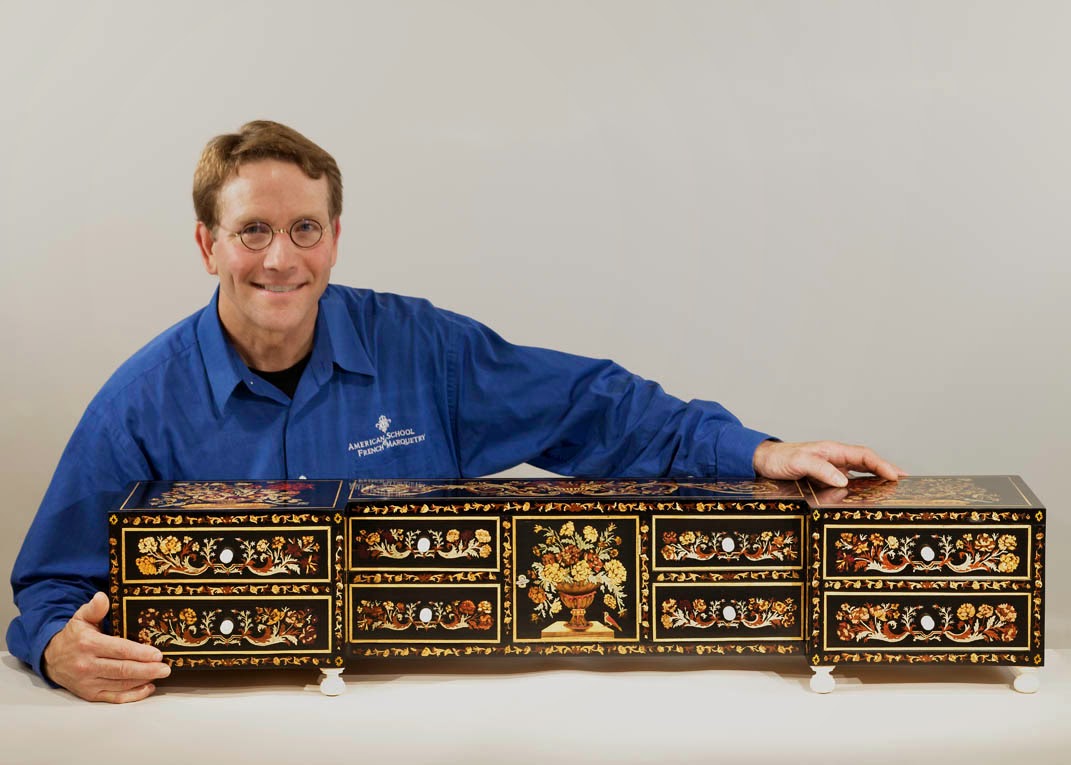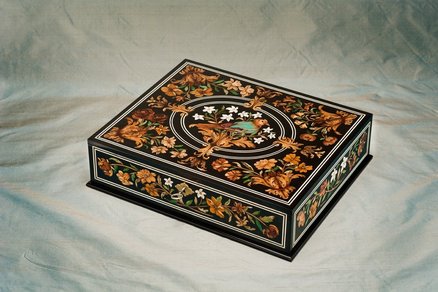 In 2008 he and Patrick started the Treasure Box series. These are marquetry boxes in a series of 4 versions. Number 1 sold for $20k, #2 sold for $25k, and #3 sold for $35k each. #1 was a copy of one that sold in Monaco for $18k. Treasure Box #3 uses 50 different species of wood.
Patrick has branched out into doing modern marquetry with colored wood and sawdust on birch plywood. He sprinkles colored sawdust on a glue coated surface and vacuum presses it. Some of his work includes "Bird" which won a prize a show in Delmar, "The Shack" which consists of mixed media of wood and glued sawdust where the layers are sanded thorough to give a more three-dimensional look.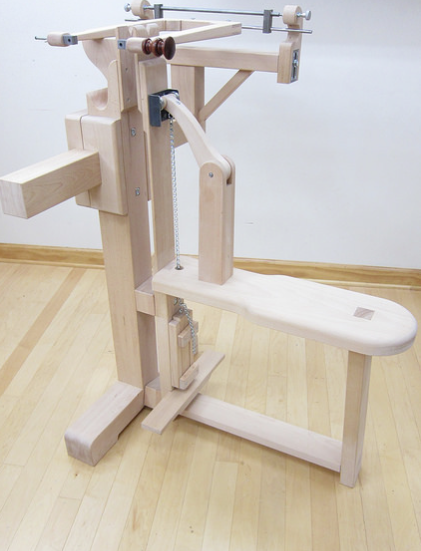 All their marquetry is cut using a chevalet, which is based on the original French design. The veneer with the overlaid pattern is lightly clamped with a foot operated clamp and the saw blade is clamped in the horizontal direction and the work is held vertically. The saw is hand operated. This is quite different than typical American marquetry where the saw blade is clamped vertically and the work is held horizontally. The blades are imported from Germany and are #00, .011" thick and 16 cm long.
For further information Patrick's work: wpatrickedwards.blogspot.com
If members wish to find out about meetings of the local American Society of Period Furniture Makers they can get on the mailing list by contacting: Joe Jerkins at: jerkins@sbcglobal.net
---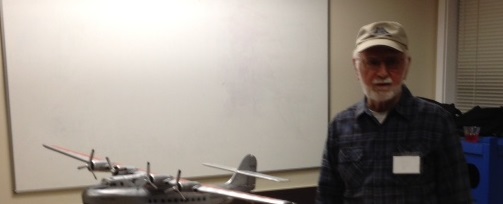 Following the break, Ed Schoenstein showed a wooden model he built of the Pan Am China clipper, a flying boat that inaugurated trans Pacific flight between San Francisco and China. He bought the plans on the internet and reduce then in size 3x so the plane would fit in his car. It is made of balsa and basswood. It has not had its maiden flight yet using its 4 electric motors.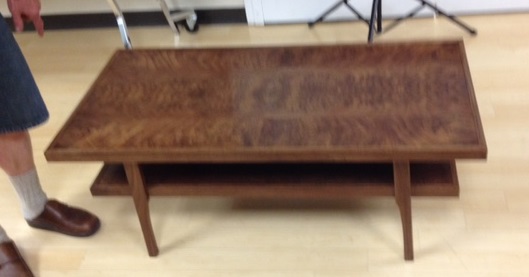 Tom Gaston showed a coffee table with a shelf below he made using Walnut veneer that he sawed himself. The veneer is glued onto plywood. The finish is brush on poly.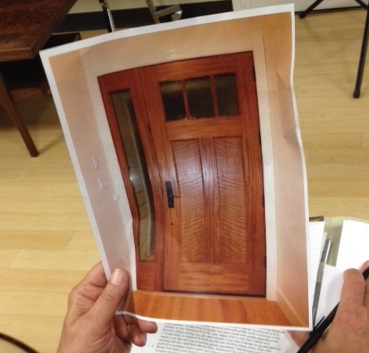 Dennis Yamamoto showed pictures of an entry door using Walnut veneer on LSL. The stiles and rails are made of Honduran Mahogany. The door is 7 feet tall, 38 inches wide, and 2 inches thick. The interior finish is wipe on poly and the exterior finish is a varnish/penetrating oil mixture.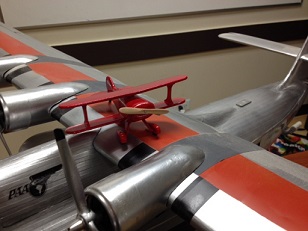 Burt Rosenzweig showed his small wooden airplane model.
Shown on top of Ed's PAN Am China Clipper
---