---
President's Message
Fellow woodworkers,
The last BAWA Biennual Woodworking Show was in 2016 so as it is now 2018 it is time to start thinking about our next show.
This year we are making a slight change; instead of holding it in October we are planning to hold it in May.
We like to encourage young people to become interested in woodworking so in the past we have always opened up our show to school and college woodworking programs in the Bay Area but we have had only a limited success in attracting junior entries. We discussed this with a woodwork teacher who told us that as school years tend to start in the summer none of the new woodworking pupils will have completed any projects by September in time for our show – very obvious but not something we had considered! So this year we decided to hold it in May to give new woodworking students the opportunity to exhibit.
The Show will be Saturday and Sunday 19th / 20th May with an opening reception on Friday 18th.
Eric at Woodcraft is once more kindly allowing us to hold the show in the Woodcraft showroom on El Camino in San Carlos.
To start your thinking for the show here are some of the exhibits from our show in 2016.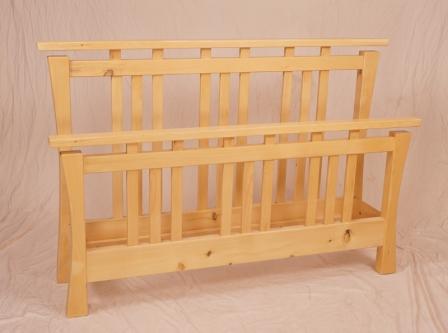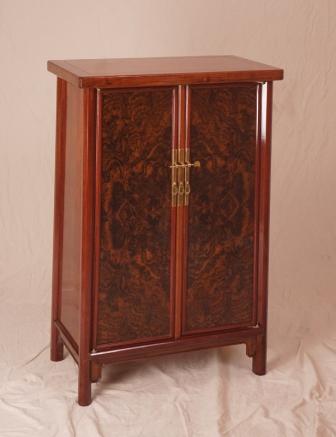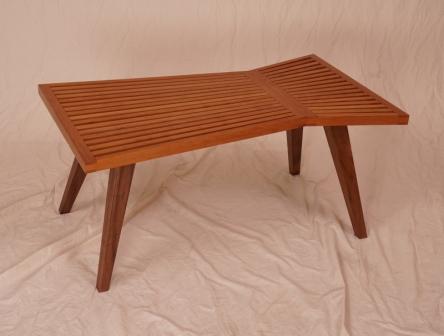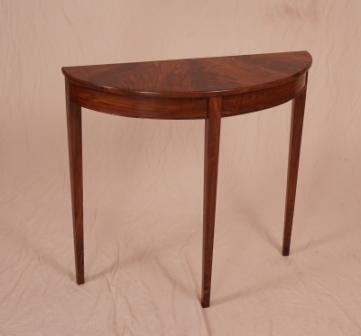 To check out the 2016 exhiits: Show2016
Enjoy your woodwork
Frank (Contact at: Frankramsay8@aol.com)
---
The meeting was called to order by President Frank Ramsay at 6:05 PM.
New Members and Guests:
The following visitors identified themselves:
Derrick from Santa Rosa
Frank Lazar who has done some woodworking, boat restoration, and wood bending.
Announcements:
Frank described upcoming programs.
February 18th:Bruce Powell: Extreme steam bending and coopering to build a China cabinet Plus Show and Tell.
March 18th: Mark Tindley speaking on Greene and Greene furniture.
July 15th: Bob Darr will speak on boat building.
September 16th: Our annual 2x4 Challenge.
May18-20th: Our Biennial Woodworking Show. (Details will be announced at our February meeting)
A meeting was held last Sunday (Frank Ramsay, Ray Burger, Per Madsen, Bruce Powell, John Blackmore and Mike Tracy attended) to discuss program options. These were reviewed in the meeting to gauge membership interest and the spreadsheet of ideas etc is at: Progam Spreadsheet (I have removed the names of people we have not yet contacted)
Harold Patterson announced his intention to move to the East Coast later this year and requested a volunteer to take over the Toy Workshop starting immediately as co-chair with Harold to learn the ropes.
John Blackmore announced that annual dues are now payable. We have 30 paid-up members as of now.
If you have not yet paid you can send a check to our Treasurer John Blackmore at 620 East View Way, Woodside, CA 94062. Annual membership is $48.
Yeung Chan announced a woodworking show at the College of the Redwoods on February 2nd in the Fort Bragg Town Hall.
---
Mark Harpainter, Professional furniture conservator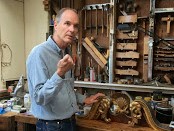 Frank introduced our main speaker, Mark Harpainter, whose topic is the conservation of antique and museum quality wooden objects. The main tenet of conservation is to correct cosmetic defects in a completely reversible manner and in such a way as to make clear that the conservation work is not intended to conceal the fact that it was added at a later time. For example, when nails are pulled out as part of the process, they are re-installed in the original locations. Good restoration will enhance the value of a piece, whereas bad restoration will destroy it. Much of Mark's work involves undoing bad restoration.
Mark met Per Madsen over 40 years ago while both were camping in Yellowstone, Mark in his hand built wooden truck bed camper shell. Mark attended California College of Arts and Crafts in the late 70's intending to take up a career in art. During this time James Krenov visited CCAC and started the woodworking program at College of the Redwoods. Krenov had a huge impact on Mark with his emphasis on craftsmanship and sense of precision. This led Mark to change his direction towards woodworking. Following this he got a job doing repairs and restorations at the Cameron-Stanford House at Lake Merritt, which housed the Oakland Museum then. He learned about art conservation on the job during this time. The actual profession arose during World War II with the "Monument Men". The professional organization, the American Institute for Conservation began in the late 70's. Mark decided to pursue graduate education in wood conservation but found no programs in the US so he decided to attend Westian College in Sussex, England, where he worked on the restoration of 18th century English furniture. Following this he moved to Berkeley into a house owned by his grandparents who came to the US from Switzerland. Both his father and grandfather were artists and his grandfather had built a small studio on the lot, which Mark eventually took over as his workspace after he inherited the house. It was here that he started a private practice in wooden furniture conservation. He needs to read books and professional magazines constantly to keep up with developments in the field. He then went on to show examples of the pieces he has worked on and how he overcame the challenges presented.
The first was French lacquered desk with shell inlay where the shell had fallen out. Next was a picture with a glass front, which had images painted on the back side of the glass using a reverse painting technique using glycerin. The glass had been damaged and the image needed repair. Following this, he showed a chest with gilded bronze fittings on which the finish needed restoration. To do this all the nails and screws holding the fittings had to removed and catalogued so they could be re-installed in the same locations. He next showed an inlay decorated Iranian chair, which is part of the collection of Shangri La, the museum that was the home of Doris Duke in Hawaii. The chair was missing a piece of wood, which Mark replaced with basswood with a photograph of the inlaid pattern glued onto it. The next chair he showed was the former throne of Queen Kamehameha, the last of her line of Hawaiian royalty to govern. The fabric on the throne had been replaced with fabric different from the original. Using an old photograph, Mark had the correct fabric woven and installed it on top of the old fabric using a heat setting adhesive so all the work could be done without pulling tacks and could be easily undone if necessary. The next item was a bombe chest from Massachusetts, which had sold for $2 million. The new owner wanted the original brasses polished. To do so, Mark removed them from the chest, saving and re-installing all the original metal fasteners.
Mark then went on to describe some of the interesting places he has visited. First was the Lyman Estate in Waltham, Mass., which has a Conservation Lab that has done restoration of furniture from the US State Department and the White House. In 2000 he visited the Attingham Summer School in England to study the history of the English country house sponsored by the National Trust Properties. In 2004, the Wooden Artifact Group of the American Conservation Society went to France to visit studios and observe students learning about craft techniques such as gilding and weaving upholstery fabrics at the Prelle factory in Lyon.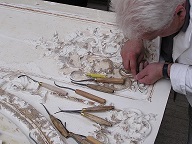 Guilding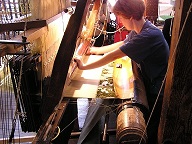 Prelle handloom Lyon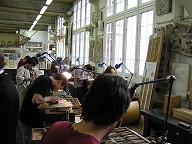 Students at Ecole Boulle Paris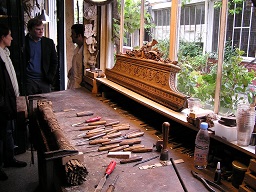 Woodcarving studio Paris
---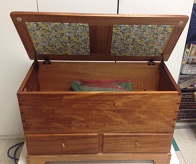 After the break Ken Napior showed a toy chest he had made for his grandchildren which had 3 hidden compartments built into it.

Mike Tracy showed a Walnut and Spalted Maple box with a shellac and wax finish.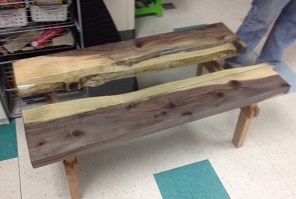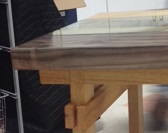 Tom Gaston showed a slab coffee table made of Redwood, Oak and glass. The table legs and aprons were joined with double lap joints. The finish was wipe-on poly.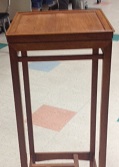 Yeung Chan showed a modern Chinese flower stand made of Kwila wood with a top 3-way miter joint. The very thin legs were a few degrees off vertical to make them look vertical. The finish is shellac and wax.
Stephen RosenblumSecretary steve@rosenblums.us
---