Last Meeting
Our July meeting was held at Joinery Structures in Oakland. Per Madsen our Program Director guru kicked off the meeting by describing meetings to come. On September 18th, we will have a Sliding Table Saw demonstration by Jon van der Linden. October 16th will bring a hand planning seminar with Neal White and November 20th, the Annual Jigs & Fixtures/Box Contest and of course the Hors D'oeuvre/Dessert Party potluck.
We were supposed to have a wooden name tag contest of name tags made by our members. A big disappointment because there were so few of them. The contest was postponed until the August meeting.
We had a number of guests at the meeting. We welcomed Richard Macias, Dave Bove, Shelby Kenneoy, Larry Metzger and probably more which I did not get.
Our host at Joinery Structures was Michael Coonen. Joinery Structures was founded by Paul Discoe, Michael's step-father, in 1990. It is a design-build firm that serves as a general contractor and a milling/fabrication company. The current huge warehouse type building used to be a graphite manufacturing building. Michael said that it was covered with black graphite and it took 8 months to clean it all off. When the company first started they had many old machines which were gradually replaced with modern machines specific to their work.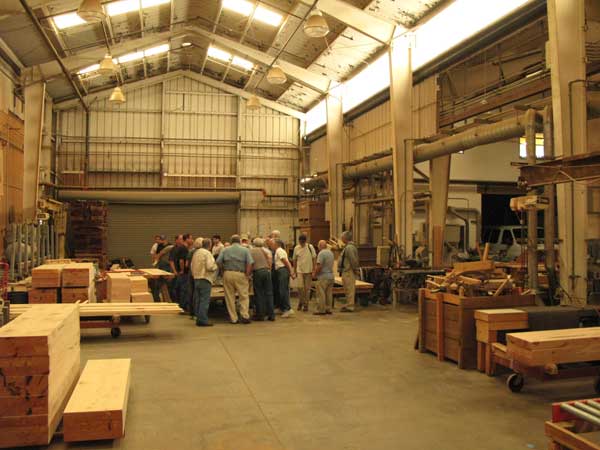 Michael has worked at Joinery Structures for 19 years. The designer and the one that comes up with the ideas is his step-father Paul Discoe. Michael really enjoys working with his hands but now he is the Business and Project Manager.
Paul Discoe worked as a union carpenter building stick frame houses in the East Bay. He eventually joined the San Francisco Zen Center as a student and later was ordained as a Buddhist priest. In the '70's, his teacher sent him to Japan to learn techniques of building Japanese timber frame structures.
Paul spent years working for a temple building company in the Kyoto area. When he returned to the Bay Area, he built a number of significant structures over 10 years. He and his crew used traditional Japanese hand tools and built a large octagon two story guest house at Green Gulch farms. Here he learned the realities of engineering, codes and permits making this type of work difficult in America.
Most of the primary work has been building custom Japanese style timber frame houses and interior finish work including flooring, trim, decorative details as well as doors, windows and shoji screens. Smaller projects include gates, fences, bath tubs and Buddhist shrines and alters for Zen groups such as Tassajara and Green Gulch farms. Almost all projects have been designed in-house by Paul Discoe and their design team. Michael recently completed an extensive home and garden complex in Woodside, California for Oracle founder Larry Ellison.
Joinery Structures' design assistance starts with the visualization and siting of client's projects. Once under construction, a Joinery Structures toriyo (master builder) guides the selection of the unprocessed materials most appropriate for the job and then supervises each detailed step through to final completion.
We then were taken on a tour of the vast building. The amount of lumber is staggering. Some of it is piled so high and deep that it would be a major undertaking to get it out of the pile. They get their wood from many different sources including felled trees from Golden Gate Park in San Francisco. For example, he showed us some benches 3 ½ inches thick that are being built for the new Steinhart Aquarium complex in Golden Gate Park out of the recycled wood. The cracks in the wood were sealed with epoxy.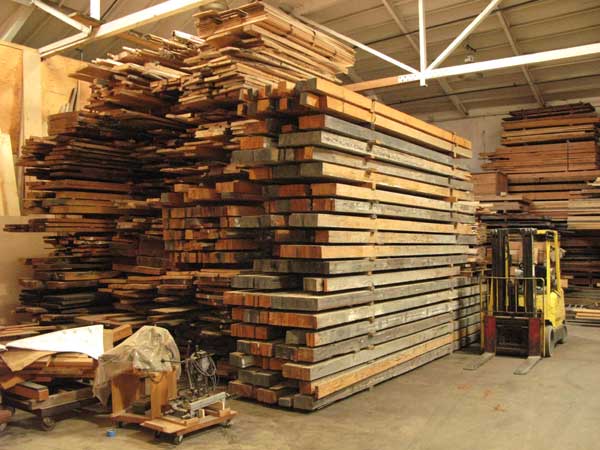 They have a number of very elaborate machines. One was a huge planer capable of taking off very thin shavings. An adjoining machine sharpens the planer blades which take about an hour and a half to sharpen. The blades must be sharpened at the end of the day if the machine was used all day. He showed us a lap joint with a miter which one machine can produce. There were a number of horizontal band saw machines. Also, a jointer that joints in two dimensions. Although there were many other machines, the one interesting machine cuts 90 and 45 degree dadoes. We were also shown the drying room where lumber that usually takes a year to dry can be dried in two months.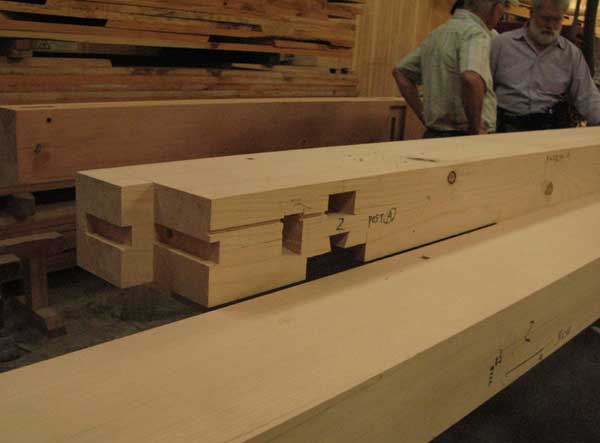 We were then taken to an area where Paul Discoe developed a concept called Live Edge. Here, structures although built in the Japanese style, are much simpler in construction and form. The idea is to be able to build faster and available to many people who could not afford the more elaborate structures. Here the lumber used are trees that are recycled from fallen trees found in many city and urban areas. The concept here is that they have unique individual characteristics. These trees since they grow near humans do develop these characteristics. Each piece is labeled with the size, board feet, price and origin, where the tree lived, if known. They have Black Acacia, Deodar Cedar, Douglas Fir, Elm, Monterey Cypress and Redwood.A portion of the proceeds from the sales goes to replenishing the source. That is, planting programs in the community.
At the end of the tour, we had Show and Tell. Claude Godcharles showed a stunning Koa square bowl. A silent auction was then held for a 2 inch Cypress board. After some spirited bidding, Claude got it for $5. The board was donated but I'm ashamed to say, I don't know by whom. Although our Rafflemeister, Stan Booker was not there to dole out raffle items, members went home dreaming of building a Japanese style house and eyeing all the trees in their neighborhood.



Mark Rand