Last Meeting
Our May meeting began with Announcements. Fred Reicher & Tony Fanning talked about the Rebuilding Together project at an old firehouse in San Francisco which was a great success. Approximately 30 BAWA members participated. The group worked to reconfigure the toy warehouse area and installed 70 linear feet of counter in the toy sorting room, complete with the world's longest continuous run of face frame. (Guiness Book of Records?). The upstairs offices were rewired and refurbished. All this was accomplished while coordinating our efforts closely with the painting crew.
Our Rafflemeister Stan Booker described the evening's raffle which was for a box jig.
President Bill Henzel described his next foreign Habitat for Humanity project, this time in Kyrgyzstan.
Arnold Champagne has some woodworking tools for sale: an 8 ½" Hitachi chop saw, a 1632 Performax sander and some wood.
Toy Workshop Coordinator Harold Patterson described the work being done at the last Toy Workshops -- surplus toy motors have been installed in prototype cars and a model biplane. The next workshop will be scheduled sometime in June.

Following Announcements, Jamie Buxton presented his Shop Tip on a table saw splitter he has designed. He made a table saw insert plate with a double slit for the blade. Behind one slit he installed a 1/8" steel pin to serve as the splitter. The pin prevents a cut piece of wood from closing on itself after being cut, thereby preventing one cause of potentially dangerous wood throw-back. Then, when you need to cut without a pin, you do not need to change the table saw insert, you just flip it over and use the slit without the pin.

The Tool Talk was by Tony Fanning who talked about shop safety, in particular Working Alone in the Shop. He highly recommended a book titled Working Alone. Power tools he pointed out have voracious appetites. Flesh yields to everything and your table saw will eat you. You must be careful. Remember to unplug your saw when making any adjustments and especially when changing the blade. Another reminder is that gravity is trying to break your back. If your job requires a third hand, make one, aka a jig. "DETESTOSTONERIZE" in your shop.

Next came Show and Tell with Craig Mineweaser showing a Cocobolo picture frame for a giraffe painting using lap joints described by Yeung Chan in a previous BAWA lecture. He asked for suggestions on a good finish to apply. Tung oil and wipe on poly were offered.
Brad Heinzen brought in and showed a Brazilian guitar he had made of spruce. It is finished with a French Polish and took 80 hours to build.
John Blackmore presented a ¼ scale model of a Japanese Torii gate he will be building for a client in the South Bay. He asked for suggestions on how to anchor it into the ground. Suggestions included pressure treated posts or steel pipe inserted into the gate posts and extending into rebar reinforced cement footings.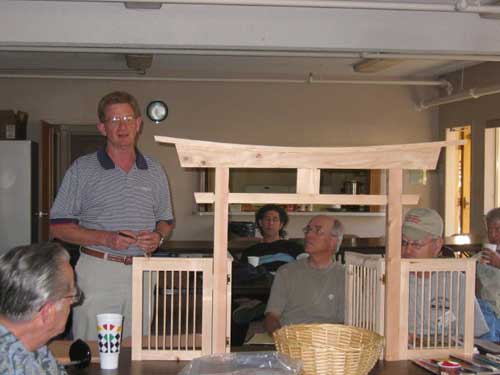 Richard Winslow made a turned walking stick from a South American hardwood, tipped with a copper cap.
Roy Presley has designed and constructed laminated, curved chair legs using a matrix of 25 pieces of ¼" square sticks glued together with a resin glue. He spreads the glue in a large flat pan in order to extend its pot life. He made two molds, mirror images of each other. He uses a rasp to smooth the glued pieces and a washer to ensure uniformity of diameter.
Next was the introduction of guests. A welcome was given to Edward King who visited the BAWA booth at the Santa Clara Woodworking show. Several new members were welcomed. Richard Haukom became a new member this month. Other new members were George Gray, Edward King, Maury Ostroff and Kenny Jablinskey. A big welcome to all.
We were honored to have BAWA member Yeung Chan return as our Main Speaker to give a presentation on his latest creation -- a chair he has made for a conference titled "Inspired by China", organized by the Peabody Essex Museum in Boston, Massachusetts. The Peabody Museum has invited 22 contemporary furniture makers, including Yeung, to explore how Chinese traditions have influenced studio furniture today by designing, constructing and contributing a piece of furniture for the showing to be held October 2, 2006 through March 4, 2007.
This evening Yeung described the creative and craft process involved in developing the chair and table he is contributing to this showing.
Yeung acknowledged that Chinese chairs are strong, although not necessarily comfortable for everyone, and that is okay, since everyone's comfort requirements differ. Typically, Chinese style chairs have a square shape with four rails below the seat. First, Yeung started with some concept drawings. His concept was to curve the back, extending at the top into a continuous curve that formed the back and arms. The arms were arched down to offer greater comfort. A mid stile joined the arm with the seat rail on the sides. The arm curves down at the front blending smoothly into the front leg using the well known "smoking pipe" joint so often used in Chinese chair design.
From the concept drawing, Yeung progressed to stick and cardboard mockups. The flow of the arm into the leg and the seat design were critical. It was time to make a wood prototype. How would the seat frame and leg come together? The first seat frame was square to the legs, a bit too harsh given the flowing arm structure. The seat rails were changed from straight to curved, and arched slightly with a step at the end just before the leg. The mockup proved the design. He was satisfied. Now it was time to pick out the wood.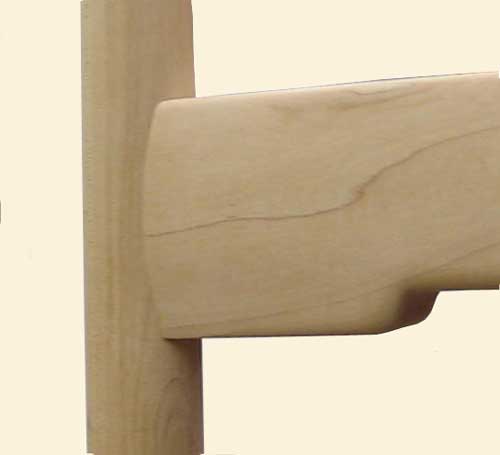 Yeung chose to use American Cherry for this project for its color and grain. Grain follows form and he was confident Cherry would match this elegant form he had chosen for his chair. It was off to Higgins Lumber to select a truck load of 8/4 Cherry.
In the June 2005 issue of Fine Woodworking, Yeung had seen the design for a fixture to make round table and chair legs using a router. It was exactly what he needed. He made the fixture so that his legs would have a slight curve, 1 ½" diameter in the middle, 1 3/8" diameter at the ends. He used a spokes shave to round the seat rails. He made templates for the seat back and seat. Now the design was complete -- a continuous curve forming the front legs, arms and chair back, the "smoking pipe" joint, curved and arched seat rails, the curved mid rail for the arms and the curved seat back.
And most importantly, the grain was chosen to follow the form.
The final finish was shellac, the seat of red leather. Truly "Inspired by China", yet offering greater comfort and grace. Yeung made a matching table and used spalted Maple for the top, Cherry for the frame and legs. He used mitered mortise and tenon joints to join the top to the corner legs.

Another fine presentation by Yeung ended the meeting as the inspired members went home to design their own chairs.

John Blackmore and Mark Rand