Announcements
Dues. It's almost dues time for year 2006. The dues are $30 for individual members and $35 for families. You can drop off cash or a check (no clean or dirty aluminum cans please) to Mark Rand, Treasurer at the meeting or by mail to 665 27th St. San Francisco 94131. PLEASE MAKE THE CHECKS OUT TO BAWA.
BAWA Apparel. Hey! Be the first one in your block to be decked out in the latest BAWA finery. Wear the finery to the meetings, to the wood shows or just show your envious woodworker friends. Jay Perrine is the source of BAWA baseball caps ($10), and BAWA work shirts ($35 or so). You can contact him at jperrine@calwater.com or 408/378-1585.
Or how about a nice laser-engraved name tag for BAWA meetings? Check out Mike Cooper's. He can get you one for $8. (mlcooper94555@comcast.net or 510/471-6934.)
Woodcraft. Dublin & San Carlos give the club a rebate on all purchases. Give receipts to Mark Rand.
Open Shop. Volunteer to open your shop to members. Contact Bruce Bell at bell422@earthlink.net or 415/681-8353.


This Month's Meeting
December 15th
(3rd Thursday)
6:30 pm
Voting for candidates for office. List of candidates are elsewhere in this newsletter.
Dessert Party-Bring your favorite dessert for 4 to 6 people. In order not to have many same desserts, please contact Carol Jean Reiser at caroljean1@earthlink.net or 408 295-4087 as soon as you can. Please bring something so that we don't run out.
NOTE: There will be no Show and Tell or Silent Auction since we do have to be out of the building by 9:30 PM.
The speaker will be Debey Zito. She has a 30-year history of furniture making, bringing Asian, American and European Arts & Crafts traditions to her contemporary works. Debey individually selects hardwoods from sustainable-grown forests and utilizes time-honored joinery and hand-rubbed finishes Among Debey's notable commissions are choir benches for San Francisco's historic Swedenborgian Church, and a display cabinet for the lobby of Disney's Grand California Hotel. Her work has also appeared in numerous periodicals, including Old House Interiors, Style 1900, Fine Woodworking, and Woodwork and has been published in several books: The Bungalow, Inside the Bungalow, Arts and Crafts Style and Spirit, and The Beautiful Necessity. Her web site is http://www.artisticlicense.org/members/zito/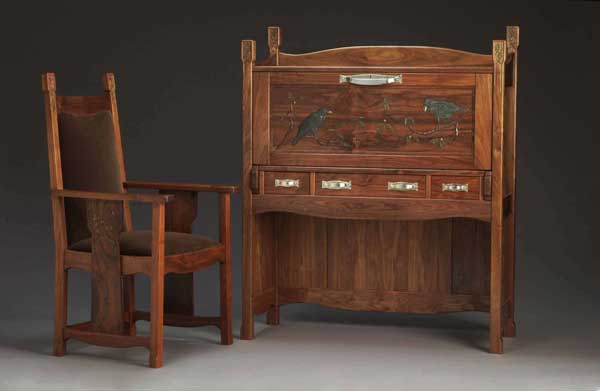 Veterans Memorial Senior Center
1455 Madison Ave
Redwood City 94061
Sunset Room





FROM HWY 101 GOING SOUTH: Take the WHIPPLE AVENUE off ramp. Turn right at signal onto WHIPPLE for about 8 blocks and turn left on HUDSON (no signal at Hudson-intersection before is Grand), go 6 blocks to the signal at JEFFERSON, cross JEFFERSON to MADISON. Turn right to 1455 MADISON and the Senior Center parking lot.
FROM HWY 101 GOING NORTH: Take WOODSIDE RD exit. Go west past HWY 82 (El Camino) to HUDSON (intersection before is Hess) turn right. Go on HUDSON 8 blocks to MADISON (1 block before a signal at Jefferson), turn left to 1455 MADISON and the Senior Center parking lot.
FROM HWY 280 NORTH & SOUTH: Take the FARM HILL off ramp passing Alameda De Las Pulgas and FARM HILL becomes JEFFERSON and turn right on ST. FRANCIS STREET (intersection before is Valota). Go a short block to 1455 MADISON and the Senior Center parking lot.