President's Message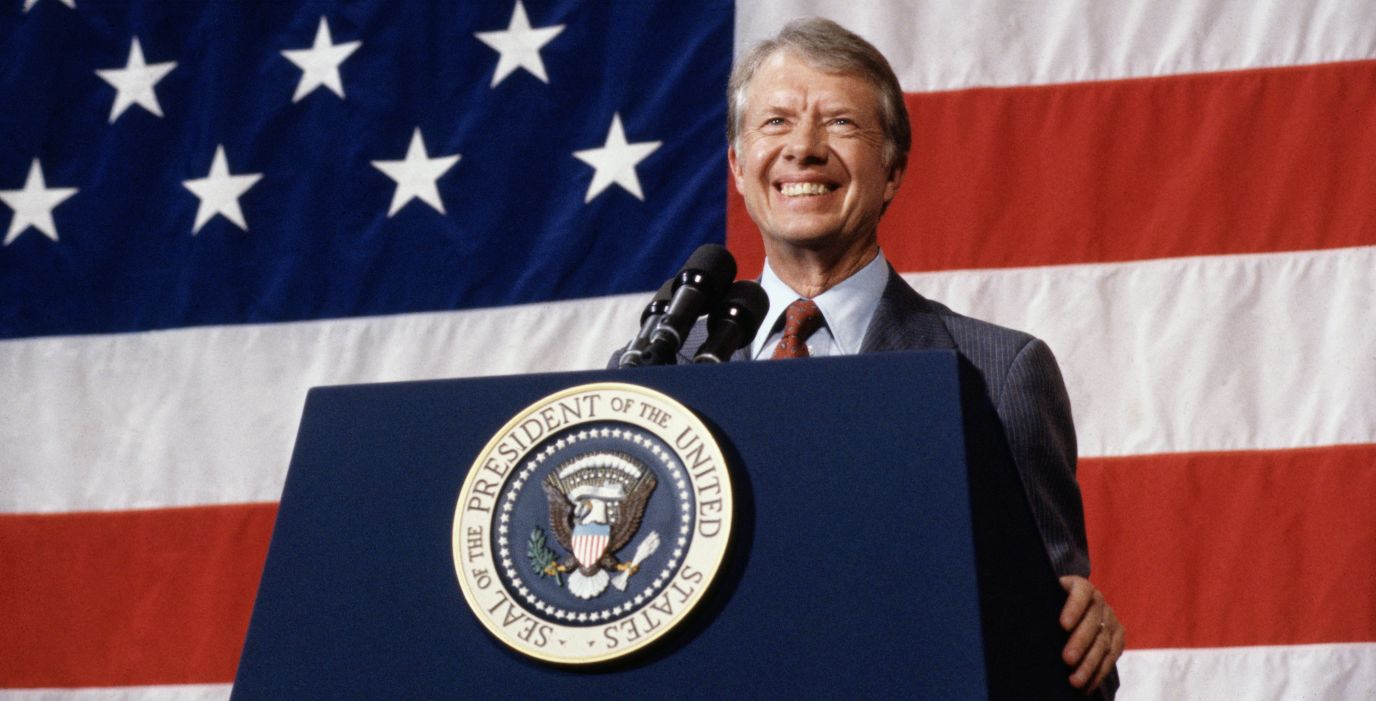 President Jimmy Carter
I think this is probably the first time that an American President has been mentioned in our Newsletters.
Many of you may not remember him, but I do, not for being President of the United States, but for what did after leaving office: he became a woodworker.
He made many intersting pieces and his work has been written up in Fine Woodworking and many more publiations.
See the link below.
(I have linked to the page rather than copy the images as I do not their copyright situation)
Enjoy your woodworking
Cheera
Frank
Contact at:
Frankramsay8@aol.com
BAWA Meeting February 19, 2023 Combined in person & Zoom meeting
The evening was called to order by President Frank Ramsay Guests: Ken Hornberg of Portola Valley. Announcements: Jon Kaplan Jon Kaplan stated that the club has only 26 members who have renewed their membership.
Last year we had 52 members. Please pay your membership dues. Frank confirmed that you can still pay your dues online or by mail. March meeting: Lloyd Worthington-Levy will be describing building a beautiful sideboard and Bruce Powell will be describing building a queen-size platform bed with drawers and a cross-bed tunnel. We had 20 people join us on Zoom. 16 people attended in person.
The meeting was called to order by President Frank Ramsay.

---

(www.baumarfinishing.com) Steve started his finishing business in 1984. He said that conversion varnish is the clear finish of choice for water resistant finishes. It is catalyzed and dries quickly. It holds up to years of heavy use on tabletops in kitchens, bars and restaurants. Farrow and Ball makes high quality paints that produce high gloss finishes. Rubio Monocoat has a great dead flat finish, although it is not cheap at about $170/liter. Steve mentioned that rags used for wipe-on finish must be laid out and allowed to air dry overnight in order to avoid spontaneous combustion. Rudd conversion varnish is another good one. It must be sprayed, not brushed. Helmsman Spar Varnish can be brushed. Steve mentioned that he does not usually sand finer than 180 grit before raising the grain. The 180 grit finish gives plenty of tooth for the finishes to bond to. He talked about using water based dyes for adding color to wood that will be finished with a water based clear finish. He said Enduro Conversion Varnish works well. He also said he thinks Kelly Moore and Sherwin-Williams make great finishing products. When asked about what spray equipment he uses, he said he uses Tekna gravity feed guns. He mentioned that a gloss finish is easier to touch up than a flat or semigloss finish because you can polish out the touch up to a glossy finish, but it is hard to match a dead flat or semi-gloss finish without refinishing the whole surface. Steve noted that Finish Master supplies Liberon wipe-on coatings. Sherwin-Williams Universal Primer is a great base for painted finishes. When asked about shellac finishes, he said it is too time consuming to apply for his shop. He did say that anyone who can create a good French Polish finish should have no problem getting employment... especially in Europe. When it comes to selecting and working with a commercial finisher, get to know the finisher and be sure to give them the actual wood you are using in your project so they know what to expect when finishing it. If your project has highly figured wood, sand to 320 grit and color with a dye rather than a stain. Avoid using Pledge, because it contains silicone, which is difficult to remove if you need to touch up or refinish the surface. Jasco makes a white water ring remover. Oxalic Acid removes mineral stains. Wear gloves, respirator, and goggles when using oxalic acid.
---
Show and Tell
Burt Rosensweig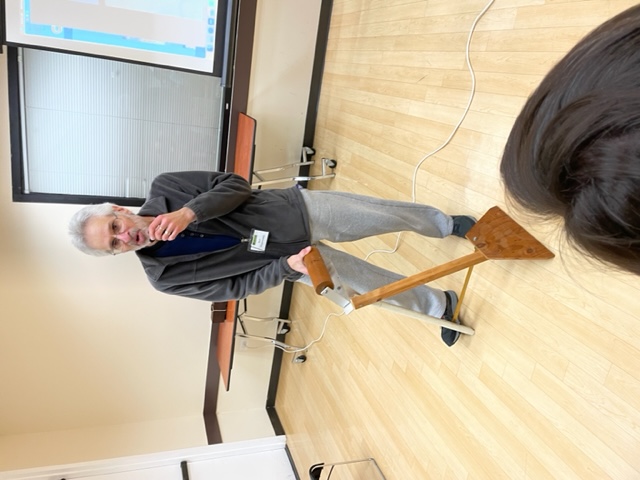 The feed roller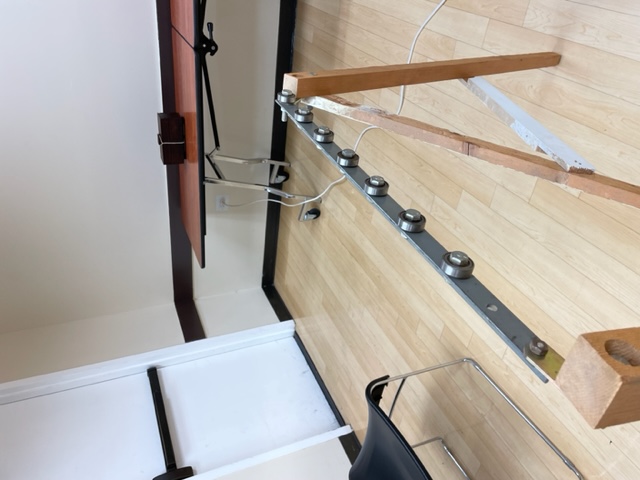 The side roller
Burt brought in the roller stands he made from materialh
he had accumulated over a period of years.
Both are used with the tablesaw.
One for long board ripping and one for long board cross cutting.
Max Goldstein
Max brought in the purple heart boards he has for sale.
Joe Ashears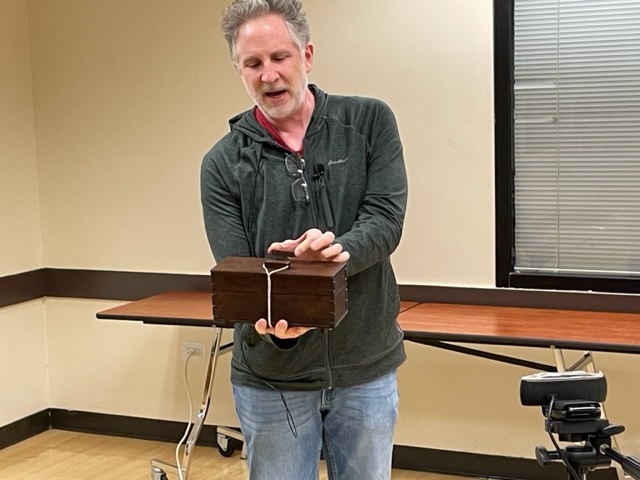 Joe brought in the Tea Box he made from Fine Woodworking plans.
It has an elegant "lock" consisting of encircling twine with two matching blocks containing hidden magnets.
He used a wire brush to give the exterior a rough surface and colored it dark brown.
Mateo McCullough
1/2" x 1" x 1-1/2" high miniature 18th century
Chippendale Secretary Desk he made, complete with dovetail joints.
Stan Booker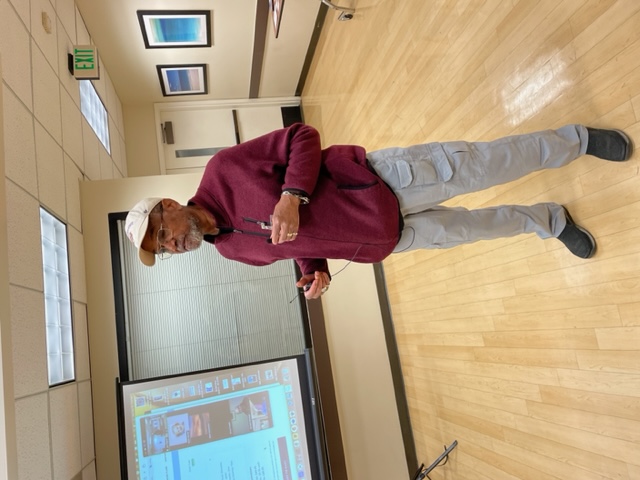 Stan asked for volunteers to help build
children's playhouses for the
Building Futures organization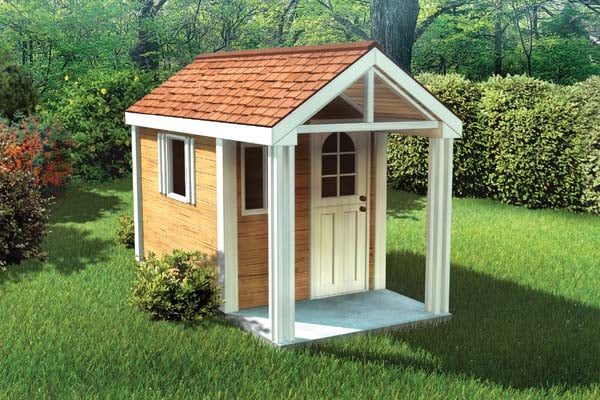 (https://coolhouseplans.com/project-plan-90033)
Further information: www.bfwc.org
\
---
Silent Auction
Bruce Powell donated the following items to the Silent Auction
Porter Cable 3-1/2 hp heavy router
Reliant dovetail jig
Small vacuum pump
Craftsman 1-1/2 hp 1/4" router with numerous bits

They were circulated on an email seeking bids.


---

Minutes by Burt Rosensweig