September 18th 2022 BAWA Hybrid Meeting
Frank Ramsay called the meeting to order at 6:05 PM.
Announcements:
Based on member feedback, Frank discussed some ideas about improving the on-line experience for meeting participants. Possibly by using two cameras and two microphones We need more volunteers to help with this work.
Harry reminded everyone that the annual toy workshop will be held October 8th at Bill Henzel's shop in San Jose. A sign up sheet was circulated. The build this year will be articulated pull toys.
South Bay Woodworkers has donated a bag full of wheels for these.
Frank discussed some ideas about improving the on-line experience for meeting participants and requested that someone volunteer to take on responsibility for that effort.
---
Yeung Chan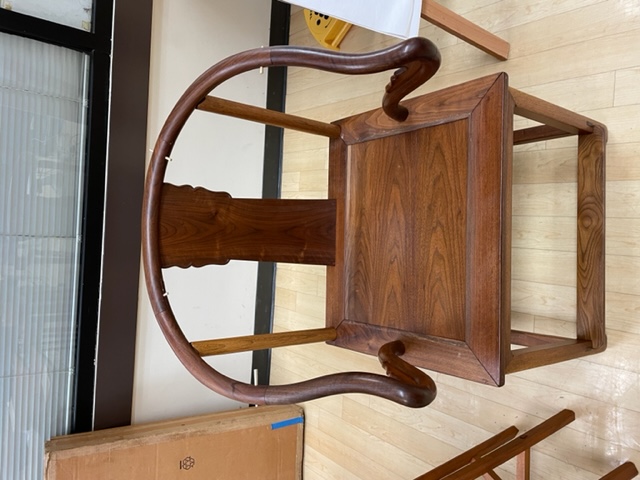 Yeung's Ming Chair
Our main speaker was BAWA member Yeung Chan.
Yeung spoke about using classic Chinese joinery for making furniture and showed his book, Classic Joints With Power Tools, plus a book on Chinese Domestic Furniture(see links below)
He discussed the shape and use of many different joints, including tongue and groove, dovetail, mortise and tenon, as well as more complicated joints such as mitered mortise and tenon and three way miter joints.
A lap joint combined with mortise and tenon increases the strength of the joint
.
For through tenons, he advised to always cut the mortise from the outside of the board so any tearout will be on the inside and likely hidden.
Yeung then talked through the range of joints he used to make a chair while assembling that chair as we watched.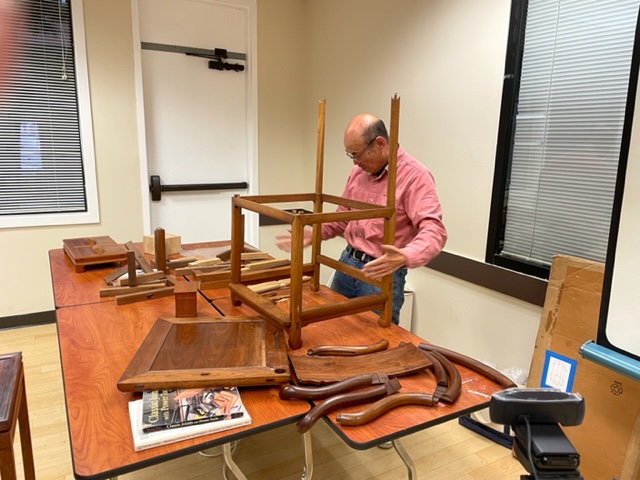 Assembling the frame of the chair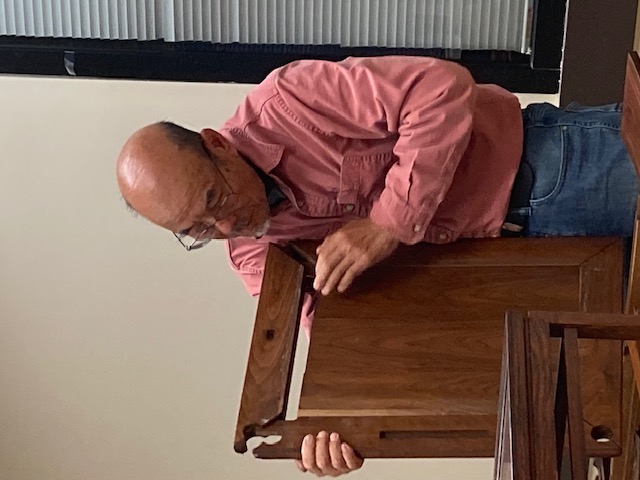 Assembling the chair seat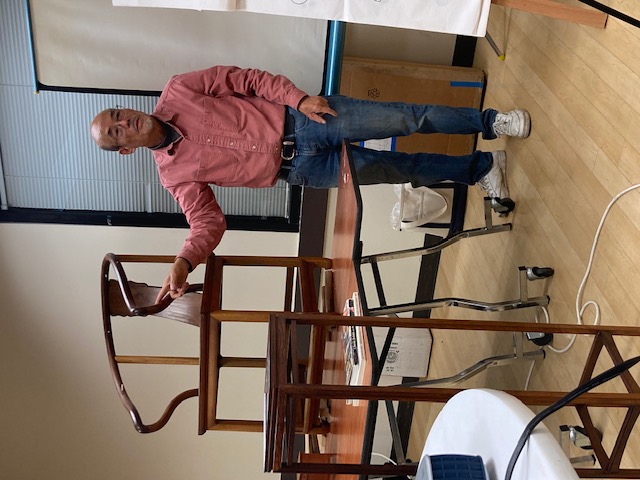 Adding small panels in the arms for strength
He demonstrated frame and panel construction with a center support that he used for the seat. Assembly of the seat started with joining boards together into a panel using tongue and groove as well as sliding dovetails.
Yeung showed the curved scarf joints he used to lengthen the continuous curved arm rest. All of these joints are designed as interlocking, non-glued joints held together with bamboo pins. Many of the joints he demonstrated were originally used centuries ago for building construction and then migrated to furniture.
During the presentation Yeung covered how these intricate joints can be cut accurately with a tablesaw, flat top blade and carefully built jigs.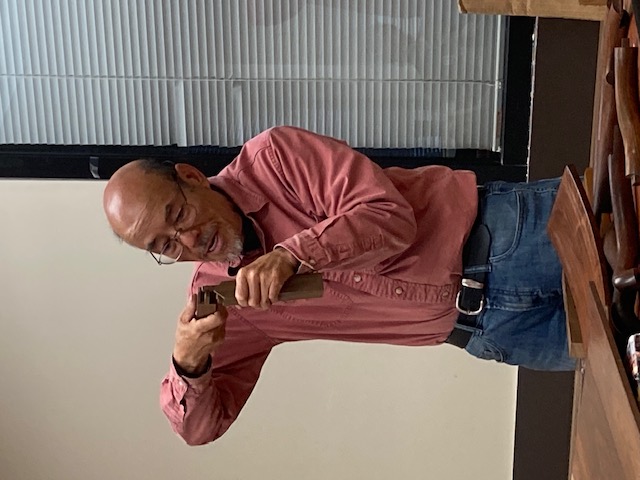 Assembling a 3 corner interlocking miter joint
The sliding sledge for making accurate 45 and 30/60 degree cuts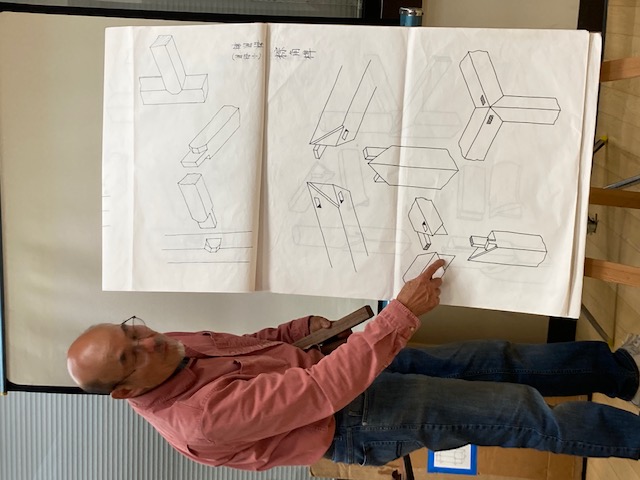 One of the charts Yeung used to show the construction of the Chinese joints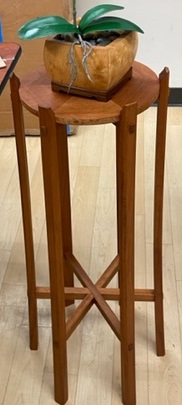 Hexagonal Stand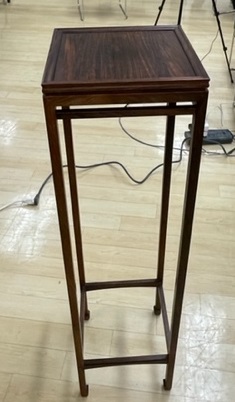 Square Stand
Yeung also showed two tall stands
no glue, just pushed together and come apart for transporting
Reference books
For those interested in Chinese joinery Yeung recomends
"Very inexpensive and well worth the investment"
---
Show and Tell
Frank Ramsay
60 in. tall wardrobe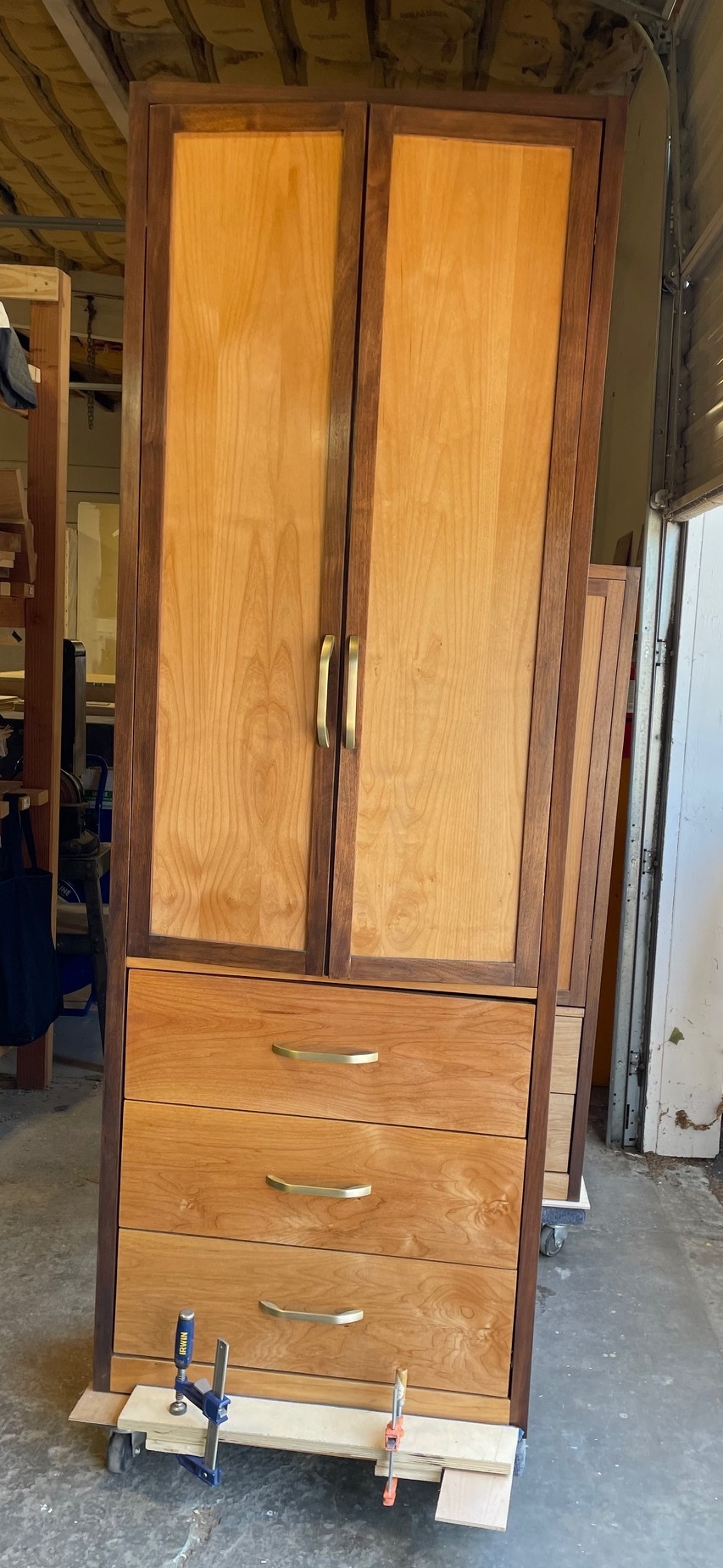 84 in. tall wardrobe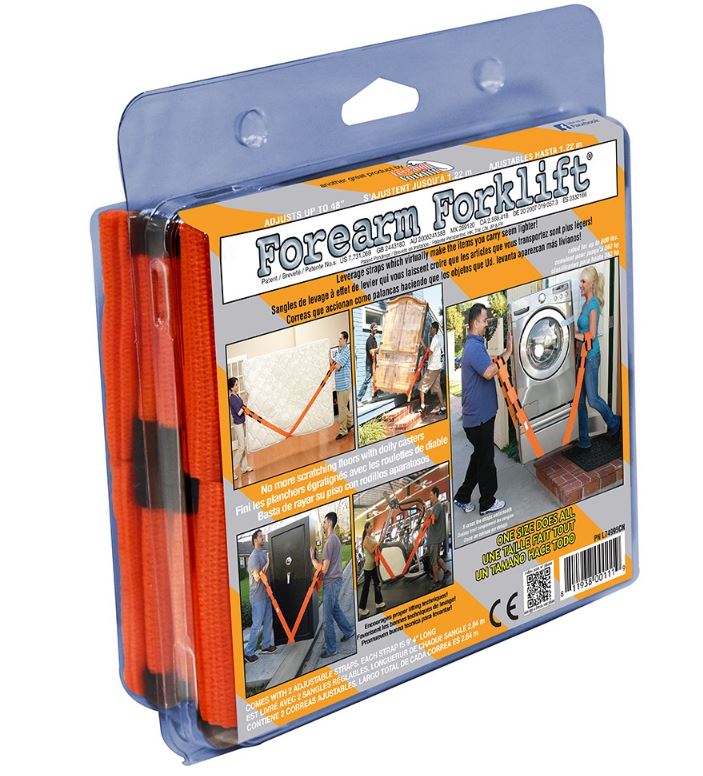 The Moving Straps
Frank talked about two very large wardrobes he recently built
and the how the client and a Task Rabbit were able to carry them up several flights,
including a corner, of stairs in his client's home.
He was impressed by they use a pair of Forearm Forklift Moving Straps to lift them.
---
Silent Auction
This meeting's items were a boxed set of Foristner bits and a pair of Record spockshaves kindly donated by Bill Henzel/h4> (After the meeting both found new homes)


Minutes by Lloyd Minutes by Harry Filer and Jon Kaplan