President's Message
Rhind Mathematical Papyrus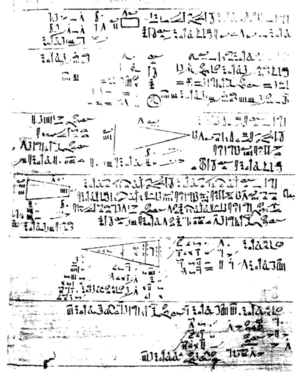 A few years ago we visited the Alhambra in Granada, Spain and were in wonder of the elaborate, geometric patterns that were everywhere in the palace. We bought a book of the patterns with illustrations of how they could be created using with just a compass and a straight edge. It was how I was taught technical drawing at school when I was 11 years old.
Reading about this after we returned I found it was Euclidean geometry is an old form of geometry named after the Greek mathematician Euclid who died in the 3rd century BCE (at my level of school the word Euclidian was never used)
Using Euclidian geometry, it is easier to mark out some woodworking tasks such as marking of hexagonal table tops rather than using set squares. But recent discoveries have revealed that Euclidian geometry goes back over 3000 thousand years – all the way back to the ancient Egyptians The British Museum has several Papyrus papers) on ancient Egyptian mathematics. Of which one of the best known examples is The Rhind Mathematical Papyrus It is a collection of 112 problems complete with solutions. Including:
Calculating the volume of a cylindrical granary
Calculating the area of a circle
Calculating roots and square roots
Plus six problems that are related to the slopes of pyramids.
They even had a value for π . In those days the value for π was already approximated as 3.16 (a 0.6% margin error, extremely good even by modern standards) this was 4000 years before that value was fixed.

The paper was written by Ahmes, an Egyptian scribe, around 1650 BCE
I am not implying we go back to the relatively crude woodwork of the ancient Egyptian era, but it is interesting that even though we use automated drawing programs and CNC machines, some of the techniques we use have their origins several thousand years ago. If you want to read about this work you can check out: Plus there are lots of books on the subject There is also a 232 page pdf on-line Note: I first saw mention of Rhind Mathematical Papyrus in a Facebook comment did not know it was such a big thing

May 15th 2022 BAWA Hybrid Meeting
The meeting was called to order by President Frank Ramsay.
Guests:Michael Jessy from Diablo Woodworkers
Announcements:
Paul announced the field trip to Berkeley Mills at 10:00am on Saturday, May 21. They manufacture high end custom cabinetry and institutional furniture.
(Post meeting note: It was very succesful: see pictures at the end of this Newsletter)
Tait Detro will talk about his furniture making at the June 26tth meeting
"He is a recent grad from the Krenov school.
Note: the June meeting will be on 26th, not 19th. to avoid a conflict with Fathers Day
We will have a sharpening class late June.
We will have a dovetail making class in September.
Jon Kaplan and Tom Gaston have agreed to teach the class.
---
Sumit Roy He teaches woodworking at the Palo Alto Adult School. A retired electrical engineer, he joined the school in 2016. He mentioned that classes are for beginners as well as experienced wood workers. However, experienced woodworkers are required to take the beginner class so they learn how to use the power tools the way the instructors know to be the safest methods. Sumit showed slides of the equipment at the school and he mentioned that all the table saws are now SawStop brand - for safety sake. Claude Godcharles is an advanced instructor there too. Sumit said that classes are held one day a week for 9-11 weeks. Cost is about $300 for the whole 9-11 weeks, which is less expensive than most other woodworking classes in the bay area. The classes are always sold out, and the evening classes often sell out within an hour of the time they are announced. Classes are listed as Woodworking I, Woodworking II, Woodworking III and Woodworking IV. Woodworking IV is for experienced woodworkers who have their own projects and just need to use the facilities. You can contact Sumit at sroy@pausd.org
Jon Kaplan
Jon showed slides of the Continuo Organ console he designed and made for a friend. He designed it using Fusion 360 and made it from white oak and oak plywood. The woodworking project houses a computer, a music keyboard, two speakers, a music stand, a computer keyboard and mouse, and an LCD display. He used his CNC router to cut decorative openings for speaker grills. He used biscuit joinery and Watco oil finish.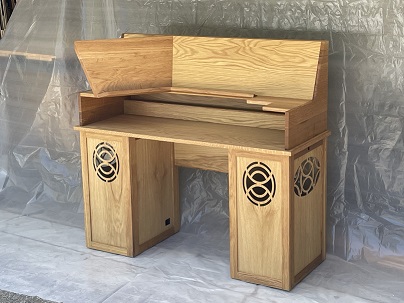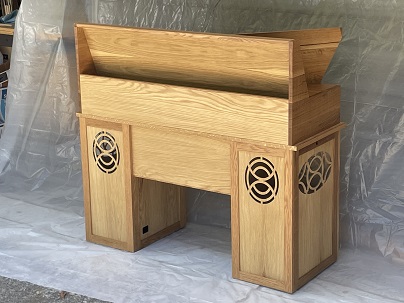 ---
Show and Tell
Max Goldstein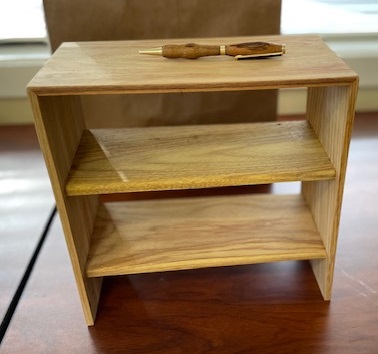 Max brought in the small shelf unit he made from scrap Canary wood that he got at Rockler.
He has not put a finish on it yet, but he showed us how it would look by putting some water on it.
He also made a pen at the pen turning class at Rockler.
Dennis Yamamoto
no pics
Dennis showed photos of his walnut end tables for his bedroom set.
The tops and apron/shelf are veneered.
The drawer fronts have a marquetry design that was made using the double bevel method.
Koa was used in the marquetry. Dennis still has not decided what drawer pulls he will use.
Laura Rhodes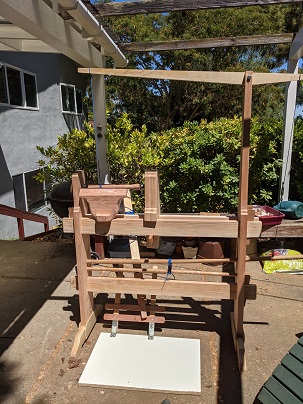 Laura showed photos of the spring lathe she made using only hand tools.
It is foot pedal powered and can be knocked down for transporting.
Claude Godcharles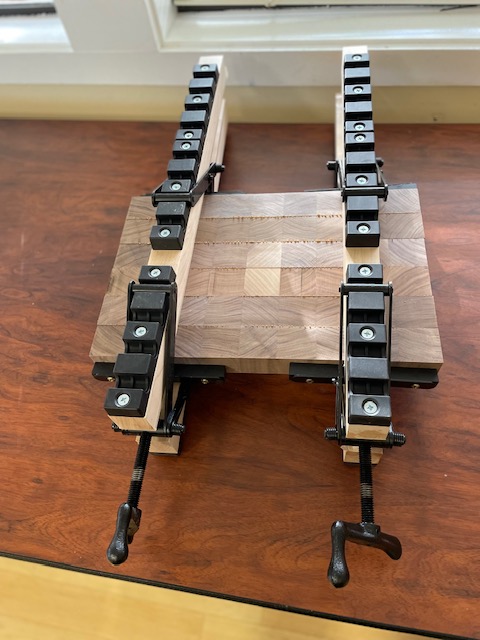 Claude brought in 4-way clamps that are ideal for clamping cutting boards and laminated table tops.
John Hamilton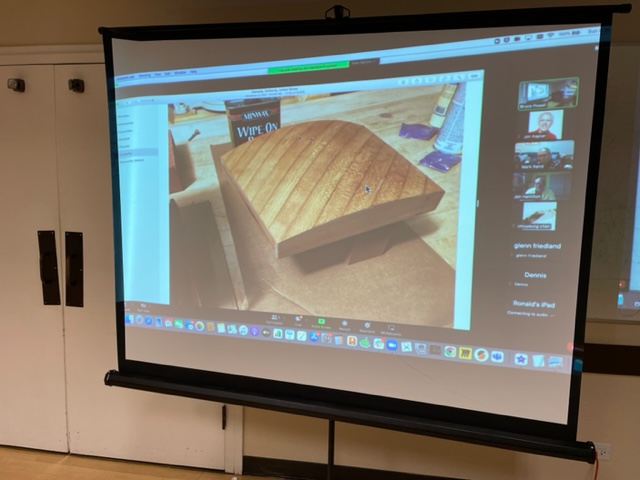 John showed photos of edge banding he used to make a compound curved roof for an outdoor wall lamp. He coated it with epoxy.
Sumit Roy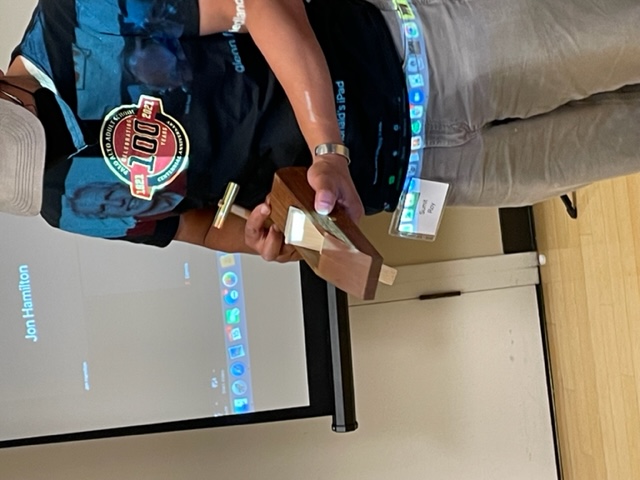 Sumit brought in a plane and plane-tuning hammer he made after attending Yeung Chen's class.
---
Silent Auction
This meeting's items: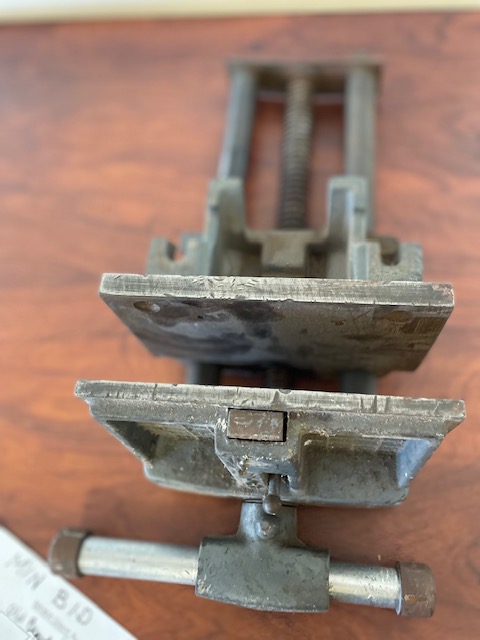 Wilton woodworking vise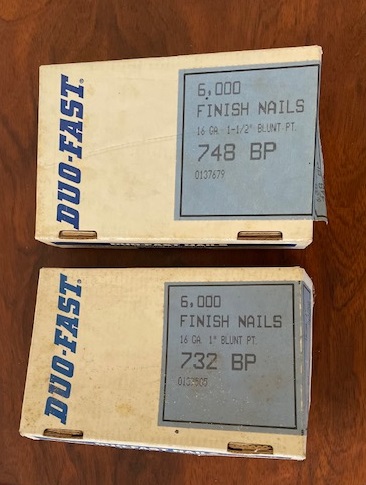 16 gauge 1 & 1-1/2 in. nail gun brads
---
Pictures from our visit to Berkeley Mills
(more at our next meeting)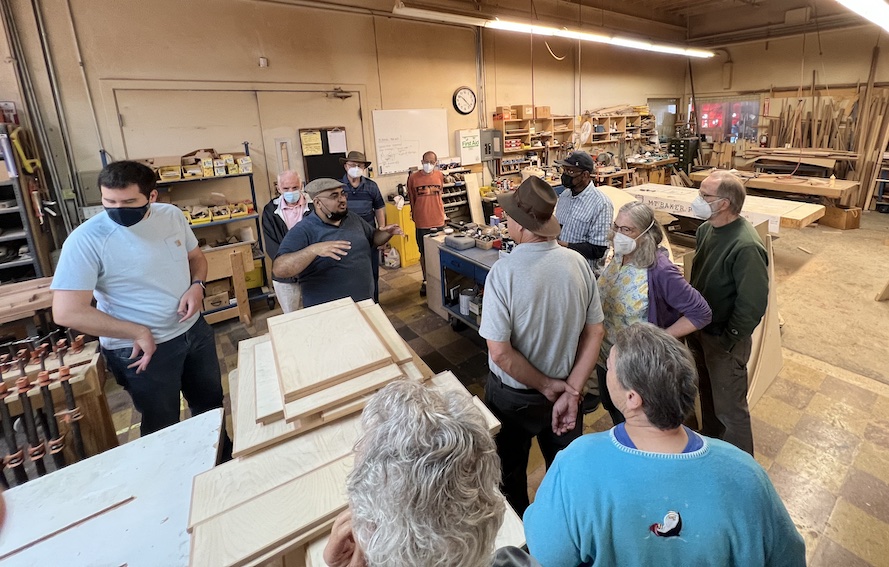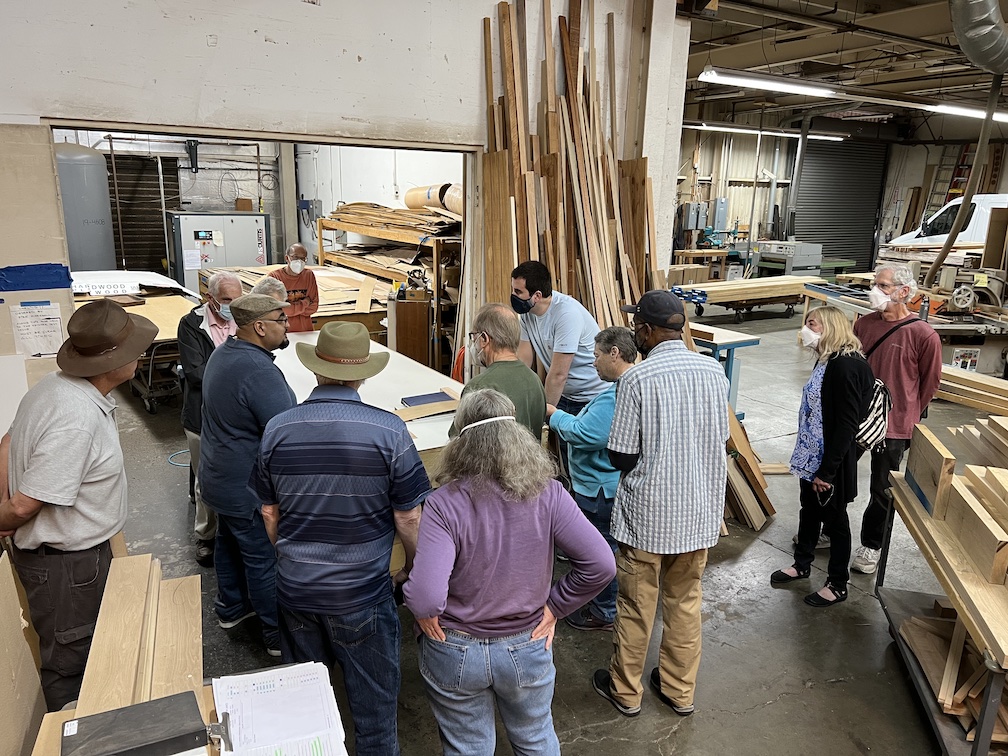 ---
Minutes by Burt Rosensweig
---