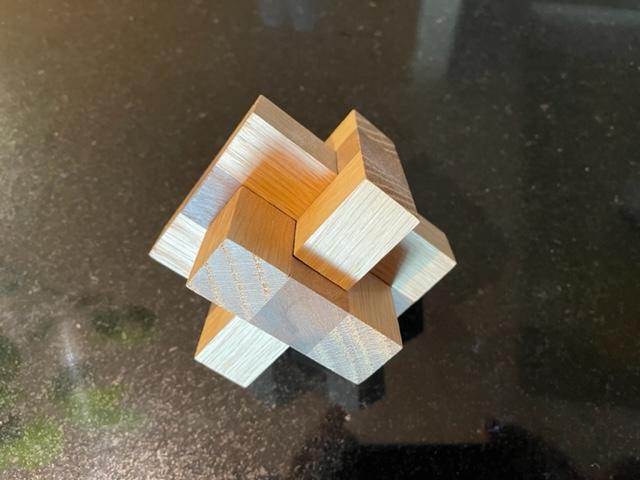 Burr Puzzel by Per Madsen
A long time ago, in the early days of our Covid Zoom meetings, Jon began presenting his monthly Covid Woodworking, small projects you could do in your garage or workshop to sharpen your skills during the enforced lookdown period. Those days seem so long ago and we never thought we would still be in a Covid world in 2022 – but we are.
I was thinking of Jon's Covid projects and remembered our BAWA Meeting in May 2009 when a long time BAWA member, George Bosworth, made a presentation on "Three Dimensional Wooden Puzzles", or Burr Puzzles. BAWA Newsletter May 2009
Burr puzzles are simple yet complicated structures, which can range from those having only 9 pieces to those with (theoretically) an infinate number of pieces. The Newsletter links to a lot of information that could keep you busy
PS: George Bosworth was early into computers. His most lasting contribution to BAWA was to register the URL: bayareawoodworkers.org before most of us were thinking about it Enjoy your woodworking.
The meeting was called to order by President Frank Ramsay.
Guests: Warren Wolfeld New Member: Curt Liljedahl Announcements: Jon Kaplan stated that we have 24 members who have paid membership dues for 2022. A number of them paid more than the required $60. Woodworking Classes Bruce volunteered to teach double bevel marquetry at his house in San Fransisco on Feb 19. Class is limited to four people. He will add a second class if enough people are interested. For entry to the class we are looking for a $60 donation. Yeung Chan was asked if he would teach chisel making and he agreed he might be able to do it in April. The next meeting will be on Feb 20. We hope to get Scott Wynn to speak.

---


Design and construction of a side table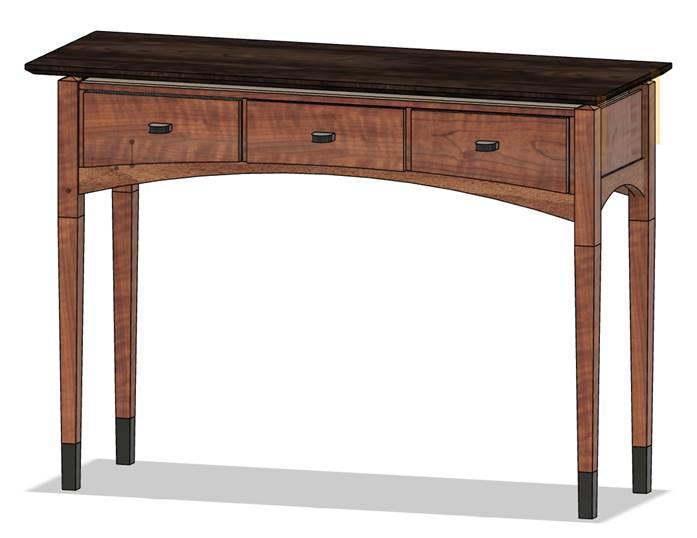 Fusion 360 rendering of the design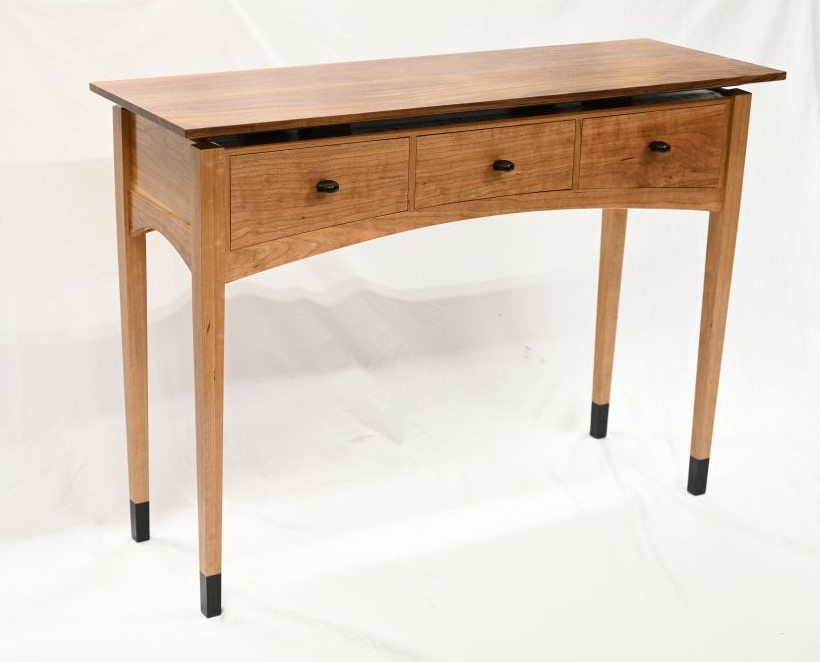 Completed table
Lloyd talked about his Walnut, Cherry and Ebony side table that he designed in Fusion 360.
Fusion 360 is a powerful parametric 3D design program that is free for users with limited requirements.
It allowed Lloyd to see what the table would look like before he cut any wood, and to produce fully dimensioned drawings of all the components.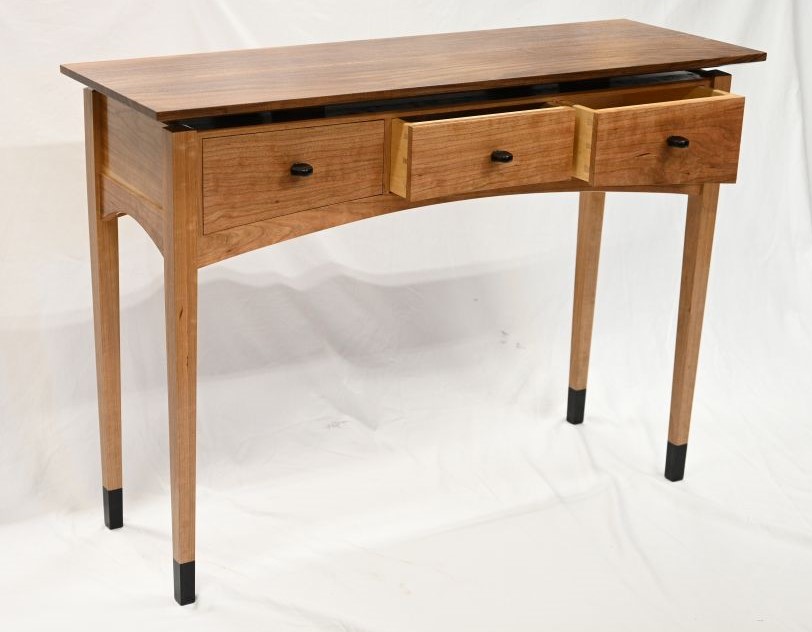 Drawer details
The table has drawers, tapered legs and a floating Walnut top.
The drawers have dovetail joints. He cut the dovetails on his tablesaw. He has a tablesaw blade ground to 7 degrees just for cutting dovetails. He made a clever jig for cutting the tapered legs. The legs have about 3-1/2 inches of ebony veneer extending up from the bottom to give the illusion that the legs are not too long and spindly looking. The drawers slide into a frame made with dowel and Domino joinery. The legs have mortise and tenon joints that mount to the frame. With the exception of the Walnut top and Ebony lower leg veneers, the remainder of the table has cherry exterior surfaces. The drawer pulls are Viola tuning pegs.
Lloyd chose to pre-finish most pieces. He used General Finishes water-based polyurethane to finish the piece - 3 coats. Lloyd said that he got the walnut from Global Hardware Supply in Campbell.
Bruce mentioned that Robert Beauchamp in Windsor is a good source for Walnut. thewalnutplace.com
---
John Blackmore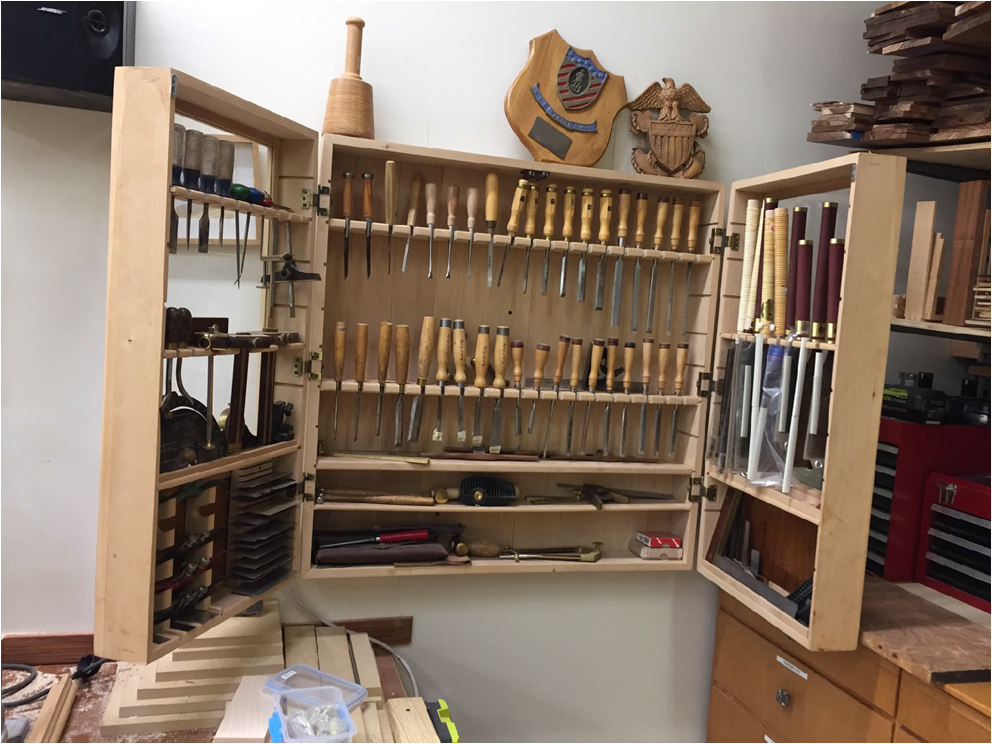 \
Here is my collection: Sorby, Greenlee, Lie Nielsen, Craftsman, Freud, Swiss and Japanese.
I bought the Greenlee off Craig's list years ago.
Got a great price and gave half of them to Stan Booker for his students in Africa, probably 15 to him.
Keep them sharp on my Lap Sharp but running out of discs. They may be out of business.
They are in a custom made cabinet.
John Wilson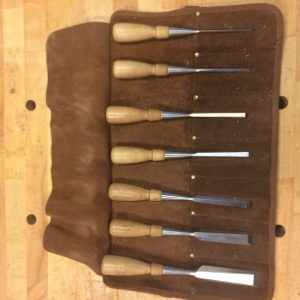 My favorite chisels are a set of Lie-Nielsen Bevel Edge chisels shown with a leather tool roll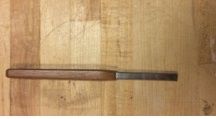 The single chisel is one I made at the College of the Redwood (now the Krenov School of Fine Woodworking) and is based on a design of my instructor and a BAWA member, master Yeung Chan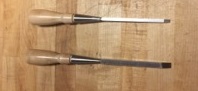 The last two are my Lie-Nielsen mortise chisels.
Jim Koren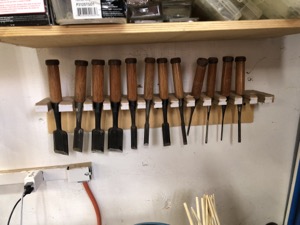 Footprint Chisels! My first chisel set was a Footprint brand 6 piece Shefield steel chisel set. They no longer make the red acetate handled chisels or use Sheffieldvsteel but I was able to purchase chisels on eBay to complete the set. I know they aren't well known here in the US but I love them.
I bought extra 1/2" chisels which I reground to 9° left and right for dovetail work. Also, I have doubles of some of the commonly used sizes so I don't have to stop and sharpen things mid-day. I think they take longer to sharpen than my Japanese chisels but are less likely to chip than my Japanese chisels when working hardwoods. When I'm heavy into chisel work, I sharpen all my chisels I'll be using every morning.
I have a large collection of other chisels including a Japanese bench set, several goosenecks, paring and mortising chisels, larger slicks, and round and mortising chisels for timber framing work. Most are Japanese in origin.
I use almost exclusively one of several metal hammers/sledges.
I switched from a poly-urethane mallet to metal once I started using Japanese chisels.
Bill Henzel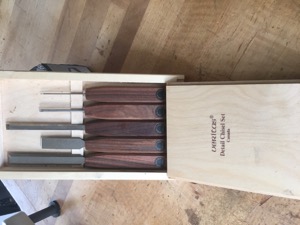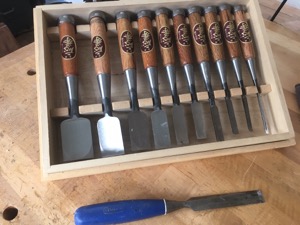 Bill showed Yeung Chan designed Veritas chisels
and his Japanese 10 piece chisel set.
Dennis Yamamoto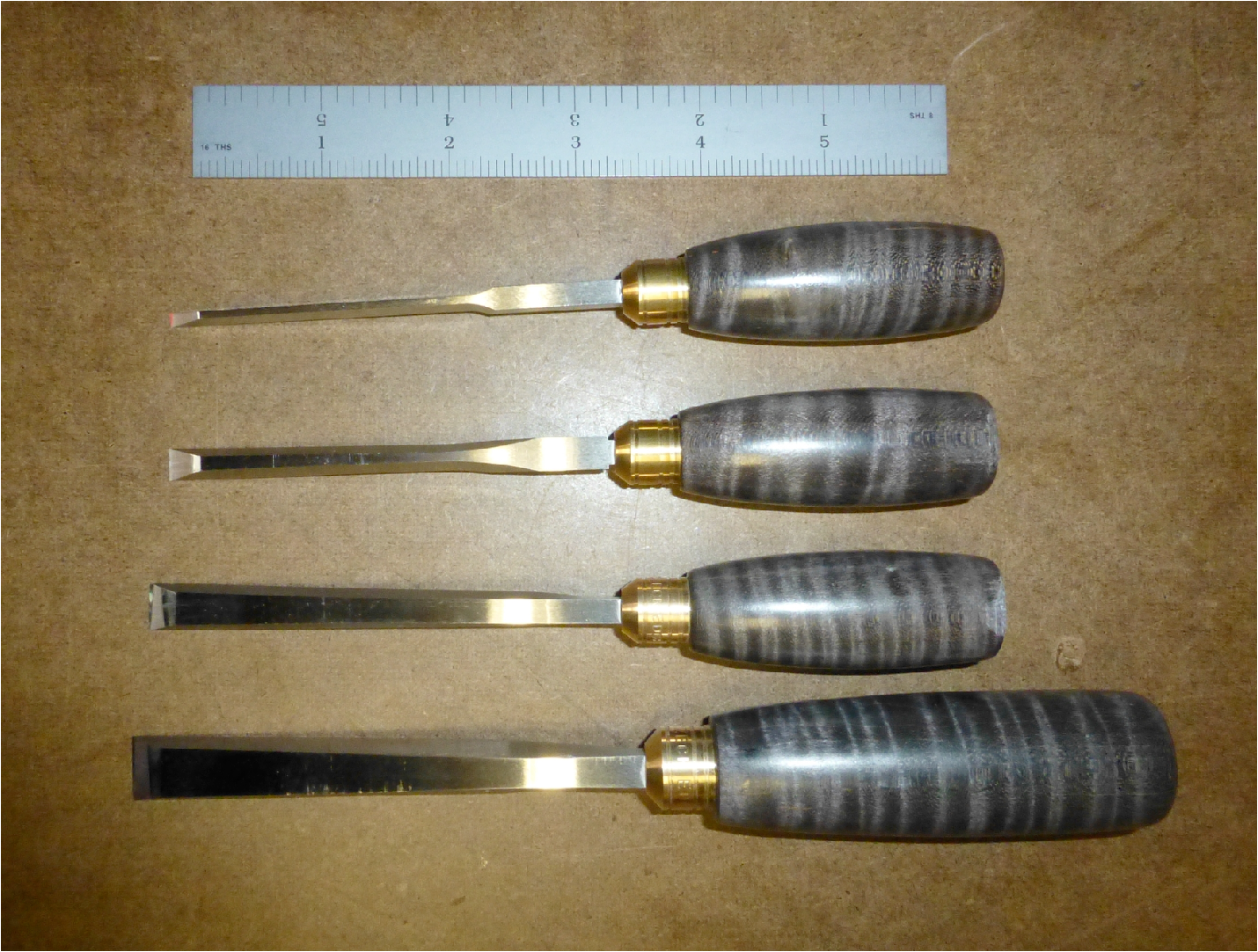 Czeck Edge chisels 1/8" to 1/2". Resin infused.
They are not made anymore so I don't know the steel.
Probably O1.
I use them for small dovetails. I like them because they are short.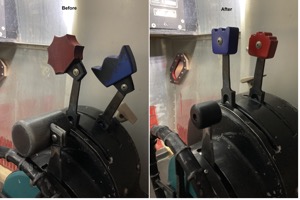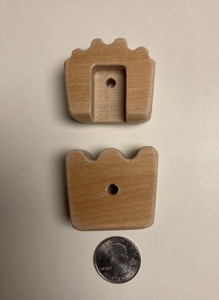 Burt showed the control knobs he made from maple that are being used in an interactive exhibit at the Hiller Aviation Museum in San Carlos.
"I volunteer at the Museum and just made some maple handles to replace worn out 3D printed plastic handles."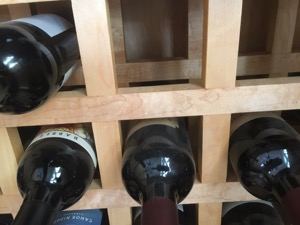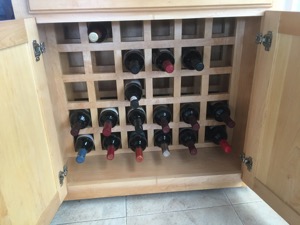 Bill showed photos of his wine cabinet made from maple.
It has raised panel doors to match his kitchen cabinets.
He used Minwax whitebond finish.
Mateo McCullough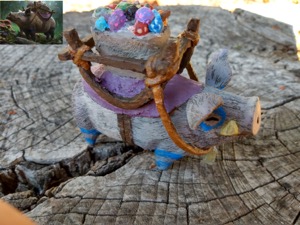 Trufflesnout 1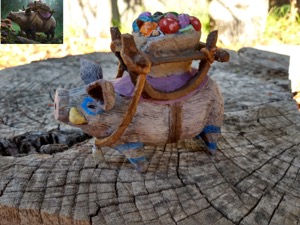 Trufflesnout 2.
Here are a couple pictures of a boar I made with the reference from the game in the top left corner.
It is mostly made from a single piece of poplar except the ears are from a scrap piece of mahogany.
using a power carver to create the piece that will be used in a board game.
The paints I used are acrylics.
Dennis Yamamoto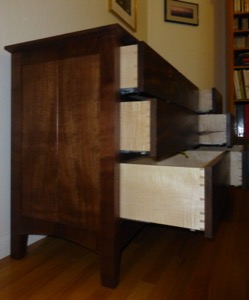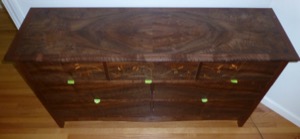 A Claro Walnut dresser

4 way book-matched top
Book-matched drawer fronts
Frame and panel inset back
Scotch green paper tape pulls!

Soft Maple dovetailed drawers
Blum Movento soft close undermount slides

Double bevel marquetry:
Birch shaped leaves in Koa Branches and seeds in Monkey Pod
Book-matched background in Claro Walnut.
Dennis is still trying to figure out what to use for drawer handles.
He got lots of suggestions from the Zoom audience.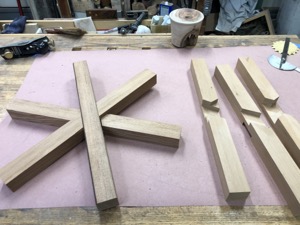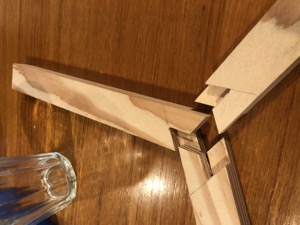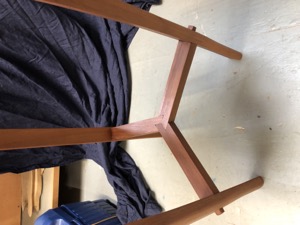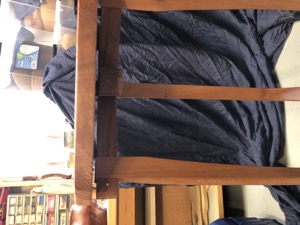 Tom's Redwood plant stands.
Minutes by Burt Rosensweig
---