President's Message
It has been a busy year.
After 2 years of Zoom meetings, this year we were able to move on to hybrid meetings.
Bruce Powell had worked out how we could make the system work with 2 screens, 2 projectors, 2 computers, a camera, microphone and an assortment of cables, So, with Bruce and Jon Kaplan at the controls and Max Goldstein as cameraman, we have been able to have combined in-person and on-line meetings since March.
These hybrid meetings have had both remote presenters and remote members.
For the first time BAWA had Show and Tell contributions from the East Coast.
Several members presented their pieces of furniture and explained the design and construction of them.
Some of our remote presenters also gave video tours of their workshop.
Tim Killan talked about the deign and construction of his Shaker Boxes, Yeung Chan talked about his chair designs and Eric McCrystal talked about his turned wooden mugs that incorporated dovetails.
We had classes on chisel making and marquetry plus a very interesting visit to the Arborica Saw Mill that Paul Krenitsky arranged.
We also had our 2nd Annual Picnic in the Park and, after missing 2 years, our Holiday Show and Tell party, to both of which members brought lots of interesting food
I am looking forward to all the interesting speakers and projects next year.
Seasons Greetings
And a Happy Woodworking New Year December 11th 2022 BAWA Hybrid Meeting The evening was called to order by President Frank Ramsay. The regular meeting was preceded with the BAWA Annual Members Meeting Jon Kaplan stated that the club has a record living memory number of 52 members
and a budget surplus based on income from classes and Silent Auctions. Frank said that all board members have agreed to continue in their current roles for the coming year. Laura Marshall volunteered to fill the vacant position of Silent Auction coordinator. The full list of Board Members and coordinators are available at:
---
Show and Tell
Jigs and fixtures
Bruce Powell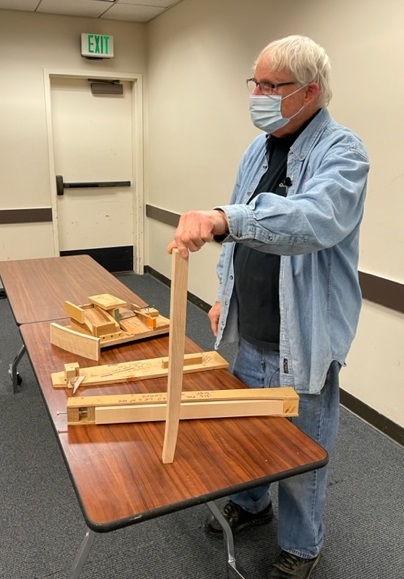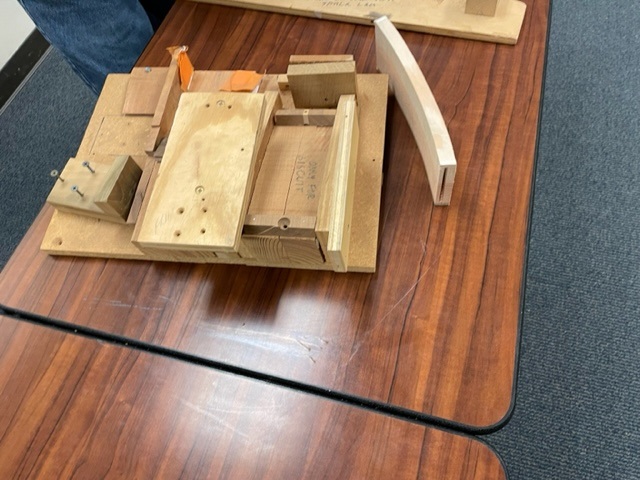 Bruce showed the jigs he uses to make the legs of
the 70+ three legged wine tables he has made over the years.

Several of these jigs have been used over 400 times.
Bruce mentioned that he still has a queen size bed headboard/footboard bending jig
available to anyone who might be interested.
Max Goldstein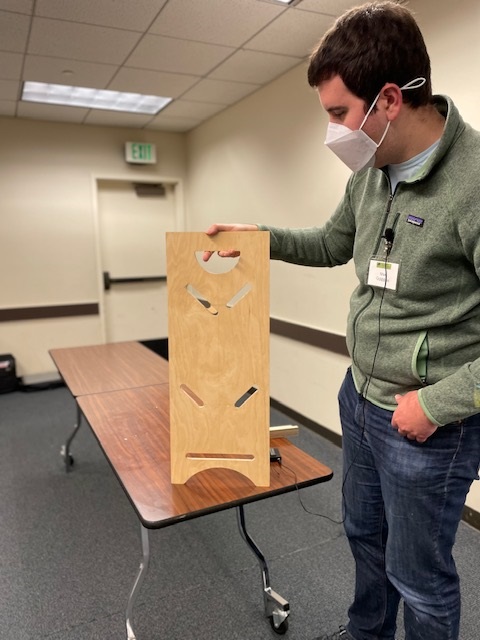 Max brought in a template for a bookcase that he is making
and the router jig that he used to make the template.
Laura Rhodes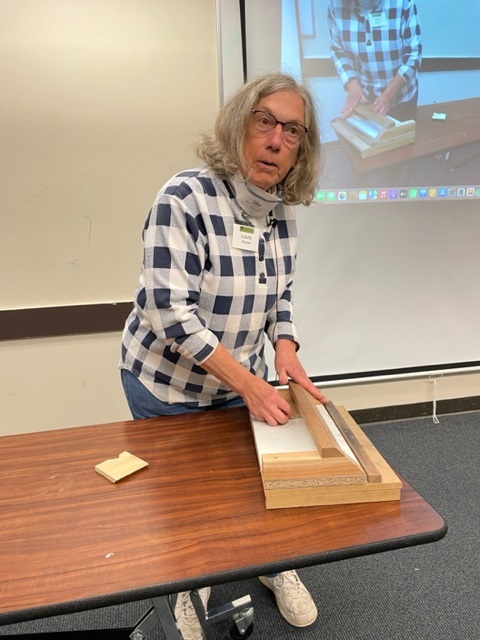 Laura brought in a shooting board for making 45 degree cuts.
Laura Marshall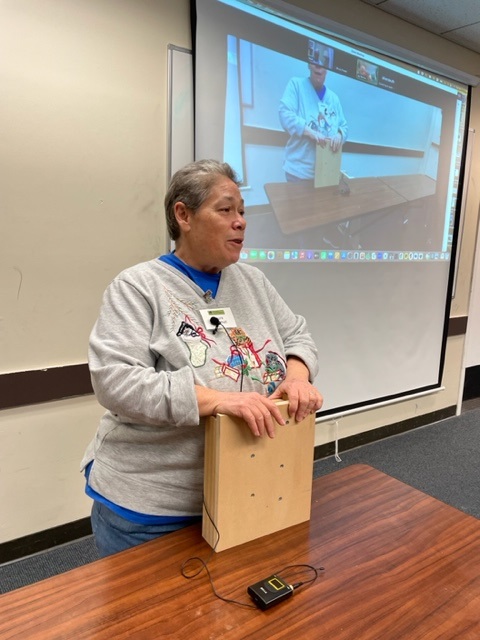 Laura explaining the use of her sled that can hold wood for making narrow cuts used for making infinity cubes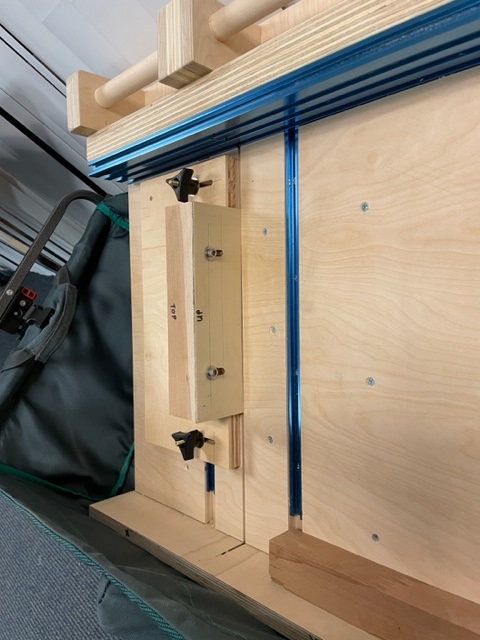 The crosscut sled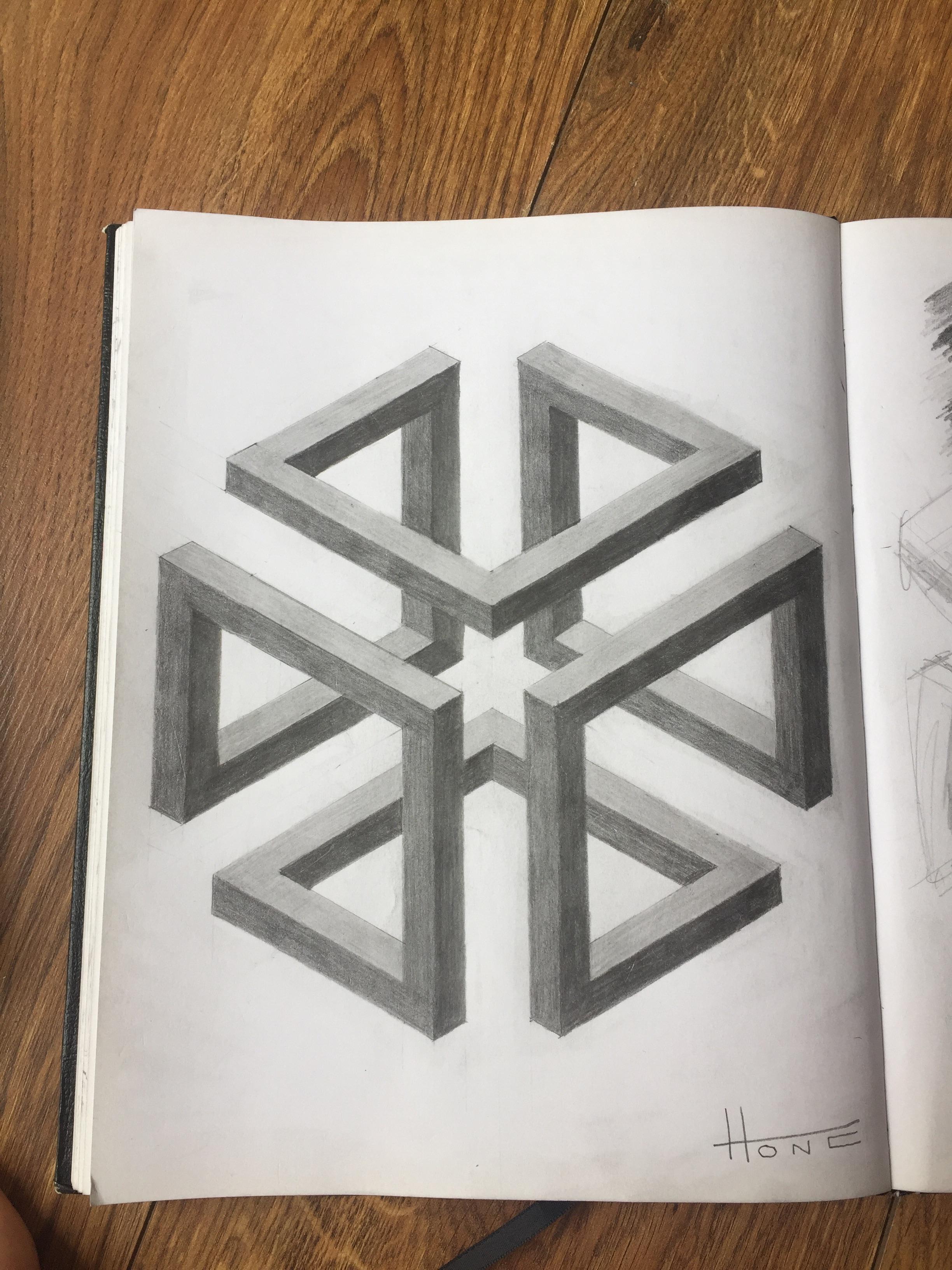 An Infinity Cube
Claude Godcharles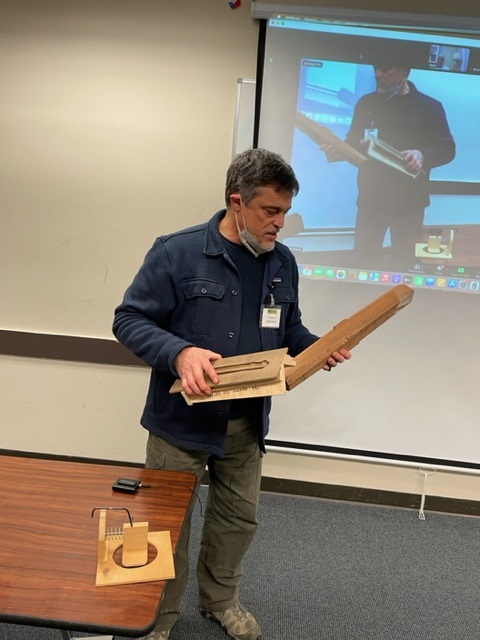 A router jig Claude uses for creating
complex table legs
with tapering octagonal facet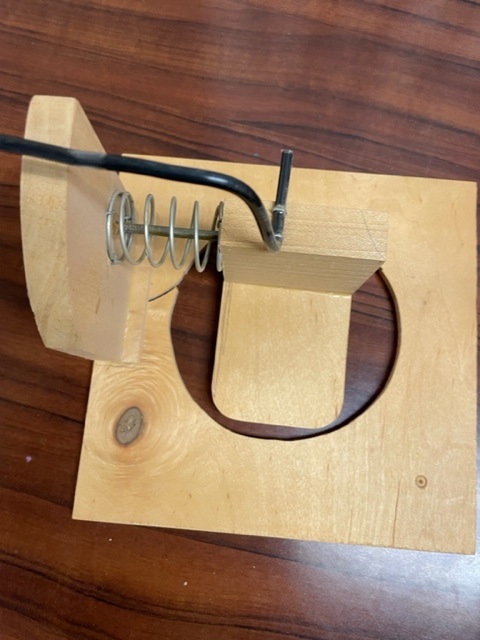 A sensor for installing at junctions
of a dust collector system to indicate
he effect of modifications to air flow
Lloyd Worthington Levy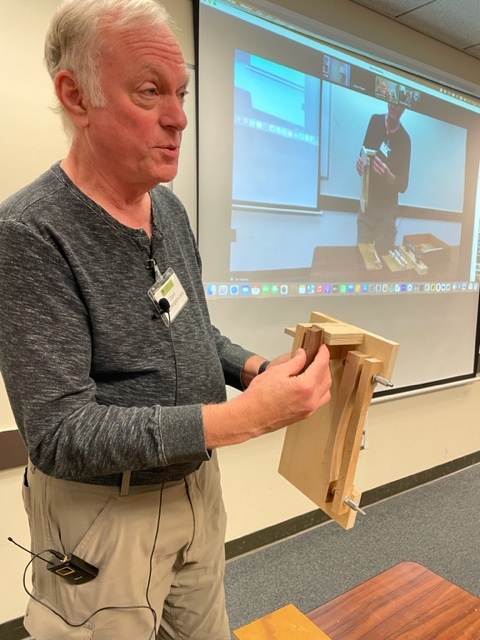 Lloyd brought in the 4 jigs used to make Green and Green drawer handles for his furniture
u
Burt Rosensweig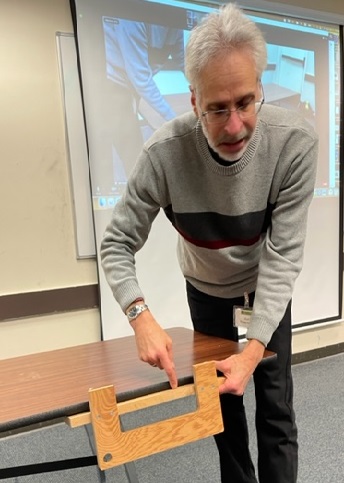 Burt brought in the router jig he used to cut hinge pockets
in the 13 interior doors he replaced in his house.
Paul Krenitsky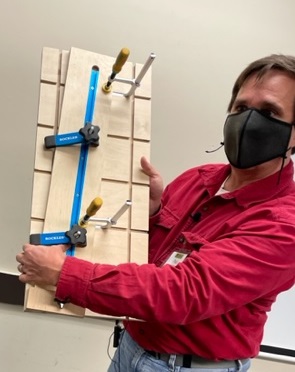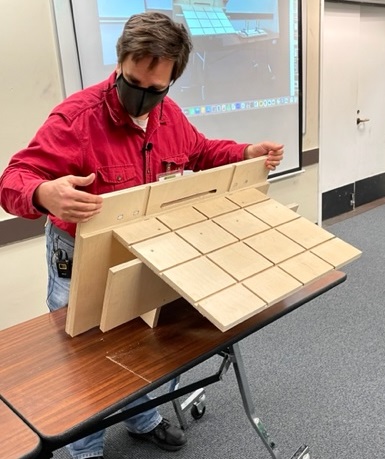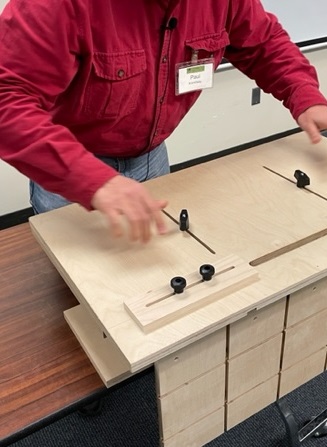 Paul brought in the tablesaw sled he made that uses MICROJIG DVC-525K2 MATCHFIT Dovetail Clamps
and the Philip Morley mortising jig he made that also uses the Microjig dovetail clamps.
Bill Henzel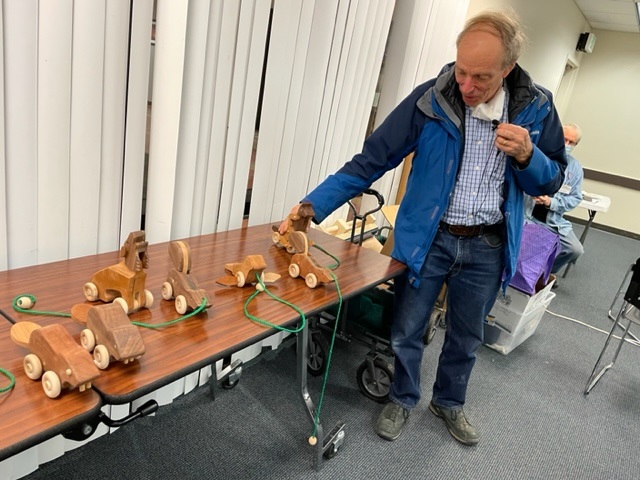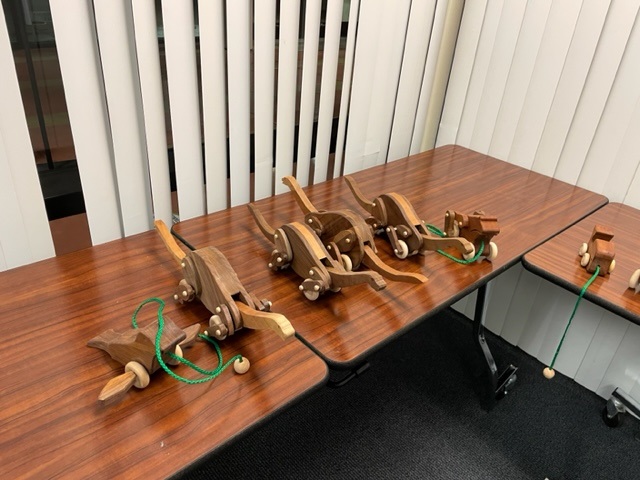 Bill brought along 20 pull toys
he and the toy workshop volunteers made over the past few months.
They will be donated to children in need on the peninsula.
After the Show and Tells Paul handed out raffle tickets to all who attended
plus extra tickets to those who brought in a jig or fixture.
He then raffled off prizes from Woodcraft of San Carlos.
Thank you Woodcraft
Great meeting, we had an abundance of good food, but a noticeable lack of drinks for the pot-luck.
Minutes by Burt Rosensweig
Secretary