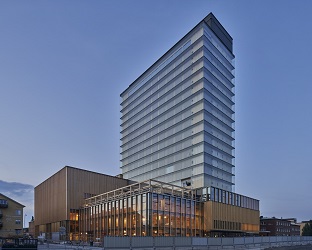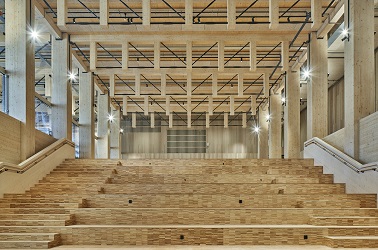 Fellow woodworkers
Wooden buildings are becoming even taller.
I read an article recently on the Sara Kulturhus Center, a newly opened 20 storey building In Skellefteå, Sweden.
It is a cultural centre that houses six theatre stages, the city library, two art galleries, and a hotel with 205 rooms, a conference centre, restaurants, sky bar, and spa
Mainly made of wood grown in the regional boreal forests. At 76 meters (250 feet) high it is the tallest wooden building ever built and the second tallest wooden structure.
(Above information from an article written by the architects White Arkitekter))
The highest wooden structure ever built was the Mühlacker Broadcasting Transmission Facility near Mühlacker, Germany,
At time of its inauguration in 1930 the transmitter used an antenna spun between two 100 meters (328 feet) high wooden lattice towers placed 310 meters (2017 feet) apart. It was destroyed in 1945 and has since been replaced with steel towers (wood is good for building but does not compete with steel for high, thin, towers.)
The third highest wooden structure was St. Peter's Church, a Lutheran church in Riga, the capital of Latvia. It was 130 meters (426 feet) high. Built in 1491 it only lasted until 1666 when the tower collapsed. It was later replaced by a 123 meters (403 feet) building which lasted until destroyed by in 1941.
The tallest wooden structure still standing is Gliwice Radio Tower in Poland 118 meters (387 feet).
For comparison our tallest Redwood tree stands at 380 ft.
Enjoy your woodworking.
---
The meeting was called to order by President Frank Ramsay
Announcements:
Next month we hope to have a joint in-person / Zoom meeting. Jason Forster will talk about Japanese woodworking
We had 29 people join us in this October Zoom session.
---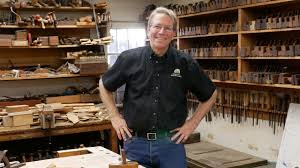 Glues
Patrick Edwards was our speaker.
He teaches at the American School of French Marquetry and has been a furniture conservator of handmade furniture for 50 years.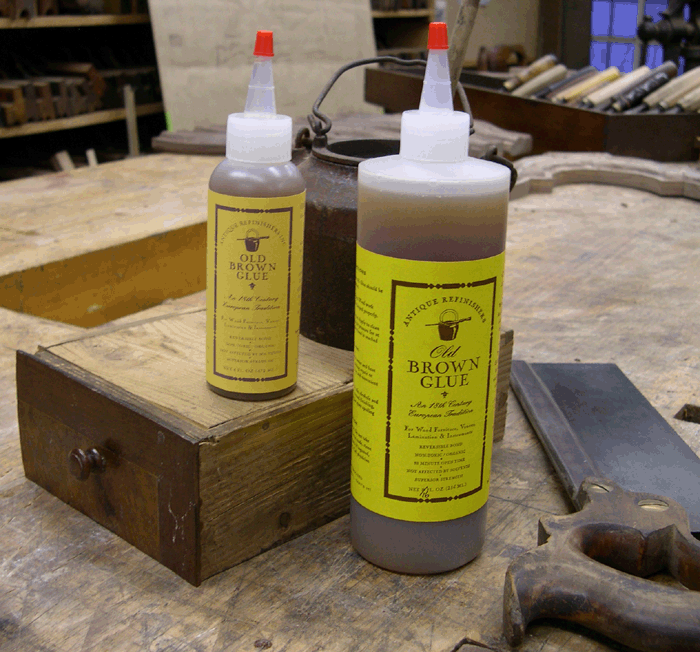 Patrick makes his own glue - Old Brown Glue. It is glue is organic, like horse hide glue, fish glue and rabbit skin glue. Old Brown Glue has a shelf life of 18 months, but can be prolonged by refrigerating. It can be frozen and thawed without losing any properties. You can buy glue in solid granulated form and just add water to make it into a liquid. In fact, you can pour Old Brown Glue into a tray, let it dry and it will keep forever, if kept dry. Then you can break it up, add water and it is usable again. Old Brown Glue is a liquid glue, not a hot glue.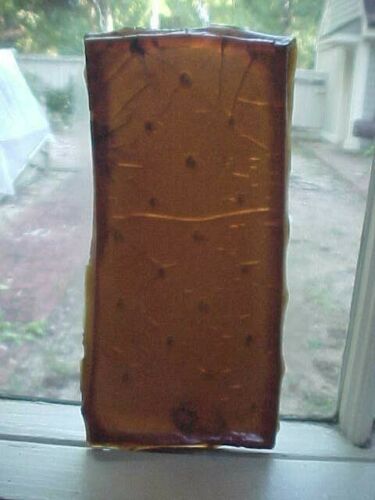 Cake of Hide Glue
"A cake of hide glue can last for a thousand years"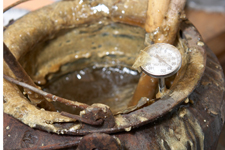 Old glue pot of hot glue
Hot glue must be warmed to 140 degrees in order to turn it from gel to liquid. Hot glue is for rub joints, and is not suitable for large surfaces. Glues have varying viscosities and he likes to use 192 gram strength, which is measured on the Bloom gelometer. Thicker glues set up faster than thinner glues, because they have a lower water content. He notes that one of the main advantages of protein glues is that they are reversible, that is, you can soften the cured glue if you need to disassemble a piece. This is done be wetting and heating the glue joint. The squeeze out can be cleaned up with water if it is wiped up before it cures. Note: A Gelometer measures the gelatin strength of glues, gelatins, and other such stuff. Oscar T. Bloom (1881-1965), a chemist working for the Chicago meat-packing firm of Swift & Co., invented the form. The higher the Bloom number the stiffer the gelatin. Patrick mentioned that fish glues are good for bonding non-wood to wood, ie. metal or mineral trim pieces.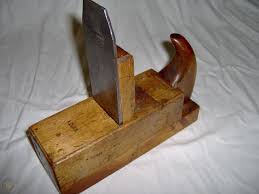 Toothing Plane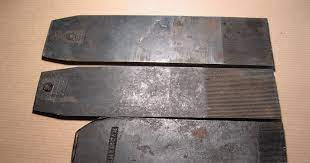 Toothing Plane Irons
Patrick uses "Toothing Planes" to prepared a surface for maximum bond strength. Toothing planes are available used. Just check eBay. He uses a cross hatch pattern when toothing a large surface.
There are many interesting articals on Patrick's on-line platforms:
Youtube channel: 3815UTAH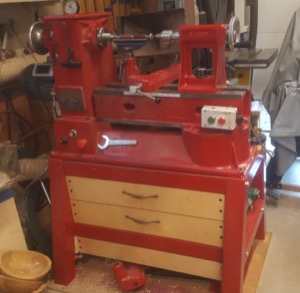 Claude has a Stubby Lathe from Australia that has a steady rest that uses urethane skate wheels to ride against the rotating work piece. Very unusual.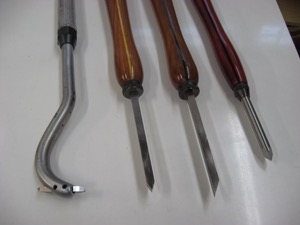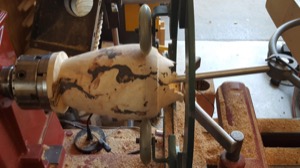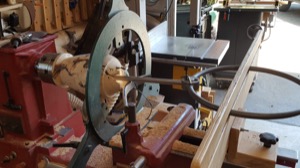 Turning a Box Elder bowel
Ken Napior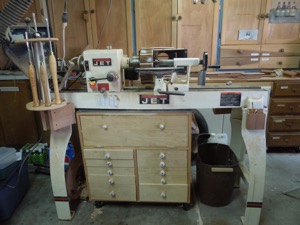 I use my heavy duty 3 hp Jet lathe, to turn spindles, vases, and lots of bowls. Wow.....have I turned lots of bowls. The drawers below the lathe hold all my turning tools and accessories. The tool rack on the left side, holds the tools when I am working on a project. I included a photo of a recent bowl project, using a different bowl making technique. Rather than start with a tree truck (the usual way to make a bowl), I assembled staves of walnut and maple into a circular shape. When dry, I mounted this on the lathe and turned the shape that you see in the photo. I receive lots of questions from friends about how I made this bowl. Which by the way, greatly reduces the amount of wood needed to make a bowl.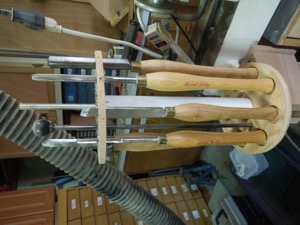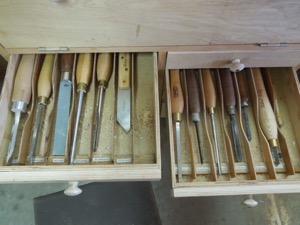 Ken's turning tools
Tom Gaston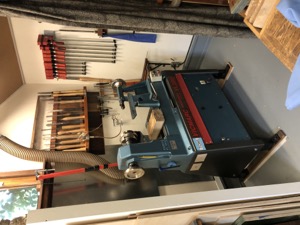 Contained in a corner of the shop. Can close curtain behind and a sliding panel to the left to contain the shavings and dust. There is an exhaust fan to the right that vents outside.
Tom showed us his Vicmarc in an enclosed room that is vented to the outdoors. He has it enclosed so he does not introduce dust to the rest of the shop.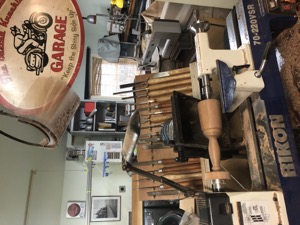 "My Rikon12 X 20 lathe with an almost finished mallet, ready to part off."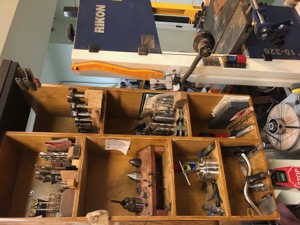 "Tool rack with various bits and pieces of turning related kit."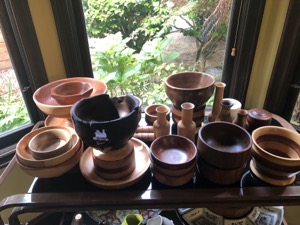 "Some recent turnings done during stay at home Covid time."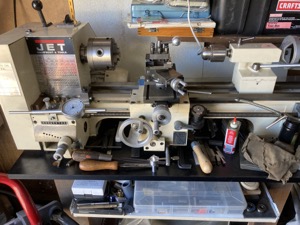 I have on rare occasions used my metal lathe to turn wood. I made a live center for turning between centers.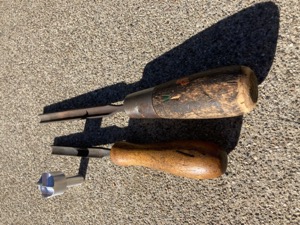 "I have two old gouges that I inherited"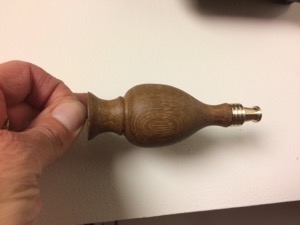 "An ornament I made on the lathe"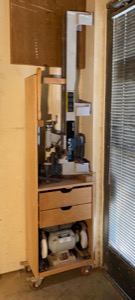 Jamie has a Delta lathe that he keeps stored vertically in a corner. He does not have room to keep it out on the shop floor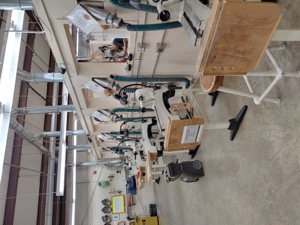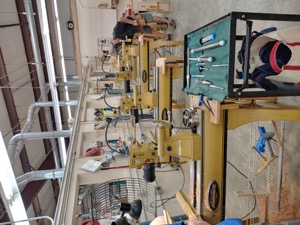 Neal showed off just the lathe area of his workshop!
It is part of the Sun City Woodworkers shop.
"There is a lathe mentor on duty most times to assist beginners, etc."
The total workshop is 9000 sq ft., 12 lathes, 5 table saws, 7 band saws....
Jon Kaplan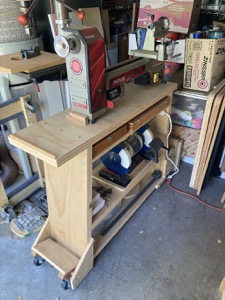 Jon showed us his Nova mini lathe.
Tool Storage in top drawers, Accessories on bottom shelve with Tool Sharpening in the middle (Seemed like a good idea at the time)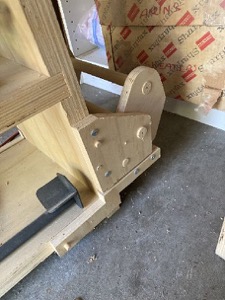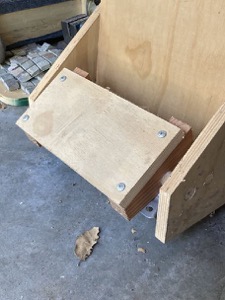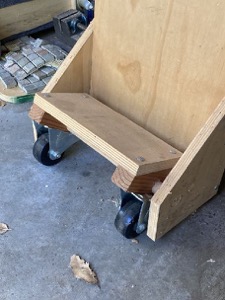 Two wheel deployment designs - one for fixed casters and one for swivel casters
Mark Hannond
Mark has a Powermatic that weighs 800 pounds or more.
No picture available
Harold Patterson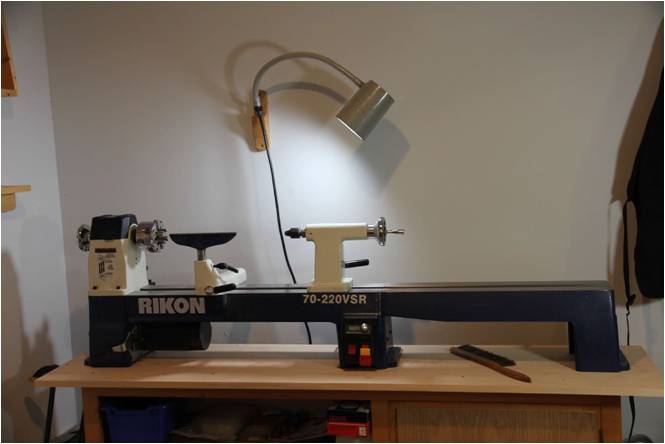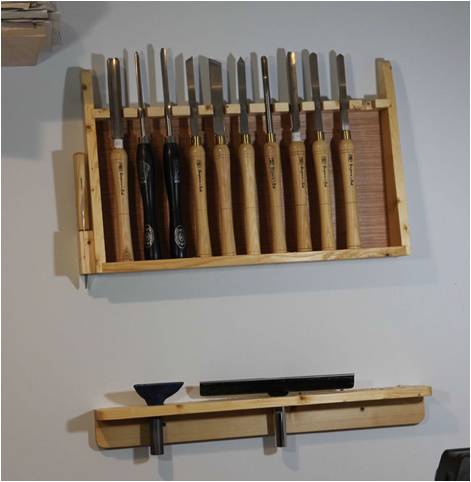 Attached is a picture of my Rikon Lathe plus tools.
It is a variable speed lathe with indexing. With the extension the bed length is over 40" and a swing of 12.5".
It is mainly used for spindle turning and was bought to handle the requirements of furniture turning.
My tools are on the wall to the left of the lathe headstock.
The tools are a relative inexpensive high speed set as well as two high quality spindle gouges and a 1/8" cutoff tool on the side.
I also have tool rests in 4, 8 and 12" lengths.
John Blackmore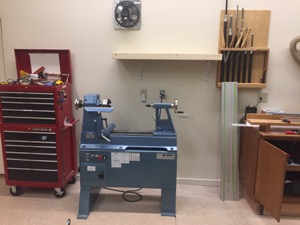 Picked up the lathe in Hillsborough in September. Good thing Claude brought his engine hoist. With his help we loaded it on to my pickup for its journey home. First to Tahoe Donner until the end of September and now it rests in Carefree, AZ. Have not used it yet.
---
Jon Axelrad

"Originally, when I started using pencils for dovetail marking, I sharpened with a knife/ chisel. But I found the resulting tip (while quite "fine") was too fragile. So I switched to a good quality electric pencil sharpener: the X-ACTO 1606 High Volume Commercial Electric Pencil Sharpener, Model 41. It's so easy to use that frequent sharpening while doing my woodworking simply isn't much of a hassle. And the resulting tip is fine enough to accurately mark pin layout by using the previously cut tails." "It turns out that I almost always use my electric sharpener when marking tails with a dovetail square. This is because the round, pointed tip of the pencil created by the machine sharpener fits very nicely into the round holes created by my marking awl and dividers, as shown in this photo: On the other hand, when marking pins from the tails, I generally create a single bevel tip on the pencil with a piece of sandpaper on a wood block. The bevel makes it easier to get precisely against the side wall of the tails when marking the pins. Using the round, pointed tip for this purpose tends to make a line that "stands off" the side wall of the pins by a few thousandths. The bevel avoids that. "So, it turns out that I keep two differently sharpened pencils handy when marking dovetails, as shown in last photo"

Jamie showed off his beautiful wine bottle display tray.
It is made in from quarter inch thick laminated plywood pressed in a vacuum bag, that he cut himself.
The face veneers are African Mahogany.
He used slow setting epoxy to join the plies in the vacuum bag. It is finished with wipe on poly.


Harry Filer
Harry showed another one of his boxes.
This one had a nice brass hinge from Woodcraft.
Minutes by Burt Rosensweig


---