Covid shut things down early March last year and we had to cancel our March meeting, but since then we have had 15 Zoom meetings for which we thank Bruce Powell who, with his experience, was able to get us up and participating on Zoom.
In the beginning I was thinking of it as an experiment, not being sure it would work or not, however it turned out to be a great success and moved BAWA into a new era.
Over the last 15 months we have had interesting speakers from many places that were too far away to consider as speakers for our meetings in Foster City including: the LA area, San Diego, Santa Barbara and Fort Brag in California plus Minneapolis and the East Coast.
We have had many Show and Tells, maybe not a substitute for seeing the works in person, but with well created Power Point presentations showing intricate bits of the works. Many such as Greene and Greene couches and beds were not often shown at our meetings as the tendency was to show works you could bring to the meetings. Paul Krenitsky started his Workshop Presentations a month or two before we shut down but by July last year they had evolved into Virtual Workshop Tours which were very successful with many months having 10+ presenters. Topics included: Easy Shop Aids, Small Parts Storage, Dust Collection, Shop planes, Bandsaws, Sharpening aids etc. Jon Kaplan presented his Covid Woodworking or Keeping busy with Little Pieces of Wood and related small wood projects. He also told us every time you go into the workshop you should hand-cut a few dovetails as a warm up exercise. Now we hope those totally Zoom meetings are a thing of the past. August will be our first in-person meeting since February last year but before then we are having a BAWA Summer Picnic in July to celebrate moving passed this unfortunate phase. I sympathize to our members and friends who live in areas still subject to Covid restrictions and wish you a speed passage to a safe level and back to normal life.
Looking forward to seeing you all at our Summer Picnic. -->
---
The meeting was called to order by President Frank Ramsay.
Announcements:
New Members:
We were pleased to welcome Mark Hanson, a beginning woodworker, and David Millard, a returning member after a long absence and Guest Mike Pocock of San Rafael - Mike plans to join.
Jon Kaplan announced we have 43 paid members.
We are hoping that this is the last of our exclusively Zoom meetings
Next month, July, we will meet in person at Twin Pines Park in Belmont, for a picnic lunch.
(details: BAWA Summer Picnic Bruce Powell will be sending out invites)
August we are planning a "regular" meeting in Foster City but with the addition of having a Zoom link into the meetings so that our members and Guests who are not in easy reach of Foster City can still join the meeting. As we will be using Zoom we expect that future guest speakers may be from outside our normal catchment area.
---
Featured Speaker

Paul Schurch
Master furniture maker and teacher
Paul with his artwork "Coffee Beans"
Paul Schurch was our guest speaker. He apprenticed in Europe and lives in Santa Barbara. He specializes in high end custom furniture. He has taught at numerous colleges around the country.
His talk was about veneering large surfaces. He recommends laminating onto MDF or Baltic birch plywood, which are stable and not likely to warp or expand and contract with changes in humidity and temperature. He always laminates on both sides of the substrate to minimize warping. When he wants to book match sheets of veneer he uses the Festool Track Saw with a metal cutting blade to prepare the edges that will be joined. The metal cutting blade has a negative rake that prevents tear out. When cutting on the scroll saw, he can stack as many as 16 layers at once. The blade is set to 90 degrees to the table when stack cutting. He has two scroll saws, one with a 20" throat and one with a 30" throat. He often has to make pieces that are larger than the scroll saw throat, so he breaks the piece up into manageable pieces, being careful to arrange the joints where they won't be noticeable. He uses Gorilla Glue, because it does not contain water and will not swell the wood. The secret to using Gorilla Glue is to spread it very thinly. He uses hot sand to shade the edges of some of the wood pieces and the shading can take longer than cutting out the pieces. Vacuum bags of various sizes are used to clamp the pieces during glue up. He mentioned that vacuum bagging does not work as well at higher elevations (for instance in Colorado) due to reduced air pressure. Once the pieces are glued to the substrate, he uses a belt sander, with a frame attached, to level out the veneer. A 100 grit belt is used. His belt sander is a 220V Festool that came with the frame. Unfortunately, you can't buy a 220V sander in the USA. The frame keeps the sander level so it won't cut right through the veneer. He usually buys commercially available veneer, but will occasionally make his own, especially if he wants thicker veneer or veneer made from wood that is not commercially available. When cutting out the pieces, he will use a veneer saw or a chisel or knife to make cuts when he cannot use the scroll saw. When a piece requires lettering or repeated patterns, he will send a file out to be laser cut.

Examples of Paul's work: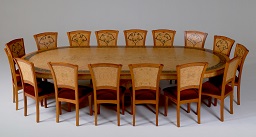 Blackberry Table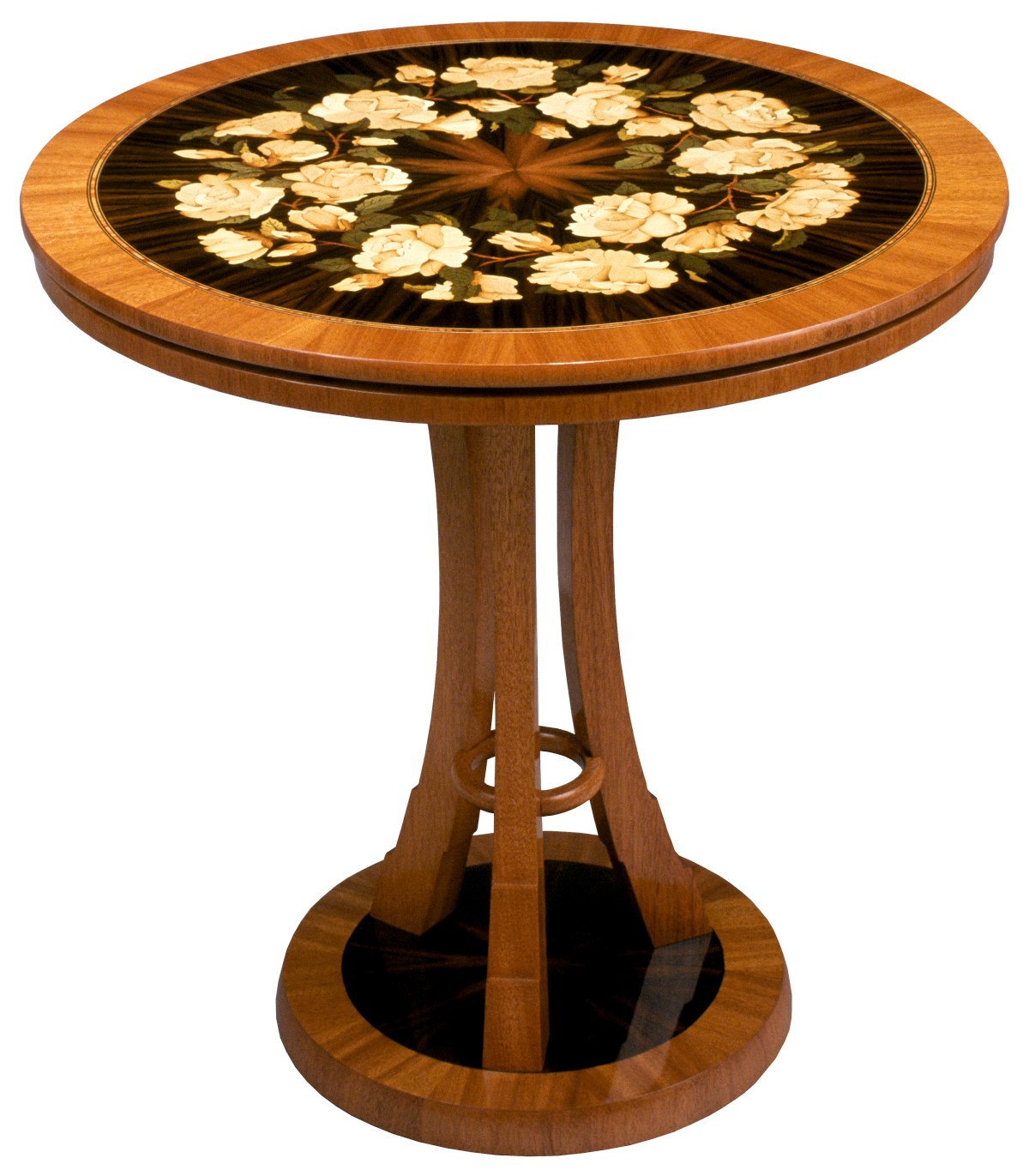 Bouquet of Flowers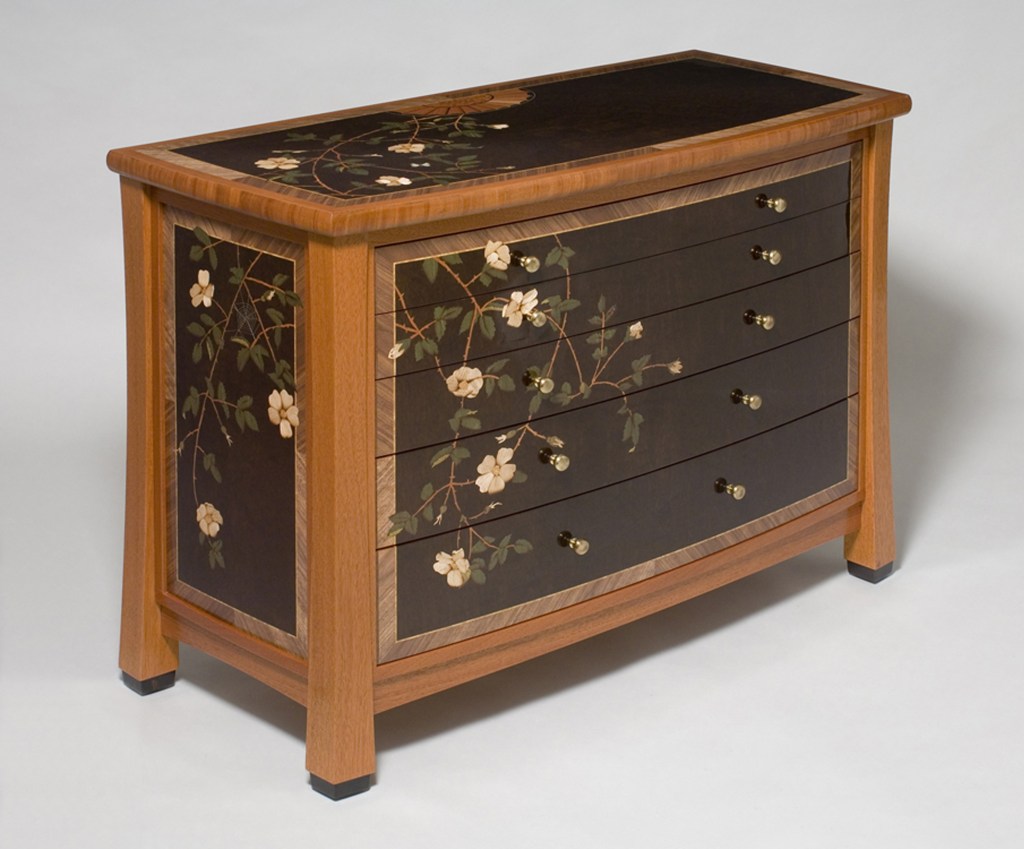 Rose Chest Cabinet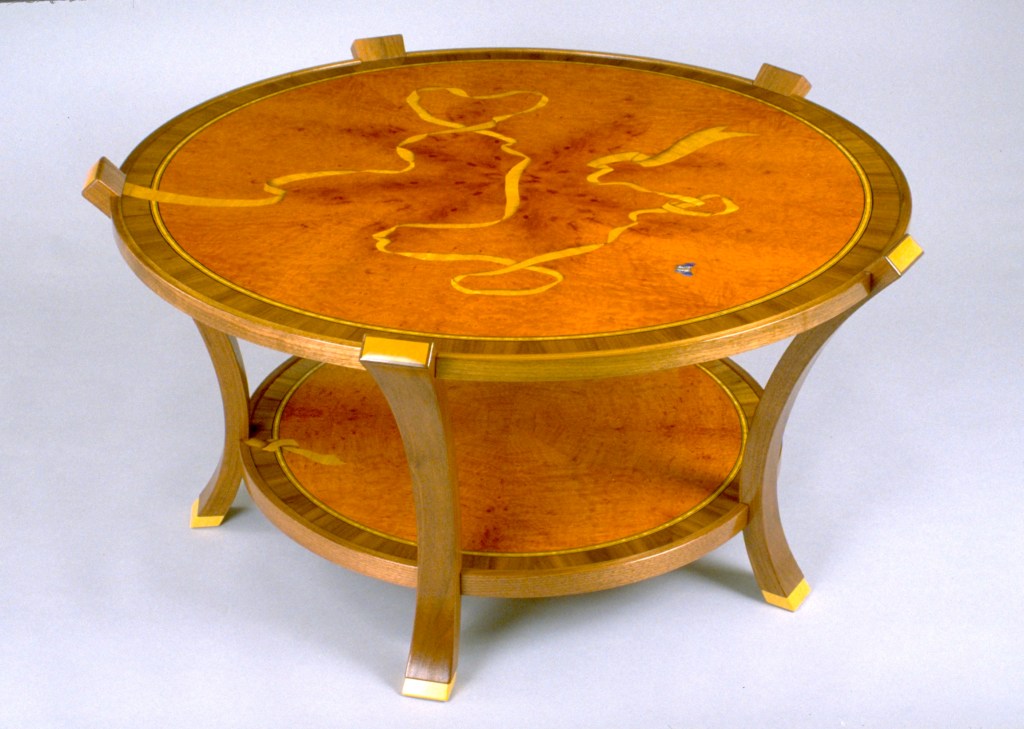 Ribbon Table"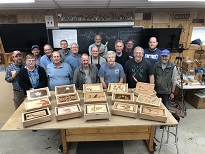 Attendees at a Marquetry Class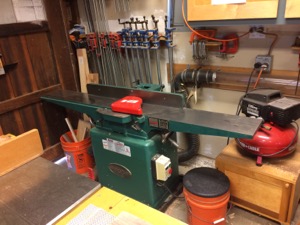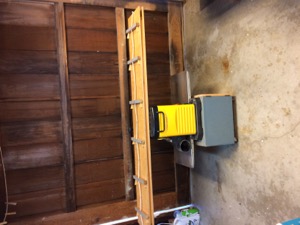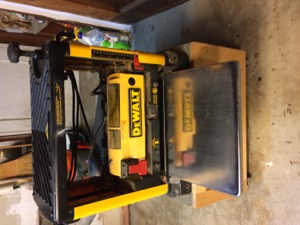 "The jointer is an 8" Grizzly with carbide blades.
My planer is a DeWalt 12" on a mobile base/cabinet.
One picture shows a 'sled' on top. This lets me use the planer as a 12" jointer.
here are small wedges that allow you to adjust the cross blocks to 'level' the plank.
Then the sled is sent through the machine to flatten it.
The sled is removed and the plank is turned over and sent through the machine like normal.
I use two short roller stands (front/ back) to support the sled/plank."
Frank Ramsay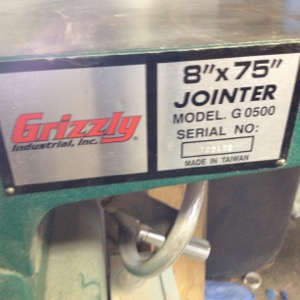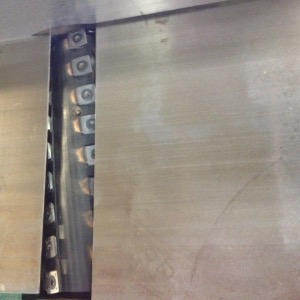 Frank has a Grizzly jointer with a helical cutter that has carbide inserts that can be rotated to use any one of four cutting edges.
No blade height adjustment is needed when rotating the inserts to expose a new edge. Helical cutters are much quieter than the straight cutters
Lloyd Worthington-Levy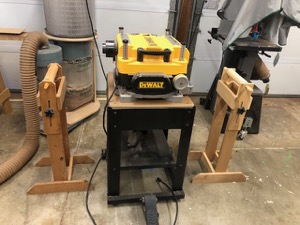 "This is my Dewalt DW735 that I have been using for many years.
I'm able to get accurate thickness control without too much snipe.
can easily plane stock down to 1/10" for shop made plywood by double side taping the piece to a length of melamine shelf stock."
"My in/outfeed supports are a bit unusual but work well to support stock for both planer and table saw."
Question - "Does anyone in the group have experience with Shelix or Lux Cut helical cutter upgrades?"
Dennis Yamamoto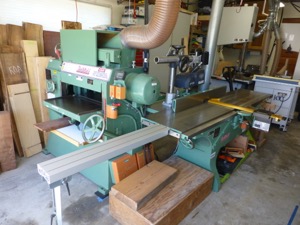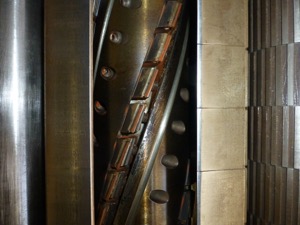 Northfield 7H planer 24" — Northfield helical head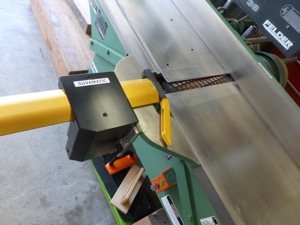 Northfield 16HD jointer 16" — Byrd Shelix helical head
Both machines are 3 phase direct drive
One of the pictures shows the insides of the planer including segmented in
feed roller, segmented chip breaker, helical head, pressure bar and out feed roller. The close up of the jointer shows the Byrd helical head and Suva guard.
These are heavy commercial units.
The planer weighs 3200 lbs, so getting it off the truck and into his shop was a challenge in itself.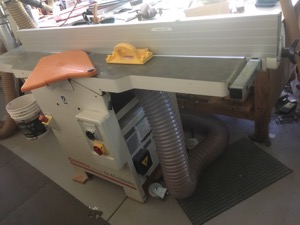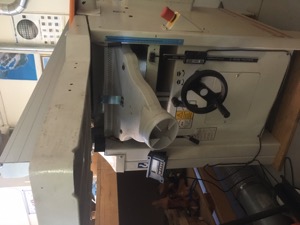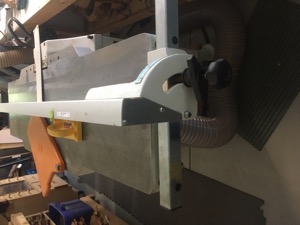 "Here are some photos of my 16" Minimax F42 combination jointer and planer."
Neal White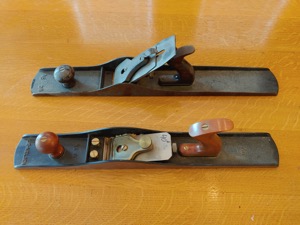 Here are two of my jointers.
They are powered by cholesterol, or maybe in my case by wine.
The one in back is an Ohio Tool 08 that is at least 100 years old and 24 inches long;
The one in front is a bevel up Lie Nielsen 7 1/2 that is 22 inches long.
I used the Ohio tool to flatten the 46 inch wide table they are resting on.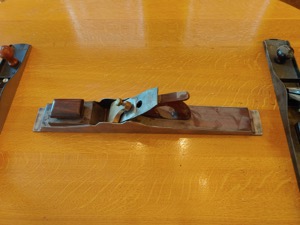 Here is another of my herd of jointers. This one is from England, likely dating from the inter war years. Maker is unknown, altho it has an L. Sorry iron. It doesn't see much action as it outweighs me. When I do use it, it does a wonderful job, almost like a huge smoother.
Bruce Powell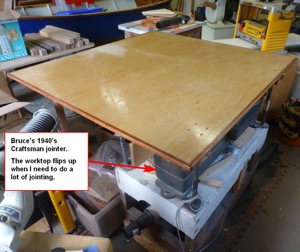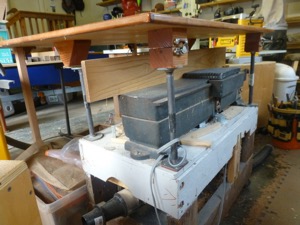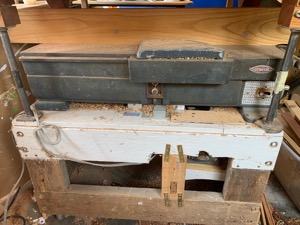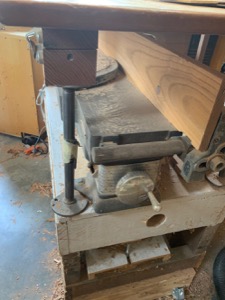 Attached Craftsman jointer, plus newish De Walt planer. are a few shots of my very old
I've had the jointer for 50 years, and it was old when I bought it. It may be as old as I am. I built the base and power the jointer with an electric motor/rubber belt/pulleys system. Some years ago I decided to add a dust collector mechanism under the jointer and had to hack the base up to fit it.
Then I added a working table on top of the base that flips up when I really need to do a lot of jointing.
Most of the time the table is more useful than the jointer. It may be old and crude, but I've built a lot of furniture with this workhorse.
In contrast, the DeWalt planer is a current model DW734 12" planer.
I've found that the addition of a longer base plate (which is probably an Ikea shelf) reduces sniping.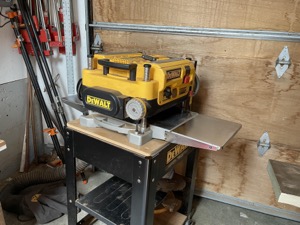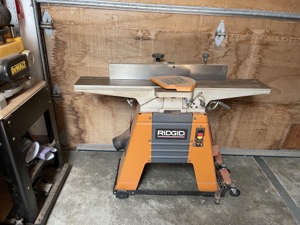 Attached is my thickness planer and jointer. Both mounted on mobile bases and moved around my garage workshop as needed Nothing special, and I wish I had a wider planer and a longer jointer, but this is just right for a small garage workshop.
Jamie Buxton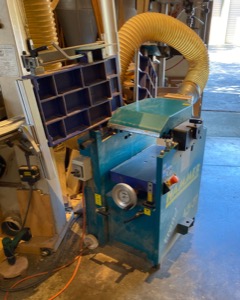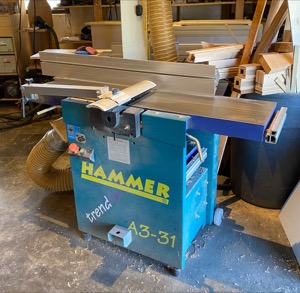 "Here's my Hammer A3-31. It is a 12" jointer-planer.
I bought it new in 1999 and use it a lot
I think I have now spent more money on knives for it than I did to purchase the machine."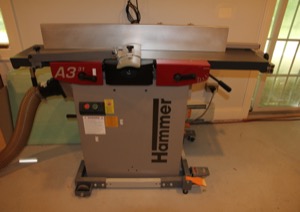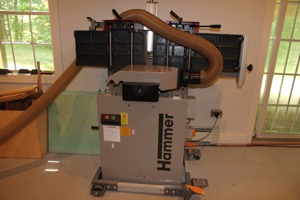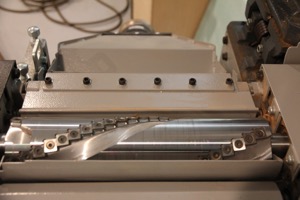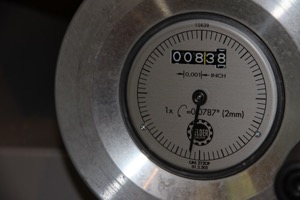 Harold also has a Hammer jointer/planer model A331 with helical cutter.
At the end Paul noted that the De Walt planer seems to be the planer of choice among BAWA members.
---
Burt Rosensweig
Burt showed photos of two sets of plans he acquired for making a children's P-51 Mustang pedal car and a GeeBee pedal car. These plans are available to anyone who might be interested in building these large toys. The plans were drawn in 1996.
<
Minutes by Burt Rosensweig
---