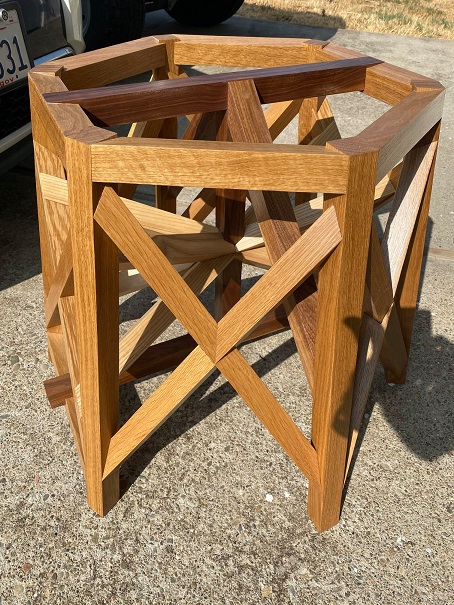 Fellow woodworkers,
The picture is of a fine bit of woodwork (or framing) by Sim Ayres, a local California Carpenter living in Discovery Bay and the owner of SBE Builders.
It is from Professional School of Practical Stereotomy. An amazing work that I tend to associate with the French Schools.
"Sim spent more than 260 hours to complete this trestle and it represents his achievement in successfully passing the Professional Certificate in Stereotomy. It is a complex 6-legged hexagonal trestle. Made with American White Oak, Black Walnut, and Ash. On each side of the hexagon are variations of the St. Andrew's cross; two are rotated to the roof surface, two the faces are plumb,and the remaining two have their opposing arrises plumb. There are also two intersecting internal crosses. The total height of the trestle is 24" and its width is 16".
Add the idea to your Covid Woodworking list?
---
Announcements:
The meeting was called to order by President Frank Ramsay.
Jon Kaplan mentioned that we have 34 paid members and we could use more to help pay for our annual expenses. He also let everyone know that we now have a DONATE button on our website to allow people to pay dues (and make other donations) via PayPal.
We had 42 people join us in this Zoom session, including members who had moved out of state.
Next month we hope to have Tom Gaston talk about Marquetry.
Plus Paul's virtual Workshop Tour on "Your favorite or most frequently used jig"
---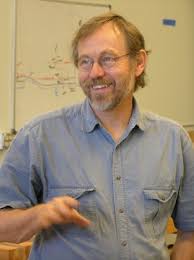 Darrel Peart
Greene and Greene furniture.
Darrel presented a series of pieces that he has made over the years, many in the Greene and Greene style. He started off with a slideshow of his shop. He used to teach. He has a CNC router, a sliding table tablesaw, a Sawstop tablesaw and something like 30 routers from when he used to teach. Then he showed us some of his early work. He has been designing his own furniture using TurboCAD, which he has had for many years. Many of his designs use the Aurora Bridge in Seattle's Lake Union area for inspiration. African Mahogany was the wood he used on the pedestal desk that he showed us. He said that he did not want movers to lift the desk by the top, so he held the top on to the base with magnets. That way when movers lift the top, it just comes off. He sent the desk out for finishing. He showed us the Blacker Arm Chair Rocker he made and said it was one of the most difficult pieces he has made. He uses CAD to design cauls that are used with bar clamps to clamp radiused pieces. Using CAD ensures that the clamps will not slip off the cauls when tightened. Titebond is his glue of choice. He buys veneers from Certainly Wood in East Aurora, NY.

---

Paul showed bench top saws from 9 members: Ken Napior

Attached are photos of a fixture I made for the cutoff saw. Notice (figure 2) that on each end there is a space for my hand to pick up the fixture and saw to move it around on the job site or around home. This was handy when I was building the fence in the back yard. Notice (fig 2 and 3) the ends are held in place by the black knobs, but can pull out and reattached (fig 3 and 4) to make a larger surface to support longer pieces. These wings occur on both sides of the fixture. I also have a fence with a moveable stop for both 90 degree cuts and 45 degree cuts for picture frames. I have used this fixture for over 30 years, and it continues to be one of the most used fixtures I have. It is sitting on a fixture which sits on a 12 drawer cabinet with casters originally built by his great-grandfather. John Wilson

It's a 12" compound unit with a dust collection port. The saw is mounted on a large mobile base that also functions as storage for other tools and supplies. Another function of the base, it also supports the material being cut. John Hickman

The pictures show the modified condition of my old radial saw that I have used extensively for 42 years. The wooden housing that I created is attached to a vacuum. It all works very well, so I have not been inspired to buy a nice new miter saw or chop saw. Clearly the miter saw function requires that I easily lift off part of the dust collector. The last picture is obviously an old style hand powered miter saw that I found in a garage sale decades ago, but which I never use. If one of our members wants it -- without the saw blade -- he/she can come pick it up at my house.

Bill Henzel The Festool miter saw has the best dust collection of any saw on the market. The box was added years ago when I had a radial arm saw and then moved to a Mikita sliding compound saw. Another great saw, but it threw dust everywhere. Lindsey Smith My station is made from 2x4s and a 3/4 in. plywood box. There's a T-track on the left with a removable stop block that fits and locks on the track. I plan to add shelves to the space on the left and above for storage but is currently housing my scrap wood piles. And my drill press lives on the right until I come up with a better solution for that.
The box shape was designed to add a dust collection solution by drilling some holes for a dust vac intake to come in from underneath. The plastic covering is a cut up shower curtain, which is nailed to the top and sides of the box, which does a sufficient job at keeping the dust within the box even without the vac installed yet. Though enough finer particles escape that I still wear eye protection. The benefit of the shower curtain is that it covers the full area but it is still flexible to allow me the full angle/miter cuts without hitting any hard barriers.

Fred Reicher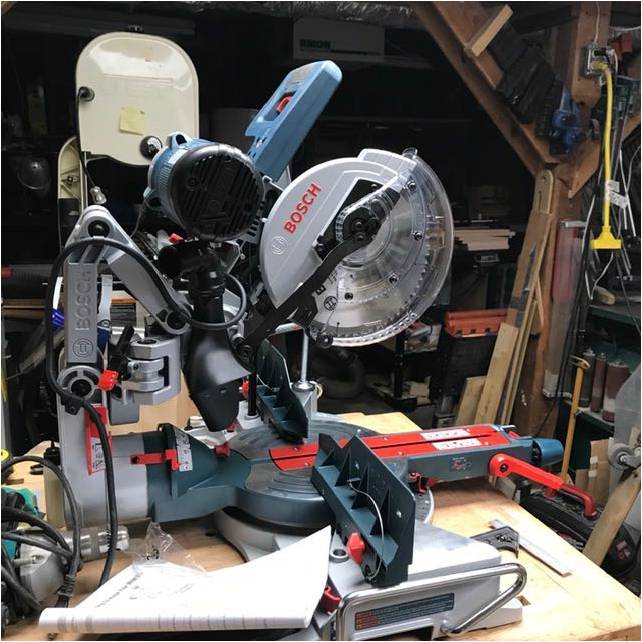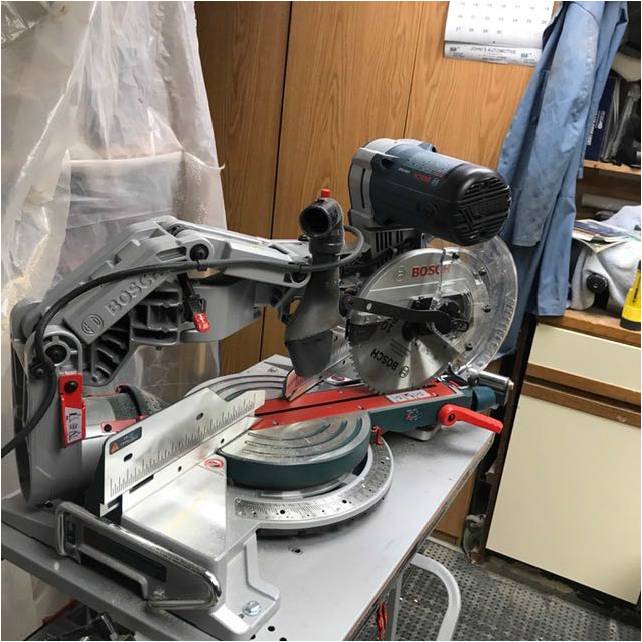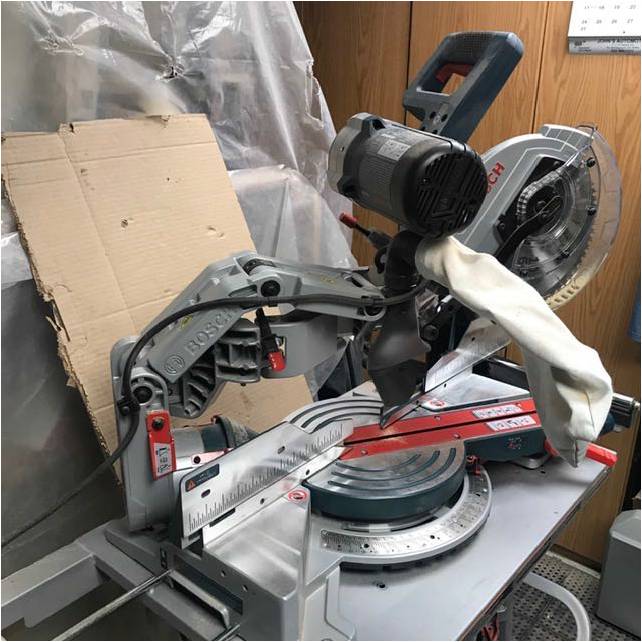 I just got a new Bosch GM10GD dual bevel axial glide miter saw. It doesn't have rails it's designed for a tight space.
I have it sitting on a Ridgid miter saw utility vehicle
Dennis Yamamoto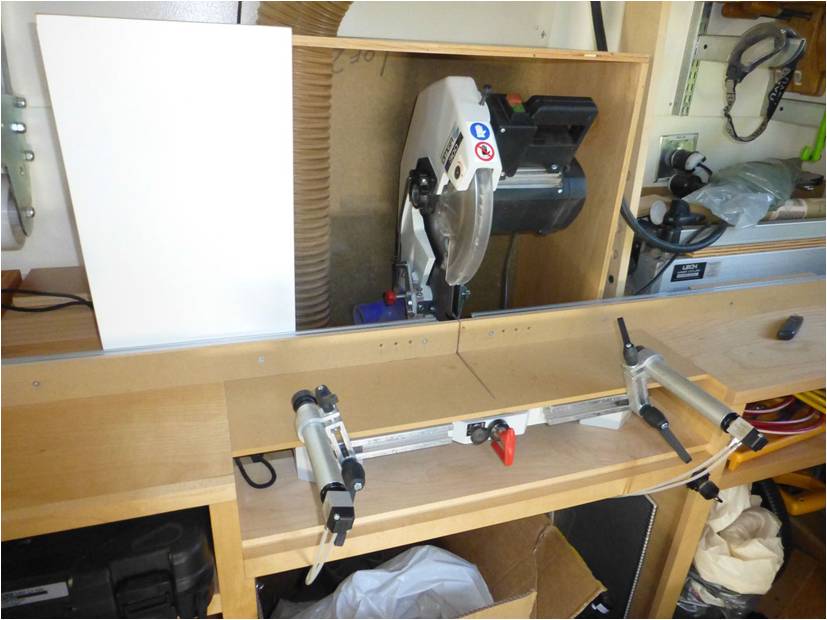 Here's my OMGA 1L300 saw
12" compound chop saw
1.75 HP direct drive Positive stops at 45, 30, 22 1/2, and 15 degrees Pluses
Cuts close to square
Very smooth cuts Minuses Cuts close to square
Only 5 7/8" capacity BrucePowell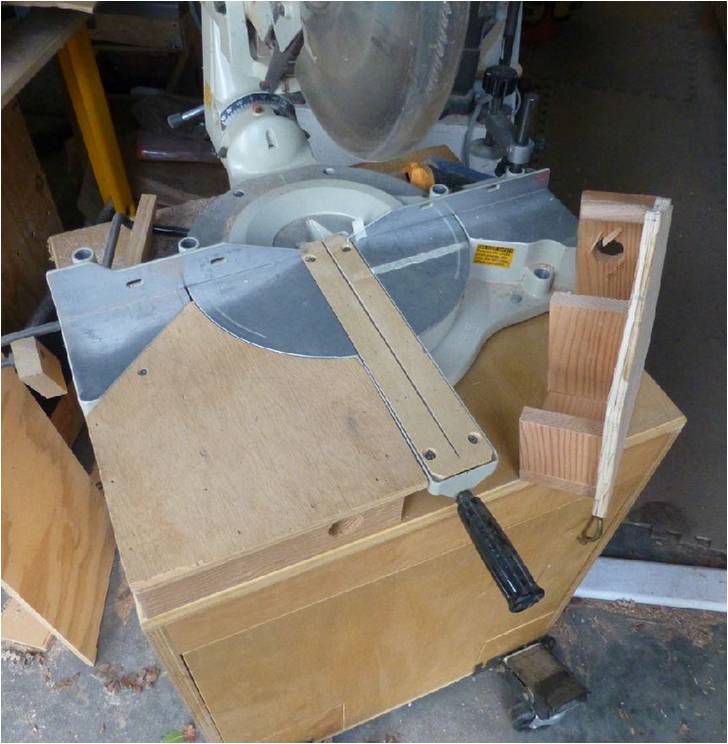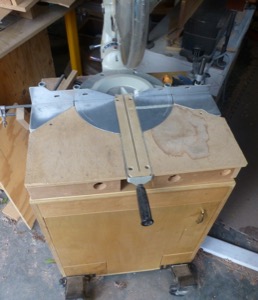 The chop saw is a Makita with a 12 inch 60 tooth blade. Basically I created removable fillers that form a flat table, with the blade always cutting at 90 degrees. Rather than swing the entire chop saw head to 45 degrees say, I just use a 45 degree fence. This allows me to be easily cutting 3 or 4 small pieces to identical lengths at a time. For example when making cutting boards. If I ever have to use the full saw head swung at an angle, I just take the filler plates out. But so far since I created them, I have not had to do that.
Dust collection occurs at the end of the day and involves a broom and dustpan.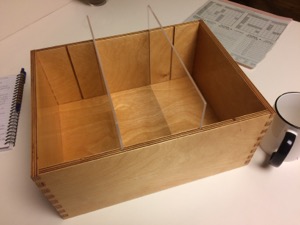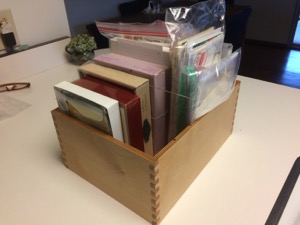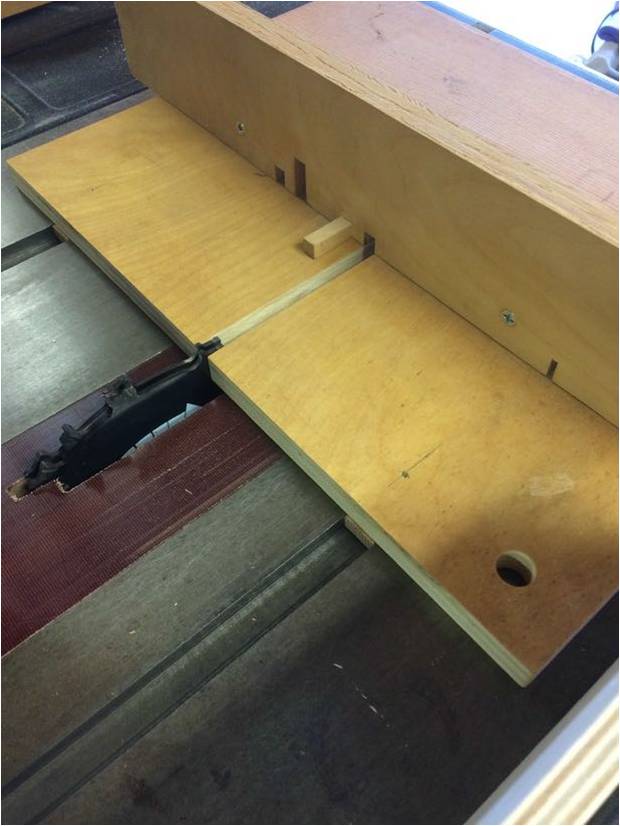 Burt showed his box joint box and tablesaw jig. He made a box from Baltic birch plywood. Finished with Minwax stain and polyurethane.
Dennis Yamamoto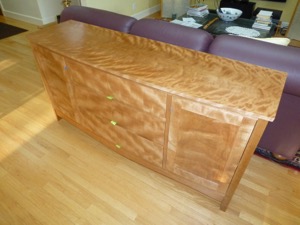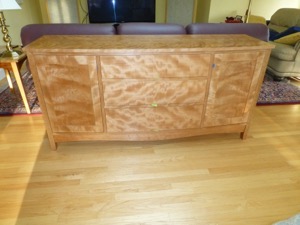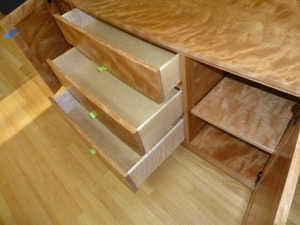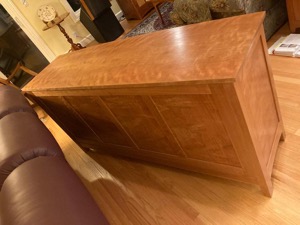 Dennis made a beautiful console from Cherry with raised panel doors and sliding dovetail drawer fronts modeled after a Thos Moser design
Highly figured Cherry and hard Maple for the drawer sides.
Mostly loose tenon construction
Blum Movento and Clip top hardware
No pulls or knobs yet. Looking for ideas
Bill Henzel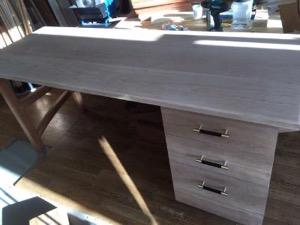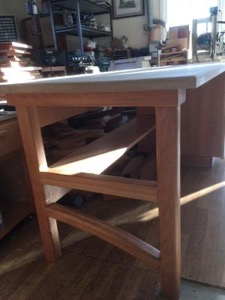 Cherry desk in progress
Bill showed us the desk his stepson made of cherry.
He made it with dovetailed drawers and tenon joints.
Minutes by Burt Rosensweig, Secretary
---