Two of my most used planes I purchased from Arnie Champagne's estate donation to BAWA The most perfect planes I have ever used. My concern is that when I need to sharpen them they will never work as perfectly again.
Yeung Chan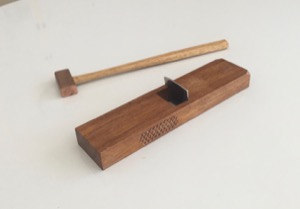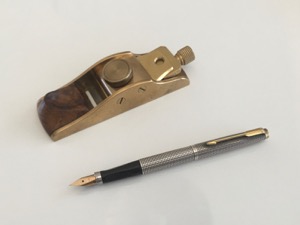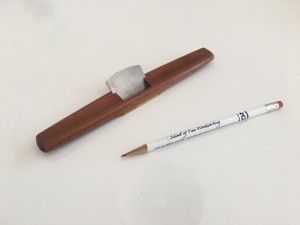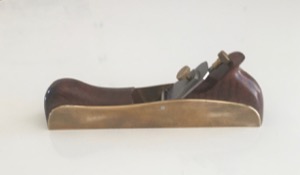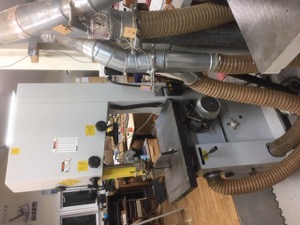 Here are my favorite hand planes(smoothing plane, block plane, scraper plane, and spokeshave.) I designed and made them after I finished the program at the College of the Redwoods
The scraper plane and a spokeshave are made from bronze channel. The cutter is made from a HS steel hacksaw blade
Fred Reicher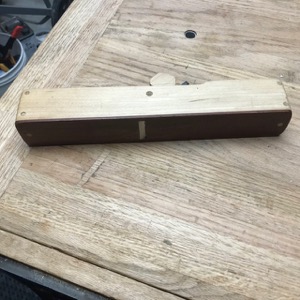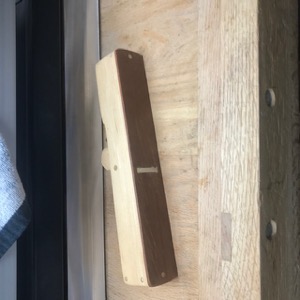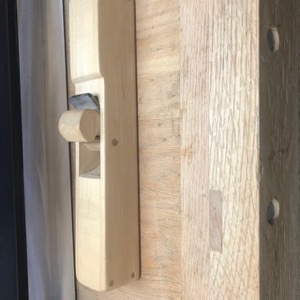 This is my favorite plane. I use it whenever my woodworking job calls for planing. I made it almost 15 years ago. I took a plane making class from the late Arnie Champagne. It's made of Maple (body) and Jarrah (the sole) with a Hock plane iron. It's a basic Krenov style.
Bill Henzel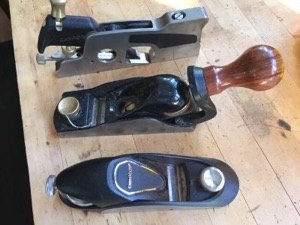 Here are 3 of my most used planes:A Veritas block plane Low angle block plane,and Shoulder plane.
Dennis Yamamoto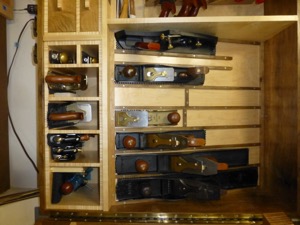 Metal planes top row, left to right: shooting plane, #62 low angle jack, #97 chisel, #5 jack, #7 jointer, #8 jointer bottom row: #102/#60 1/2 block, #4 smoother, #112 scraper, shoulder planes, router plane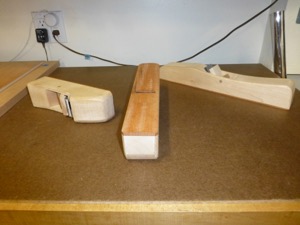 Krenov planes left to right: smoother, coopering, jointer
Jon Kaplan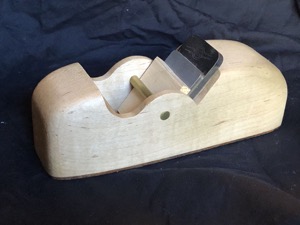 I made this small plane a number of years ago.
When I showed it to my wife she said it looked like a tape dispenser.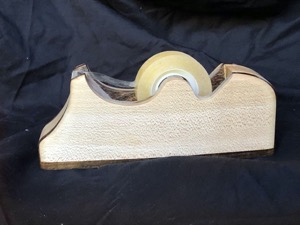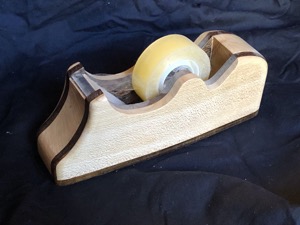 So I made a tape dispenser (several actually). She was right, as usual.
Bruce Powell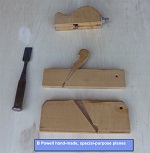 Handplane-special
Handplane-metal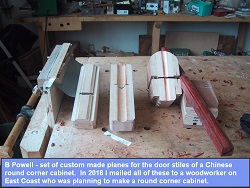 Plains made for cabinet
Bruce showed 5 planes including some wooden ones. He made 3 of them for a special project, a Chinese style round corner cabinet which required special beading and grooving. He has since given them away to someone who wanted to build a similar cabinet.
---
Burt Rosensweig

This PT-17 Stearman biplane is the fourth airplane I have created for the challenge. This little guy was primed with Zinsser primer and painted with Testor's Enamel using an airbrush. John Wilson




Small cabinet. 6"D x 10"W x 13"H

Dowel Joinery Door & Back

Frame & Panel Joinery Leftover material also shown.




A plant stand with bent lamination legs
(it was commented that th top that looks like the corona virus)

---

Steve Rosenblum


Steve showed a jewelry box he made for his wife. It uses mitered corners with ebony splines. The carcass is cherry and the lid is black Walnut rescue wood. Jon Kaplan Jon showed a hedgehog toy he made for the Toy Workshop Jamie Buxton Jamie showed a platform bed and nightstands he made as a commission with LED lights underneath the bed.
He used vacuum bagged white oak veneer over plywood for the project.
The bed is 98 inches long with wooden slats supporting the mattress. The meeting ended at 8:20 PM

---

Minutes by Steve Rosenblum, Secretary

---