He also showed a 3 way joint similar to the joint we see in Chinese joinery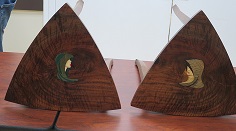 Bruce Powell showed us his triangular "Wine Glass" tables. He made a run of twelve. He brought in a matching pair with inlaid man and woman heads looking toward one another. The guy is a true artist – the design is superb. He plans to sell them all.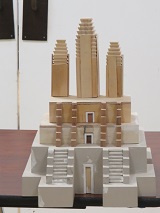 Ed Shoenstein showed off his partially completed model of a building that was part of the 1939 World's Fair on Treasure Island. The model will be donated to the museum on the island.