Sunday March 18th.
Starting at 6.00pm
Guest Speaker: Mark Tindley
"Building Tables in the Greene and Greene Style"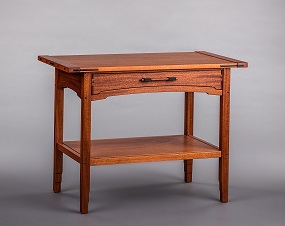 "The focus of the talk is on the construction of a matched pair of Greene and Greene style bedside tables that I made for a client last year. I will talk briefly about the history of the Greene brothers and the details that you can include in your projects that define the Greene and Greene style. I will demonstrate how I execute typical Greene and Greene details like ebony detailing and inlay, cloud-lifts and exposed finger joints. I will also look at how I plan out a project like this and how I prepare my cut lists and stock. You will see that my work is very much a hybrid of hand-tool and machine woodworking and I will talk about how and why I make the decision to build in this way (and demonstrate a few hand tool skills along the way). I also plan to look at some of common issues that arise in table construction that are not related purely to building in the Greene and Greene style but that often come up on projects like this - things like building square, using shooting boards, cutting mortise and tenons and making central drawer runners."
Plus Show and Tells welcome.