The following lists contain places personally recommended by a club member. For updates and additions please contact Frank Ramsay frankramsay8@aol.com
Hida Tool & Hardware, Berkeley. 510-524-3700 hidatool.com Japanese hand tools, kitchen knives, and Bonsai gardening tools. (Jim Voos)
Woodline/Japan Woodworker, Alameda. 800-537-7820 japanwoodworker.com Japanese Hand Tools. Good finishing and sharpening supplies. Online only. (Jim Voos)
Soko Hardware, San Francisco 415-931-5510. A variety of Japanese tools and planes, some of which are not available from other suppliers. (Terry O'Donnell)
Luthier's Mercantile International. Healdsburg. 800-477-4437 lmii.com. Tools and woods for instrument makers. (Terry O'Donnell)
Robert Larson Company. San Francisco. 800-356-2195. rlarson.com (Terry O'Donnell, Arnie Champagne)
Woodcraft Supply. San Carlos 650-631-WOOD. (Eric McCrystal)
Rockler. Pleasant Hill 925.521.1800 Pleasant Hill. (Steve McCarthy)
Tooland. San Carlos. tooland.com Focuses a little more on tools for contractors than on fine woodworking, but offers much wider variety than the Home Depot style of store. (Jamie Buxton)
Steve Smith. www.woodrestoration.com Steve produces glues for repairing damaged wood.
Hock Tools. Ron Hock makes high-quality blades for hand planes. hocktools.com
MacBeath Largest hardwood retailer I know of in the Bay area. Branches in Berkeley, San Jose, and SF. Berkeley branch also stocks Baltic Birch and Finn-ply plywoods. macbeath.com (Jamie Buxton)
Moore & Newton Quality Hardwoods. Large selection of 4/4 - 16/4 lumber plus hardwood panels. New address: 2115 Williams St, San Leandro, 94577. http://www.moorenewton.com/ (John Blackmore)
PALS EarthSource - Plywood And Lumber Sales Tired of plywood from big-box stores that's curled up like a potato chip? Buy from a store that sells to cabinet shops. Now back in Oakland, and have a good selection of flat hardwood sheetgoods. They also sell hardwood lumber.
2401 Poplar St, Oakland, CA 94607 Tel: 510-547-7257
palearthsourcewood.com (Frank Ramsay)
Baker Milling Mills, air-dries, and sells local hardwoods in rough-sawn slab form. Gilroy. bakerhardwoods.com (Jamie Buxton)
Aura Hardwood Lumber 620 Quinn Ave., San Jose, CA 95112, 408-275-1990, - Most hardwoods. Stock fluctuates widely. aurahardwoods.com/
Far West Forest Products 2620 El Camino Real, (Hwy 101), Prunedale, CA 93907, 831-663-0220, also Sheridan, CA 530-633-4316- Many interesting slabs. From their site: "We offer: Lumber, custom cutting services, portable band saws, blades, sharpening services, sawmill service, tech support, and logging services." and "...over 90% of the lumber we provide comes from within a 500 mile radius of our Sheridan CA location. " www.farwestforest.com (Frank Ramsay)
FogCitySawyer Located on Bernhard Ave in the Richmond hills. Ted De Gros is a full time arborist who purchased a band saw mill a couple years ago. He has stocked and dried an interesting selection of locally grown lumber. Viewing is by appointment only, times are flexible, weekend viewing is available. Ted is a ISA Certified Arborist WE-9265A, a Certified Treeworker, Climber Specialist 2016-C, and a Certified Tree Risk Assessor CTRA 1180. www.FogCitySawyer.com (Frank Ramsay)
Global Wood Source Northern Hardwoods bit the dust, but some of the folks from there have opened this store. 376 Reed St Santa Clara, Ca 95050 globalwoodsource.com. (Neal White)
Groff & Groff Lumberyard in Pennsylvania with high quality cherry. Even with freight charges, they are price competitive with Bay Area dealers. groffslumber.com(Jerry Robinson)
Whitethorne Construction mills and dries native hardwood in Humboldt County. www.whitethornconstruction.com
California Urban Lumber mills and sells lumber from trees cut by local municipalities or tree service companies in Northern California. They also do custom Milling. CalUrbanLumber.com (Per Madsen)
Whole House Building Supply San Mateo: Offers quality building materials donated or salvaged from area homes and businesses. They conduct material salvage sales at houses slated for demolition or remodeling. Whole House Building Supply works with East Palo Alto non-profits allowing for all donations to be tax-deductible. driftwoodsalvage.com (Ray Burger)
Keith Stephens www.woodworkerssource.net Keith imports and sells hardwood, and is particularly interested in sustainable forestry.
Goby Walnut and Western Hardwoods, Porlan, Oregon www.gobywalnut.com Figured Maple, Walnut slabs and more.
The Woodbank Sell exotic woods from around the world as well as domestic hardwoods for woodworkers and luthiers. Have in stock Katalox, Granidillo, Chechen, Genuine Mahogany (figured & flat sawn) all FSC. Also have woods like Birdseye Maple, Curly Maple, Quilted Maple, Reclaimed old growth Redwood, Douglas Fir, and more. 772 Gilman St., Berkeley, CA. 94710, (510)982-0698
For more information thewoodbank.com
Saroyan Hardwoods of Livermore Sell a large range of hardwoods, softwoods in stock. Also do custom milling
6500 National Drive, Livermore, CA 94550 (925) 960-1970
For more information saroyanlumber.com
Sartor Saw Works. 220 Bayshore Blvd, SF 94133 415.282.6093. (Jamie Buxton)
The Carbide Shop is no longer in business in Redwood City. However, they have a pickup arrangement at Woodcraft San Carlos. Every Tuesday they pick up your dull tools from Woodcraft, and return them sharpened on the next Tuesday. (Jamie Buxton)
Standard Saw. 181 10th St. Oakland, CA 510-832-0856 (Mike Cooper)
Bay Area Carbide. 1843 East Street, Concord, CA 94520 . bayareacarbide.com (Mike Cooper)
Don Naples. Our own Don Naples invented and sells a sharpening machine woodartistry.com
D Walton Saw & Knife: San Rafael. Sharpening services: bitsnblades.com
Builders Booksource. A bookstore for architects and builders. It has the largest woodworking section I've encountered in the Bay area. Berkeley. buildersbooksource.com (Jamie Buxton)
William Stout Architectural Books. A terrific small shop packed with interesting books. They specialize in architecture, design, and graphics. Don't miss the basement, where much of the wood stuff is. San Francisco. stoutbooks.com (Jamie Buxton)
The QuarterSawn on-line Newsletter
The QuarterSawn is a new way to reach those who enjoy Arts and Crafts Furniture. Appealing to furnituremakers, and particularly those of us who enjoy building Arts and Crafts furniture, each issue of The QuarterSawn will features interesting and relevant information on the Arts and Crafts movement, Arts and Crafts furniture, furniture design, and detailed techniques and tips for building Arts and Crafts furniture. To read go to: stuswoodworks.com and click on the Newsletter link(John Blackmore)
Blair Glenn's primary business is Saratoga Tree Service, in Campbell. 408 866-7200 saratogatreeservice.com He also has a band mill and turns some trunks into lumber. If you're taking down a big tree and want to build furniture from it, he's a good place to start. His lumber stock depends on what trees he's encountered recently. I've seen ash, walnut, pear, redwood, valley oak, and live oak. (Jamie Buxton)
Woodshop at Palo Alto High School, 650-329-3752 paadultschool.org Beginner classes and woodshop availability on semester basis. (George Bosworth)
BAWA Member Marcus Miller teaches a woodworking course at Palo Alto Adult School wmmiller2@yahoo.com
Woodshop courses at Sequoia High School in Redwood City. 650.306.8866 adultschool.seq.org (Mike Roth)
Woodworking Technology courses at Laney College, particularly those of Jay Van Arsdale. laney.peralta.cc.ca.us (Bill Mannix)
Woodworking courses at The College of the Redwoods. redwoods.cc.ca.us This program, founded by James Krenov, has produced many of the country's finest crafts people. It also has shorter courses for people who are not full-time woodworkers. (Bud Ruby and Arnie Champagne)
Wood courses at the Crucible. thecrucible.org. The Crucible is mostly known for metal work, but has some wood courses too.
Courses by David Marks. djmarks.com You may remember David from a talk he gave at BAWA in 2003. He also has a TV show. He now teaches courses in his studio
The Sawdust Shop. Our own Craig Colvin The Sawdust Shop, which provides woodshop time on a membership basis. thesawdustshop.com
Randall Museum. randallmuseum.org Courses for children and for adults. Our own Mike Bray teaches there. (Mike Bray)
Woodcraft and Rockler. These retail stores, listed above in the Tools section, often offer short woodworking courses and demonstrations. For current offerings, go to their national web sites and drill down to the local stores.
John McCormack. Furniture Designer, Maker & Teacher. John also offers private instruction in his shop or in the student's shop. johnpmccormack.com
Spaulding Wooden Boat Center, Sausalito spauldingcenter.org Teaches yacht restoration, tradional boat building and other educational programs
David Marks. David has a show on TV, and makes fine furniture. djmarks.com
Ejler Hjorth-Westh. www.mendocinowoodworking.com Ejler makes beautiful furniture, and teaches in the College of the Redwoods woodworking program
Arques School of Traditional Boat Building. Building and teaching about building wooden boats. arqueschl.org
Dan Stalzer. Dan makes Appalachian-style chairs in Ft Bragg, and teaches how to make them. woodwman@mcn.org
Greg Zall. Greg does remarkable marquetry and furniture, and teaches at the California College of Arts and Crafts ccac-art.edu
Northwest Woodworking Studio with Gary Rogowski: Classes in many types of woodworking. More information:
northwestwoodworking.com
Laney College in Oakland has a Wood Technology department has a series of woodworking courses inluding cabinet and furniture making :
laney.edu/wp/woodtechnology/
The Sawdust Shop offers a very well-equipped wood shop for use by its patrons.
Located at 320 Martin Ave, #B, Santa Clara, CA 95050. Open 11am-5pm Mon-Sat.
They also run courses. www.thesawdustshop.com. (Craig Colvin)
Hunt Projects are renting workshop/studio space in the Bayview area of San Francisco.
A 4000 sq ft warehouse located in Bayview on the edge of the Dog Patch.
Metalshop and Woodshop facilites. Shared space with personal lockers.
For more information see: google.docs
Or contact owner, Charlie Leese, at: huntprojects.sf@gmail.com 415-518-7135
Galleries/ Museums/ Woodworkers/ Inspiration
Gallery M. A gallery specializing in studio furniture and fine woodwork. gallerym.net Half Moon Bay.
Jamie Buxton, BAWA member. www.jamiebuxton.com Jamie and designs and builds custom furniture.
Brian Condran. Brian makes beautiful furniture. crfinefurniture.com/condran.html
Michael Cullen. www.michaelcullendesign.com Michael make gorgeous furniture.
Roger Heitzman. www.heitzmanstudios.com Roger designs and builds custom furniture.
Ejler Hjorth-Westh. www.mendocinowoodworking.com Ejler makes beautiful furniture, and teaches in the College of the Redwoods woodworking program
Robert Meier. Robert and his brother Christian build furniture in Aptos. mbfurnituredesign.com
Bruce Powell, BAWA member. www.brucepowellwoodworking.com Bruce designs and builds custom furniture.
Jared Rusten. Jared builds furniture in San Jose. jrusten.com
Debey Zito. Debey designs new furniture in the Arts & Crafts style. artisticlicense.org/members/zito/
Lowpensky Moulding
Thickness planning and molding services.
We have a good report of them.
They are a top quality molding shop -- large volumes or short runs to order
"Boards have to be at least 5 feet long for their double sided planer to take them."
Address: 900 Palou Ave, San Francisco, CA 94124
Phone:(415) 822-7422
Monday to Friday 7.00 am - 3.30 pm
---
The BAWA classified ads are intended to advertise items of woodworking interest to our members that are for sale in the greater Bay Area. Members are entitled to advertise any items at no cost. Categories include For Sale, Wanted, Free Stuff or Workshop sharing. Non-members, who are private parties, may advertise items for $10 per month. The newsletter editor will have the discretion to decide the suitability of any submissions.
To place an ad contact:

Steve Rosenblum
650-322-9560
212 Santa Rita Ave
Palo Alto 94301
steve@rosenblums.us
---

7/2015: FOR A DONATION TO BAWA: Shopsmith Model 10 ER

03/2015: FOR SALE: Mexican Hardwoods: Bacote and Rosa Morada

11/2014: FOR SALE: Delta 20" band saw and uniplane

4/2014: Hot melt adhesives suitable for edgebanding for sale

1/2014: Delta shaper, Hawk scroll saw, oak table top, other tools for sale

9/2013: For Sale - Laminate Panels

9/2013: For Sale - Molding
2/15/13 For Sale: Rockwell Delta Tilting arbor bench saw ($410)
---
7/2015: FOR A DONATION TO BAWA: Shopsmith Model 10 ER
A Shopsmith Model 10 ER has been donated to the club by Marc Coventry. The club is offering it for a $100 donation to our treasury. The Shopsmith 10 ER was sold until the early 1950s. It is a multipurpose machine that can user re-configured as a table saw, lathe, drill press, and disk sander. Because it has exposed belts and pulleys it is not recommended for the novice woodworker, but would be more of interest to an experienced woodworker interested in antiquarian equipment. The unit has been lightly used, see the photo below.

Here is the link to the Owners Manual for an idea of what it can do http://vintagemachinery.org/pubs/detail.aspx?id=2708

Following a successful sale, the purchaser would need to pick the unit up in Martinez.

Please direct any questions to club secretary, Steve Rosenblum at steve@rosenblums.us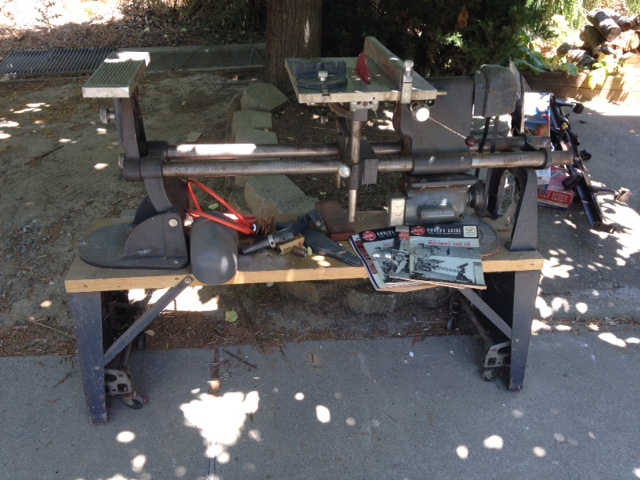 ---
3/2015: FOR SALE: Mexican Hardwoods: Bacote (Cordia Boissier) and Rosa Morada (Tubebuia Rosea)
Bacote (Cordia Boissier) availability: 6/4—750 board feet(BF); 4/4—1280 BF

Price: $6 BF.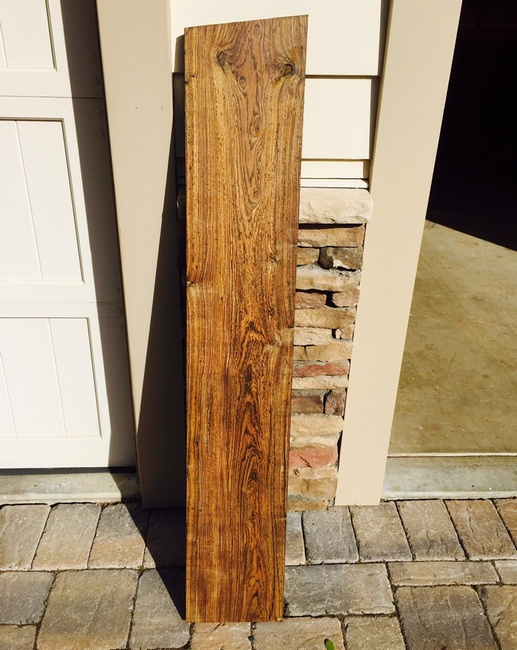 Rosa Morada (Tubebuia Rosea) availability: 6/4—215 BF; 4/4 119 BF

Price: $7 BF. Minimum Order is 30 BF combined

All wood is at 10-12% moisture. Papers from Mexico are available.

For additional samples see John Blackmore at BAWA

Contact Rik Lawrence, Red Cloud Furniture, 2500 Grove St., Sonoma, CA 95476
at 707-332-5153 or Info@redcloudfurniture.com
---
11/2014: FOR SALE: Delta 20" band saw and uniplane
* Delta 20" bandsaw - good condition with 10 extra blades; 3hp 220volt; with custom resaw fence. $450

* Delta uniplane - needs tuneup; gives better finish than standard planer; 110 volts. $300

Also have several sizes of Hock handplane steels.

Make an offer, All prices are negotiable.

Contact Glenn Krueg, 510 797 9046 or gkrueg@sbcglobal.net
---
4/2014: Hot melt adhesives suitable for edgebanding for sale
Fineline Corpentry has one 55 lb. bag of Hotmelt Pellets DOKS205 High Viscosity selling for $150

Hotmelt Pellets DOKS205 High Viscosity High viscosity, EVA - rubber-based, specially formulated for use in automatic edgebanding equipment. This premium grade hotmelt has been modified with a rubber additive to provide an exceptionally strong and durable multi-purpose adhesive. Recommended for all straightline edgebanding applications. Its high viscosity, excellent bonding characteristics, and high heat resistancemake this the ideal all-purpose edgebanding adhesive. The spread and flow characteristics permit both moderate and high speed applications to be run without stringing.

Processing temperature:
Application Roller: 220-225°C, Melting Container: 200-220°C Feed Speed: 40'/min
Recommended for veneer, polyester, PVC, melamine, solid wood, ABS, thick PVC and laminate.

Fineline also has two bags of Raubond Universal Hot Melt, Color: Natural for $55 each.
RAUBOND™ Universal Hot Melt: An economical, medium-viscosity hot melt suitable for a wide variety of edging including PVC, ABS, PP, veneer and melamine.
RAUBOND™ Universal is a great all-purpose edgebanding adhesive and is optimal for medium to high-speed, straight-line edgebanding. Type: Ethylene-Vinyl Acetate (EVA) Softening Point: 230°F (110°C) Application Temp: 374°-410°F (190°-210°C) Roller Feed Speed: 50+ ft/min (15+m/min)

Contact: Fineline Carpentry, Inc. Attn: Kerry Duffy Phone: (650) 592-2442


---
1/2014: Delta shaper, Hawk scroll saw, oak table top, other tools for sale
Rockwell Delta shaper, S/N 114-1391, 2 hp, 2 speed motor with cutting tools, 3 spindles including one for router bit collet, $450

Hawk Scroll Saw, 22", excellent condition, $250 or best offer

5 foot diameter oak table top, 2" thick, laminated, excellent condition

3 ea. router tables must see

Black and Decker 10" band saw, $75

Make an offer, All prices are negotiable.

Contact Arnie Champagne, 415-282-1704 or arnoldchampagne@yahoo.com
---
9/2013: For Sale - Laminate Panels
Belmont Cabinet Shop has over 100 Sheets of ¾" x 49" x 97" Laminate Panels
These Panels have a Particle Board or MDF Core with High Pressure Laminate on Two Sides
Most Panels have White on one side and there are a variety with Solid Colors and Wood Grains on the other side
These Panels are great for shelving or build your own cabinet boxes from them.
$10.00 per Sheet or 5 for $40.00. You can not buy anything from Home Depot this cheap!!
Call Mac at (650) 592-2442
---
Belmont Cabinet Shop has several hundred feet of Molding for sale.
These materials are left over from a variety of projects, including Base Boards, Crown Molding, Chair Rail and Wall Cap. They are Made of Oak, Poplar and Cherry.
This material is great for hobbyist's and woodworkers to use on projects such as picture frames, plant stands, trim out a room. There is not a lot of the same moldings.
Will Sell Cheap! ** Give great price to someone that takes all!!!
Call Mac at (650) 592-2442
---
2/15/13 For Sale: Rockwell Delta Tilting arbor bench saw ($410)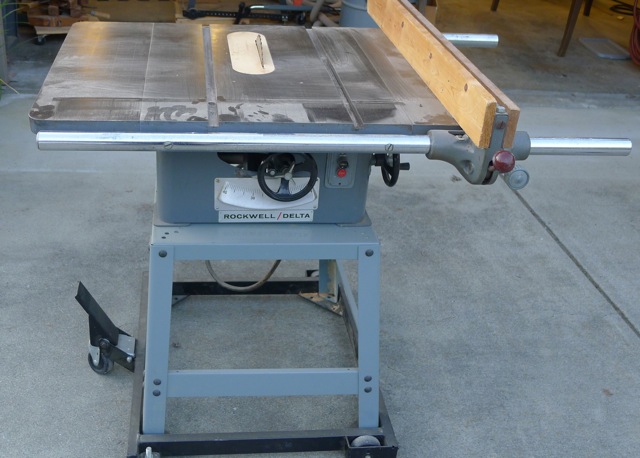 Included are the bench saw, stand, mobile base fence, miter gauge, and 40 tooth carbide blade. The motor can be wired for 110 volts or 220 volts.

For information phone: Fred Voltmer 925-838-8818
---